Apple Hires Chief Medical Officer From Pulse Oximetry Company Masimo, Possibly for iWatch Team
Over the course of the last year, Apple has made several hires from the medical and sensor field, presumably to bolster the team of experts working on its much-rumored smart watch project, and MacRumors today learned of another high-profile sensor expert that has joined the company.
Michael O'Reilly, M.D., formerly the Chief Medical Officer and EVP of Medical Affairs at Masimo Corporation, left his position in July of 2013 to take on a role at Apple, possibly on the iWatch team. News of O'Reilly's employment at Apple was first leaked to MobiHealthNews last week and when contacted for comment earlier today, Masimo told MacRumors it "could not dispute" what had been reported.
While O'Reilly was at Masimo, the company developed several cutting edge pulse oximetry devices, including the iSpO2 Pulse Oximeter that connects to the iPhone and gives readings via an accompanying app. The iSpO2, which takes its readings from a finger, is designed to measure both oxygen saturation in the blood and pulse rate, with technology that allows it to take readings during movement and with low blood flow.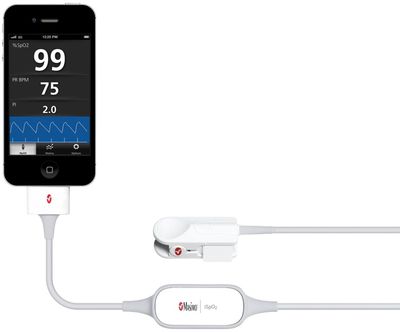 The iSpO2 Pulse Oximeter for iPhone
While it is not clear what position O'Reilly holds with Apple or how his pulse oximetry expertise will be used by the company, he does join a number of other hires in the medical field that have reportedly been recruited for the iWatch team. In 2013, Apple
hired several scientists and executives
from notable sensor companies like AccuVein, C8 MediSensors, and Senseonics, and two weeks ago, another report
pointed
to two additional hires in the sensor field.
Reports have suggested that Apple's smart watch project, the iWatch, could focus heavily on health sensors and biometrics, possibly including features like a pedometer and a heart rate monitor. Apple's multitude of hires in the health field does suggest, however, that the company could include even more advanced sensor technology in the iWatch or in a future product.
With the addition of O'Reilly, Apple has now hired employees with expertise in pulse oximetry, vasculature visualization (vein finding), non-invasive glucose monitoring, blood chemistry monitoring via microneedle, heart/breath rate monitoring, and fitness. Notably, several hires have also had experience with low-profile, non-invasive biosensor devices.
On his LinkedIn page, O'Reilly is also listed as both an Adjunct Associate Professor of Anesthesiology at the University of Michigan and a Professor of Anesthesiology and Perioperative Care at the University of California, Irvine.