Apple Offers Sneak Peek of Completely Redesigned Mac Pro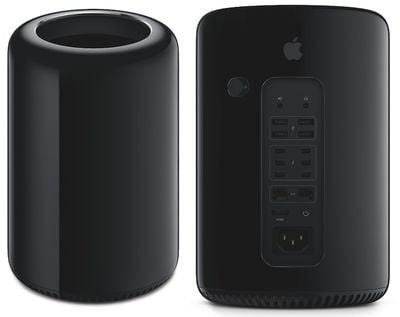 At today's WWDC keynote event, Apple offered a sneak peek of its next-generation Mac Pro, a line of desktop computers that has not received a significant update in several years. The preview began with a teaser video showcasing the radically redesigned tubular tower.
The next generation Mac Pro is architected around an ingenious unified thermal core that allows the desktop to efficiently share its entire thermal capacity across all the processors. The result is a pro desktop with breakthrough performance packed into a design that is one-eighth the volume of the current Mac Pro. Next generation Intel Xeon E5 processors with up to 12 core configurations deliver double the floating point performance. With two AMD FirePro workstation-class GPUs, the all-new Mac Pro is up to 2.5 times faster than the current Mac Pro and delivers up to an amazing 7 teraflops of compute power. The new Mac Pro also features PCIe-based flash storage that is up to 10 times faster than conventional desktop hard drives and includes the latest four-channel ECC DDR3 memory running at 1866 MHz to deliver up to 60GBps of memory bandwidth. With all that power, the new Mac Pro lets you seamlessly edit full-resolution 4K video while simultaneously rendering effects in the background.
New generation Intel Xeon processors, ECC memory, and new PCIe flash storage will debut in the new Mac Pro. External expansion will be available via six Thunderbolt 2 ports and graphics will be handled by dual workstation AMD FirePro GPUs with support for up to three 4K displays.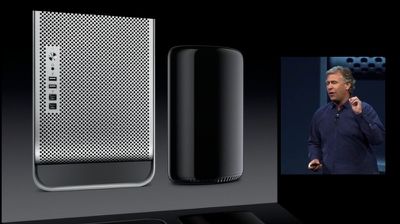 Compared to the previous Mac Pro, the next-generation model is approximately 1/8 the size. The new Mac Pro will also be assembled in the United States. A special WWDC session tomorrow will see representatives of The Foundry and Pixar showing off how The Foundry's MARI 3D digital paint tool can take advantage of the upcoming Mac Pro hardware.