Apple Hires Two Former Nike FuelBand Engineers, Possibly for iWatch Team
Earlier this year, Nike significantly downsized its FuelBand team, firing several members of the 80-person team that worked to create its well-known fitness tracker as part of a shift from hardware to software.
Apple snapped up two of the former FuelBand team members in June, Ryan Bailey and Jon Gale. As noted by 9to5Mac, Bailey, who served as a Senior Test and Validation Engineer at Nike is now listed as a Mechanical Design Engineer at Apple, while Gale, who was a Senior Firmware Engineer at Nike is now employed as a Sensing Systems Engineer at Apple.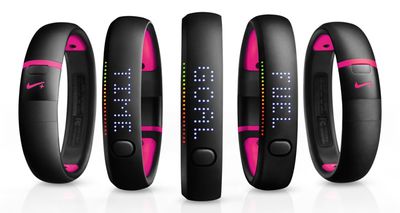 According to his LinkedIn profile, Bailey specialized in wearable device and consumer electronic product development, focused on providing engineering recommendations to major engineering leads. Gale, meanwhile, developed hardware and firmware architectures for Nike Digital Sport products.
Primary responsibility is to define both the hardware and firmware architectures for Nike Digital Sport products. Additionally, I managed the development of product firmware through partner companies. Responsible for delivering firmware to validate the design in a manufacturing environment, define and implementation of custom protocols to interact with other components of the Nike ecosystem, and translate high-level product requirements into actionable, testable definitions. I personally owned the delivery of firmware for the Nike FuelBand product line.
It is unclear if Gale and Bailey have joined Apple's wearables team to work on the iWatch, but it is a distinct possibility given their expertise on wearable devices. Apple offers many positions under the job titles of Mechanical Design Engineer and Sensing Systems Engineer, however, so it is unknown exactly what the two are working on.
Over the course of the past year, Apple has hired several experts in the health and fitness fields to join its iWatch team, including fitness guru Jay Blahnik, sleep expert Roy Raymann, pulse oximetry expert and former Chief Medical Officer Michael O'Reilly, and several other scientists and executives from notable sensor companies like AccuVein, C8 MediSensors, and Senseonics. Most recently, the company took on the former sales director of luxury watch brand TAG Heuer, Patrick Pruniaux, possibly to help market the iWatch.
According to a recent report from The Wall Street Journal, Apple's upcoming wearable device will feature 10 different sensors to track various health and fitness metrics. It's said to integrate heavily with the Health app in iOS 8, and it may come in both multiple sizes and multiple designs to satisfy a wide range of tastes. Apple is expected to introduce the iWatch at an October event.