Jony Ive Ordered Boxes Full of Nike Watches in the Mid-2000s
Bloomberg today published a story on the much rumored Apple smart watch, offering information on potential functionality and profitability. The article also hinted at possible design cues for the iWatch, highlighting Apple designer Jony Ive's intense interest in watches, specifically those manufactured by Nike in the mid-2000s.

Apple design chief Jony Ive has long had an interest in watches. Besides owning many high-end models himself, he had his team visit watch factories and ordered boxes of a sports watch made by Nike Inc. in the mid-2000s, said Wilson, who was then Nike's creative director.
New information from Business Insider reveals that Scott Wilson sent Jony Ive the Nike Presto Digital Bracelets and the Oregon Series Alti-Compass watches, which were manufactured in 2002–2004.
Both of these watches feature clean, simple designs. The Presto Digital Bracelet is a cuff-style wraparound watch with a translucent plastic body, while the Oregon Series Alti-Compass has an aluminum face.
Well, he didn't buy them. We just gave them to them as designer bro deals. He and others in the design group just requested them and we sent them a ton of Nike Presto Digital Bracelets and the aluminum Oregon Series Alti-Compass watches. Was flattered that they were requesting them.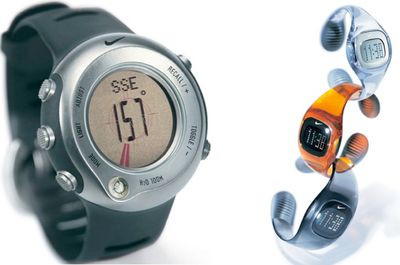 Wilson goes on to say that after receiving the watches, Apple asked questions about materials and processes.
This meshes up with their research in watch manufacturing during that timeframe which has been documented in previous stories. They definitely drew upon watch industry techniques and manufacturing in their products since the first iPhone. Interesting that it may come full circle to an actual iWatch at some point.
A patent application found last week suggested that Apple might be looking at a watch with a wraparound design, a touchscreen, and a flexible glass display, but it remains unclear what the actual watch might look like.
Apple is said to have a team of 100 product designers working on the watch. The watch is rumored to run the full version of iOS and though a release date remains unclear, Bloomberg has suggested that it could launch as early as 2013.