TAG Heuer Sales Director Patrick Pruniaux Joins Apple in Run-Up to iWatch Launch [Updated]
Apple appears to have made another important iWatch-related hire as the device's rumored debut approaches, with CNBC reporting that the company has poached the sales director of luxury watch brand TAG Heuer.
The hiring was revealed by Jean-Claude Biver, head of Jewelry and Watches at TAG Heuer's parent company LVMH. Biver had claimed earlier this year that Apple had been trying to hire some of his employees but at that point none of them had agreed to join Apple.
Biver said the watchmaker's sales director left as recently as last week, "to take a contract with Apple" in order to launch the iWatch. LVMH owns Swiss watchmakers TAG Heuer, Hublot and Zenith. [...]

Biver said he was happy for the employee as the new role represents a great opportunity for him.

"If it had been a direct competitor, I would have felt a bit betrayed, but if he goes to Apple I think it is a great experience for him," he said.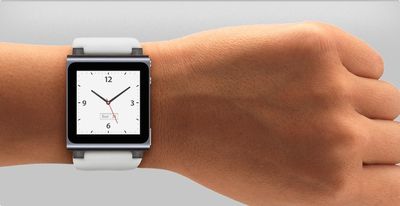 Sixth-generation iPod nano in watch mode
With Apple reportedly looking toward an October introduction for the iWatch, the company is building a formidable team with experience in the fashion industry.
At the top of that list is new retail chief Angela Ahrendts, who officially joined the company two months ago from Burberry. In another high-profile move, Apple last year hired Paul Deneve, CEO of French luxury label Yves Saint Laurent. Deneve reports directly to Apple CEO Tim Cook and is working on "special projects" for the company, with most speculation centering around the iWatch.
Update: TAG Heuer confirmed to MacRumors that Patrick Pruniaux is the employee who left for Apple. Pruniaux's former position was Vice President Global Sales & Retail.