Apple Taps New Hires in Health Sensors, Broad Array of Internal Experts for 'iWatch' Team
Following a report from earlier this week indicating that Apple is still "aggressively" hiring new employees to support its smart watch project, 9to5Mac has published a lengthy feature highlighting a number of the company's recent hires. In particular, the report focus on Apple's hiring in the health sensor field.
Based on new hires, it seems that Apple's interest in sensors focuses on the ability to measure glucose and other body level information. With this data, the product could inform users of vital information in a non-invasive way. These sensors could also pick up more data to give a user a snapshot of their health, which would be ideal for fitness applications.

To assist with the development of these sensors, Apple has hired several scientists and executives from multiple sensor developers. Some notable firms who lost employees to Apple are AccuVein, C8 MediSensors, and Senseonics.
C8 MediSensors had been pursuing non-invasive monitoring of glucose and other substances, and Apple had reportedly considered an acquisition of the company. Ultimately, C8 MediSensors ceased operations and Apple was able to hire a number of the company's employees earlier this year.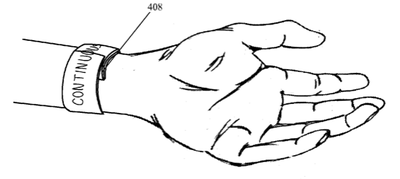 Drawing from Apple patent application for a "slap bracelet" video accessory resembling a smart watch
The report also outlines the structure of Apple's "iWatch" group, which is reportedly led by Senior Vice President of Technologies Bob Mansfield, as well as
former Adobe Chief Technology Officer Kevin Lynch
and engineering senior director James Foster.
According to our sources, Lynch's side of the team is focused on overall software vision, and Foster's group is developing the technologies and mechanics that will shape the features of the device. While Lynch and Foster run two different groups that are part of the bigger project, sources say that the groups are closely knit.

Other Apple teams, such as Dan Riccio's Hardware Engineering group, Jony Ive's Industrial Design team, and Craig Federighi's software developers, are likely collaborating closely to develop the user-facing hardware and software.
Apple has also reportedly tapped some of the original iPhone engineers with expertise in miniaturization, as well as some of the company's Mac engineers with expertise in battery technology. In addition, some members of Apple's AuthenTec fingerprint sensor team are said to be working on other types of sensors for the iWatch.
Apple CEO Tim Cook addressed the topic of smart watches and other wearables at the D11 conference back in May, calling the market "incredibly interesting" and "ripe for exploration". Apple has been rumored for some time to be bringing a smart watch to the market, but while the company has begun filing for "iWatch" trademarks, the latest rumors have suggested the device may not launch until late next year as Apple works to solve numerous technical challenges.