iWatch to Come in Two Sizes With 'Fashionable Appearance', Top End to Cost 'Several Thousand' Dollars
In a 2014 product roadmap that outlines all of Apple's plans for the year, KGI Securities analyst Ming Chi Kuo revealed his predictions for Apple's much-rumored iWatch, which may ship as soon as the third quarter of 2014.
According to Kuo, the iWatch will come in two separate sizes to accommodate different sized wrists: 1.3 inches and 1.5 inches. Multiple sizes for the device were first predicted in late 2013, though the original rumor pointed towards displays of 1.3 and 1.7 inches. Both watches will include flexible AMOLED displays with sapphire covers to protect the device from scratches.
Along with a multitude of biometric sensors, coupled in a system-in-a-package design, Kuo predicts the iWatch will include integration with the iPhone, iPad, and Mac, along with a "fashionable appearance," an NFC chip, and a slim and light design.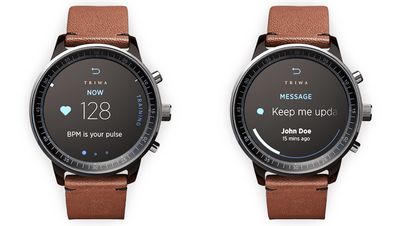 We are confident on Apple's ability to make wearable devices with good fashion sense, which sets Apple apart from rivals.
Kuo believes many of the iWatch's mechanical parts may be constructed using liquid metal and that it may include an "innovative" antenna design that allows for wireless charging functionality.
Battery life has been a major challenge for Apple when it comes to iWatch development and Kuo forecasts a 200 to 250mAh battery for the device that will provide at least a one day of operating power. Earlier reports have suggested the company is aiming for three to four days of battery life, however, and Kuo does note that the battery will be longer than "most wearable devices" due to the company's "vertically integrated operating system and key components."
Kuo suggests Apple will release the iWatch at multiple price points and in a variety of materials, competing with low and high-end watches alike. At the high end, Kuo suggests Apple's iWatch could sell for thousands of dollars.
Fashion is the name of the game; most expensive model likely priced at several thousand US dollars. Referring to the rules of the fashion market, we predict the iWatch casing and band will come in various materials. The most expensive model of the iWatch line will carry a price tag of several thousand US dollars.
Apple's iWatch is not expected until the end of the year, but Kuo believes it will be the most important product of 2014, outshining even the iPhone 6. He is estimating shipments of 5.5 million units in 2014, which will rise to 30 to 50 million units in 2015.