Apple and Intel Working on Bluetooth Smart Watch for 2013 Launch?
Chinese site TGBus reports [Google translation, via Mobilegeeks.de] that Apple and Intel are currently working together on a Bluetooth-enabled smart watch. According to the report, the watch will include a 1.5-inch OLED display from RITEK subsidiary RiTdisplay and will launch in the first half of next year.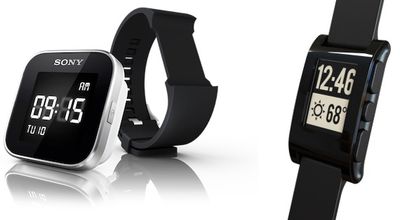 Sony SmartWatch (left) and Pebble e-paper watch (right)
Full details on Apple's smart watch are unknown, but the report compares Apple's project to Sony's
SmartWatch
, although it notes that Apple's Siri voice assistant will provide for greater integration with the iPhone in allowing users to take phone calls directly through the watch.
There are of course other smart watches taking advantage of the low-power Bluetooth 4.0 standard hitting the market as well, with one of the most highly anticipated ones being the Pebble e-paper watch that raised over $10 million on Kickstarter. But while the Pebble team has continued to give regular updates on its development progress, the watch has yet to begin shipping.