Apple Considering 'Full Health and Fitness Services Platform' Modeled on the App Store
Apple allegedly is looking beyond the iWatch wearable device and may be creating a new health and fitness ecosystem modeled on its successful iOS App Store, claims a mobile health executive who recently spoke to Reuters. Similar to the iOS App Store, this new platform may allow companies to develop their own mobile medical applications that could tie into Apple's iWatch wearable device.
One mobile health executive, who asked not to be named, told Reuters he recently sat down with an Apple executive from the iWatch team. He said the company has aspirations beyond wearable devices, and is considering a full health and fitness services platform modeled on its apps store.
As part of iOS 8 later this year, Apple is rumored to be launching a new Healthbook app, which is expected to serve as a repository for health-related data acquired from a variety of sources. Based on the breadth of data the app appears to be able to track, it is unsurprising that Apple will be looking to open up the ecosystem to third parties to help users fill out all of the various content areas.
One company that could benefit from an Apple health and fitness ecosystem is Nike, which has scaled back its work on its Fuelband hardware to focus on expanding its software-based NikeFuel platform. Though Nike CEO Mark Parker would not directly comment on specific plans with Apple, Parker did note in a recent CNBC appearance that Apple is a longtime partner and that he is "excited about where that relationship will go forward."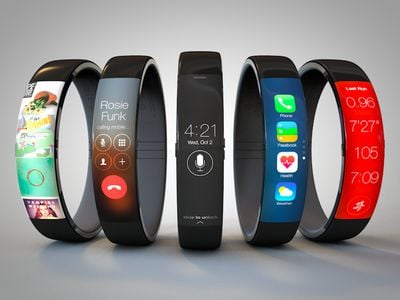 Much of today's report focuses on Apple's health- and sensor-related hires over the past several years, most of which have previously been detailed and which have been focused around non-invasive monitoring of vital health parameters such as sleep, oxygen saturation and blood glucose levels. Apple has hired talent from notable companies such as pulse oximetry company Masimo, medical sensor company Vital Connect and Philips Sleep Research.
Apple's latest reported hire is MIT researcher Eric Winokur, who worked on ear-worn devices for monitoring blood pressure and heart rate. Information about Winokur's hiring surfaced alongside a sketchy rumor claiming Apple is planning to launch an EarPods model with integrated heart rate and blood pressure sensors. While a new Tumblr blog post reveals that the claim was indeed fabricated, Apple patent applications suggest the company has indeed considered the integration of biometric sensors into its headphone line in the past.
Apple's sensor-laden iWatch has been rumored for several years, with most recent rumors suggesting that it may debut late this year. It is not expected to be unveiled at the company's Worldwide Developers Conference set for early June.