Apple's 'iWatch' to Feature Flexible Display, Wireless Charging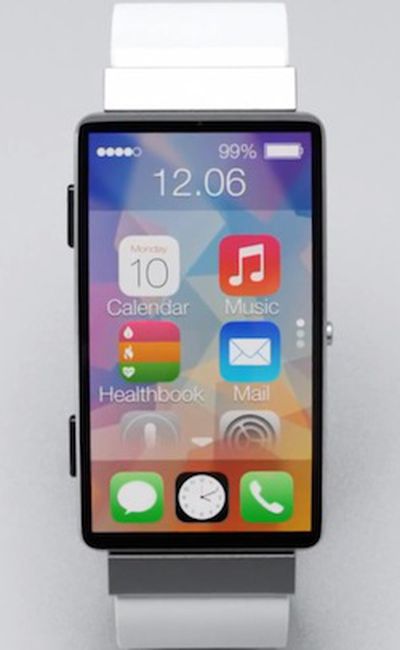 Adding to this morning's report from The Wall Street Journal pointing towards a curved OLED screen for Apple's upcoming "iWatch", The New York Times has released several details about the wearable device, suggesting it will have a flexible display and wireless charging capabilities.
Echoing past rumors, The New York Times says the iWatch will come in two separate sizes, focusing on health/fitness and mobile computing tasks, and that it will allow people to make purchases with included NFC support. Its flexible display is described as "unique," and Apple is said to have settled on wireless charging after a failed experiment with solar charging.
It has a flexible display panel that is protected by a cover composed of sapphire, a type of tougher glass, they said. The device's circuit board, which includes its sensors and chips, was described as tiny, about the size of a postage stamp.

For replenishing the battery, the smartwatch will rely on a wireless charging method. Apple had at one point tested solar charging for the watch, but that experiment failed.
According to unnamed employees who spoke to The New York Times, Apple's iWatch is "one of Apple's most ambitious projects to date," with an "enormous" amount of time and money put into the health and fitness sensors in the device, which will be "much more" accurate than existing fitness devices. Rumors have suggested the iWatch will measure an array of different health-related metrics, from steps taken and sleep quality to blood pressure.
The iWatch is said to take advantage of HealthKit, a set of APIs Apple introduced alongside iOS 8 that will integrate into existing health devices and apps, reporting data to a central location. It's also going to rely on Handoff, a Continuity feature that lets users seamlessly transition tasks from one iOS or Mac device to another.
The report also echoes a litany of rumors that have suggested Apple's wearable device will not be available for purchase until 2015, despite Apple's plans to unveil the iWatch at its September 9 media event. The gap between the introduction of the iWatch and its debut will give Apple time to finish work on the device as well as provide an opportunity for developers to create new apps suited to the smaller form factor.
(Image: 2.5-inch iWatch concept by SET Solutions)