Battery, Screen and Manufacturing Issues Plaguing Apple's iWatch Development
Apple is experiencing multiple development issues with its iWatch, according to a new report from The Information (via Business Insider). The company is said to be facing challenges with screen technology, battery life, and manufacturing.
Multiple iWatch rumors have suggested that Apple is planning to incorporate an OLED display into its smart watch, but The Information notes that the company is actually having difficulties deciding on a screen technology for the device, primarily due to battery issues. For that reason, Apple considered new screen technologies to improve battery life late last year.
Reports of the iWatch's poor battery life first surfaced in early 2013, indicating that prototypes of the watch were seeing just a few days of battery power before needing to be recharged, with Apple hoping to expand battery life to at least four or five days between charges. It appears that battery life is still a major issue for the device, which is said to utilize a 100mAh battery that is comparable to the 105mAh battery in the sixth-generation iPod nano.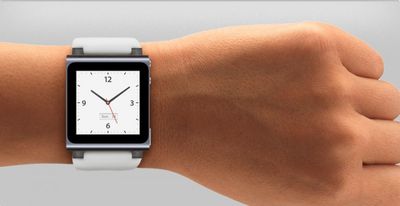 Sixth-generation iPod nano with watch face
The Information
's report also appears to
confirm a rumor
from earlier this week, which suggested Apple was facing yield problems due to the finish treatments for the body of the device.
Apple reportedly shut down "advanced prototyping" of the watch with an unspecified manufacturer in late 2013, but it is unclear whether the shift was due to the developmental snags. In late 2013, rumors pegged Quanta as Apple's iWatch manufacturing partner.
Along with manufacturing issues, iWatch development has also been somewhat impacted by the loss of a key team member, Bryan James, who recently left Apple for Nest. James, who previously worked on iPods, was a member of the iWatch team.
Despite the numerous issues Apple is facing with iWatch development, the company still has a "sizable team" working on overcoming the device's problems. These snags are not expected to delay the iWatch, however, which still has a prospective release date of late 2014 according to the most recent rumors.