Apple Aiming to Introduce iWatch at October Event
Apple is indeed aiming for an October release date for the iWatch as first reported by Nikkei earlier today, according to Re/code. Citing sources familiar with Apple's plans, the site says Apple is tentatively hoping to schedule a special iWatch event to show off the device in October.
People familiar with Apple's plans tell Code/red the company hopes to schedule a special event that month to show off the device, which is designed to make good use of the HealthKit health and fitness information-gathering app it recently showed off at WWDC. Could things change between now and fall? That's certainly possible. But right now October is the target date.
Multiple rumors have previously suggested a fall 2014 release date for the device, but this is the first time a more tangible, specific date has materialized. While few details are known about Apple's iWatch, the Nikkei report from earlier today suggested the device will incorporate a curved OLED touchscreen.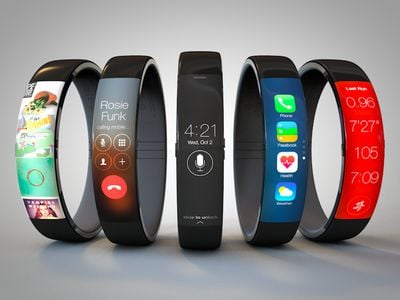 Curved iWatch concept by Todd Hamilton, based on the Nike FuelBand
The iWatch is also expected to include a multitude of health and fitness sensors, to measure metrics like calorie consumption, sleep activity, blood oxygen levels, and more. It is said to integrate deeply with the iOS 8's recently introduced Health app and it may come in multiple sizes and at
multiple price points
.
Last week, iTunes chief Eddy Cue boasted that Apple had the "best product pipeline" he'd seen in his 25 years at Apple, which along with the iWatch, may include larger iPhones, iPads with Touch ID, an updated Apple TV, and a redesigned 12-inch MacBook Air.