Apple Car Should Be Just Two Years Away, According to Reports
Apple's electric vehicle project has been the subject of rumors and speculation for many years at this point, and while the car is not yet ready to be publicly introduced, it could be just two years away.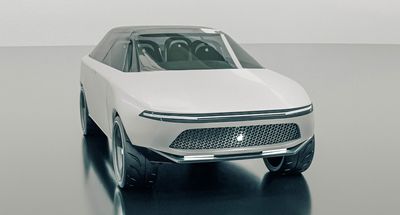 Apple Car
concept render
based on patent filings
by Vanarama
There have been hundreds of well-sourced reports about Apple's vehicle plans, but some of the latest information from
Bloomberg
claims that the company recently
scaled back its initial plans
and dropped its proposed $120,000 price point, extinguishing ambitions for a full self-driving vehicle with no steering wheel or pedals, and an interior design focused on communal seating.
Now, the car is expected to have a much more conventional design with only limited self-driving capabilities, for a price below $100,000. This could poise Apple's electric vehicle as a direct competitor to the likes of Tesla's Model S.
The car is now expected to launch in 2026 at the earliest, but it could be announced sometime in 2025, especially as it will need to undergo regulatory approval and in-depth testing for some time ahead of its public release to consumers in the United States. That means that the vehicle's introduction could be less than two years away at this point.