Apple Engineer and YouTuber Mark Rober Working on Anti-Motion Sickness VR Technology for Use in Autonomous Vehicles
Engineer and popular YouTuber Mark Rober, who is known for his science-related videos that can rack up millions of views, works at Apple as an engineer in the special projects group, reports Variety.
The site says that Rober has been working on Apple's virtual reality projects, including "using VR as on-board entertainment for self-driving cars." On Rober's LinkedIn page, it says he works as a product designer at an unspecified company he first joined in 2015, suggesting he's been with Apple for some time.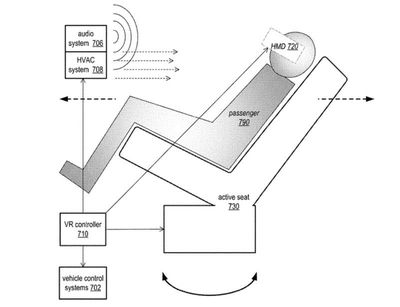 To explain the kinds of things Rober may be working on, Variety points to a pair of Apple patent applications that cover an "Immersive Visual Display" and an "Augmented Virtual Display," which were filed in 2016 and describe virtual reality systems that could be used by passengers in self-driving cars. The patents list Mark Rober as a primary inventor.
Both of the patents describe a VR headset that could help alleviate in-car motion sickness in autonomous vehicles, with one suggesting replacing the view of the real world with virtual environments that include visual cues to match physical motions the passenger is experiencing and the other describing virtual content that appears as a fixed object in the external environment.
One of the patents suggests that a virtual reality system for cutting down on motion sickness could aid in productivity because it would allow passengers (which would include all persons in an autonomous vehicle as a driver would not be required) to perform work while the vehicle is in motion without experiencing motion sickness. It also suggests VR could provide "enhanced virtual experiences" to passengers.

Many passengers in vehicles may experience motion sickness. Typically, this is not the case for the driver. However, with the arrival of autonomous vehicles, the driver becomes a passenger, and thus may want to occupy themselves while, for example, riding to work. Passengers in conventional or autonomous vehicles may, for example, want to read a book, or work on their notebook computer.
Apple is currently working on autonomous driving software that is being tested in Lexus SUVs that are out on the road near its Cupertino headquarters, and the technology is reportedly being implemented into employee shuttles.
Apple has inked a deal with Volkswagen to use Volkswagen T6 Transporter vans as self-driving shuttles to transport employees around its various campuses and office buildings in the San Francisco Bay Area. It's not clear if and when Apple plans to implement the VR technology Rober is working on into the shuttles or other future autonomous car projects, but there are many concepts that Apple patents that never make it into finished products.
Prior to joining Apple, Rober spent eight years as mechanical engineer at NASA's Jet Propulsion Laboratory, and he also served as a product designer at Morph Costumes.
He also maintains a popular YouTube channel with 3.4 million subscribers, sharing science-related videos like "Lemon Powered Supercar," "How to Survive a Grenade Blast," "How Much Pee is in Your Pool," and "iPhone ATM PIN Code Hack - How to Prevent."