Apple Working On Project That Will 'Give Tesla a Run for its Money' Says Employee
Following last week's news of a mysterious Apple-leased vehicle roaming the streets of Northern California, an Apple employee has given some details to Business Insider, suggesting Apple is working on a project that will "give Tesla a run for its money."
After writing about how the van could be used for a self-driving car, we got an unsolicited email from an employee at Apple about "vehicle development" at the company. [...]

"Apple's latest project is too exciting to pass up," the person said. "I think it will change the landscape and give Tesla a run for its money."
According to the site's source, who was verified to be an Apple employee, Tesla employees are "jumping ship" and choosing to work at Apple because of this unidentified project.
Last week's pictures unveiled a van that appeared to have multiple cameras on the top, similar to the vehicles Google uses for mapping. Given the van's similarity to other mapping vehicles, rumors have suggested that it is likely for an unspecified mapping project. Apple has been working to improve Maps in recent months, and it's possible the company is working on a feature that would compete with Google Street View.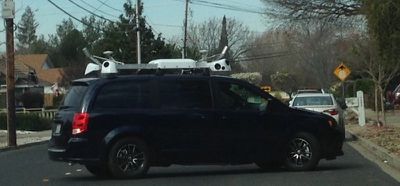 Other speculation has ranged a bit more towards the fantastical, suggesting that Apple is perhaps working on
a self-driving car
, but this seems unlikely due to Apple's tendency to focus on just a few products at a time. "We have zero issue coming up with things we want to do, said Tim Cook last January. "We must focus on the very few that deserve all our energy."
As Business Insider suggests, one probable project that could pique the interest of former Tesla employees is CarPlay. CarPlay, which brings an iOS-style interface to in-car infotainment systems, is still very much in the early stages. In the future, CarPlay, which is being built directly into many cars, could expand to offer a Tesla-style feature set. With the Tesla iPhone app, Tesla owners can turn on heating, lock and unlock doors from afar, flash the lights, and more.
Deeper integration between iOS and in-car systems is also easily imaginable, given Apple's desire to allow users to transition easily from device to device, as with its new "Continuity" iOS 8/OS X Yosemite feature. In October, Apple CEO Tim Cook hinted at an expansion of Continuity and suggested it would be incredibly important going forward. "Use your imagination and think about where Continuity goes," he said.
Given the ambiguity of the employee's statement, it is, of course, possible that the project in question is not even car-related and is something all together different.
Earlier this month, Tesla CEO Elon Musk directly contradicted the Apple employee's suggestion that Tesla employees are tempted by what Apple has to offer. In a report outlining the many employees Tesla has poached from Apple, Bloomberg spoke to Musk, who said "very few people" had left Tesla for Apple, despite Apple's offer of a $250,000 signing bonus and 60 percent salary increase.