Apple Inks Deal With Volkswagen for Self-Driving Employee Shuttles
Apple has signed a deal with Volkswagen to use Volkswagen vans as self-driving shuttles designed to transport employees around its various campuses and office buildings in the San Francisco Bay Area, reports The New York Times.
Apple has been working on developing the shuttle program, called "PAIL" or Palo Alto to Infinite Loop, since last summer. At the time news of Apple's work on the program first surfaced, the company was said to be planning to install its own self-driving software in a commercial vehicle from an automaker, which has turned out to be Volkswagen.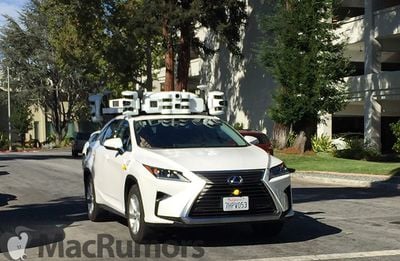 One of the Lexus SUVs Apple uses to test its autonomous driving software


Under the terms of the deal, T6 Transporter vans from Volkswagen will be turned into self-driving shuttles for employees.
Apple's self-driving shuttle program is said to be behind schedule and "consuming nearly all of the Apple car team's attention," hinting at ongoing problems on its car-related project, which has already been scaled back.
Apple originally had grander plans for autonomous vehicles and over the course of the past several years, attempted to ink deals with companies like BMW and Mercedes-Benz, which would have led to the development of an all-electric autonomous vehicle.
According to today's report, no deal was able to be established because Apple was asking potential partner companies to "hand over control" of data and design, something no car manufacturer was prepared to do.
When its grandiose self-driving vehicle plans fell through, Apple shifted focus to autonomous driving software under the leadership of Bob Mansfield.
Apple is now working on its shuttle program and has been testing several Lexus SUVs equipped with self-driving hardware and software out on the streets of Cupertino and surrounding areas. Beyond the shuttle plan, Apple is said to have no clear idea of what it's going to do with its autonomous driving project.