Steve Jobs Passed on Building Apple Car in 2008 to Focus on iPhone
Apple co-founder Steve Jobs, who passed away in October 2011 following a lengthy battle with a rare illness, contemplated building a so-called "Apple Car" as recently as 2008, according to his former advisor Tony Fadell.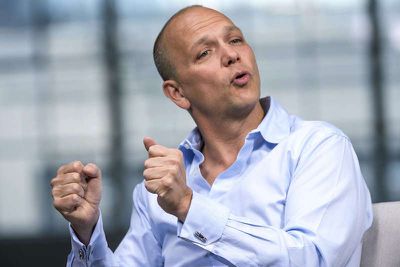 Tony Fadell discussed an Apple Car with Steve Jobs in 2008 (Image: Bloomberg)
In an interview with
Bloomberg
, Fadell, who led Apple's iPod division between 2001 and 2010, said he had discussions with Jobs on multiple occasions to hypothesize about what features an Apple-branded vehicle could have.
"We had a couple of walks," Fadell said in an interview with Bloomberg's Emily Chang. The pair posed hypothetical questions to each other, such as: "If we were to build a car, what would we build? What would a dashboard be? And what would this be? What would seats be? How would you fuel it or power it?"
Jobs, who drove a Mercedes, decided not to move forward with the idea at the time, said Fadell, instead focusing Apple's efforts on the iPhone, which accounted for about two-thirds of the company's net revenue last year according to SEC filings.
Fadell, who now serves as Nest Labs CEO at Google parent company Alphabet, said he does not have firsthand knowledge about Apple's car plans, but he did reflect on the similarities between smartphones and modern vehicles.
"A car has batteries; it has a computer; it has a motor; and it has mechanical structure. If you look at an iPhone, it has all the same things. It even has a motor in it," said Fadell, who's now the chief executive officer of Alphabet's Nest home appliances company. "But the hard stuff is really on the connectivity and how cars could be self-driving."
Apple has considered building a car before 2008, Bloomberg noted. Apple marketing chief Phil Schiller disclosed in 2012 court testimony that Apple discussed building a car before the original iPhone launched in 2007, while former Apple board member Mickey Drexler has also said Jobs wanted to build a car.
Apple faces growing competition from tech rivals such as Tesla and Google, and traditional automakers, if it chooses to enter the electric vehicle market. Recent rumors suggest Apple has assembled a team of hundreds of employees to develop an electric vehicle that could enter production as early as 2020.