Apple Cuts 200+ Employees From 'Project Titan' Autonomous Car Team
Apple this week removed more than 200 employees from its autonomous car team, known internally as "Project Titan," reports CNBC.
An Apple spokesperson confirmed the layoffs to CNBC, but said that Apple continues to believe there is a "huge opportunity" with autonomous systems. According to the statement provided, some of the former Project Titan employees have been moved to other parts of the company.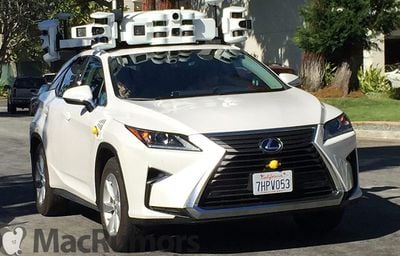 "We have an incredibly talented team working on autonomous systems and associated technologies at Apple. As the team focuses their work on several key areas for 2019, some groups are being moved to projects in other parts of the company, where they will support machine learning and other initiatives, across all of Apple," the spokesperson said.

"We continue to believe there is a huge opportunity with autonomous systems, that Apple has unique capabilities to contribute, and that this is the most ambitious machine learning project ever," they added.
In August, Apple hired former Tesla lead engineer Doug Field to lead Project Titan alongside Bob Mansfield, and the employee dismissals this week were reportedly not a surprise, but rather expected restructuring under the new leadership.
Apple began work on Project Titan in 2014, and at the time, rumors suggested the company was working to develop an electric vehicle at a secret location near its Cupertino headquarters.
Leadership issues, internal strife, and other problems impacted the development of the car, and in 2016, new information suggested Apple had shelved its plans for a car to instead focus on an autonomous driving system.
The hiring of Field, who was once Apple's VP of Mac hardware before he went to Tesla, has, however, been seen as a sign that Apple is again developing a full autonomous vehicle.
Reliable Apple analyst Ming-Chi Kuo, who often accurately predicts the company's product plans, also believes that an Apple Car is in development with a targeted launch date between 2023 and 2025. With the new restructuring of the project, though, Apple's ultimate autonomous driving plans are unclear, and this could be a sign that a full ‌Apple Car‌ is once again off the table.
Apple has been testing autonomous driving software out on the roads of Cupertino since early 2017, and it has developed a self-driving shuttle service to transport Apple employees between various office locations in Silicon Valley.
In June 2017, Apple CEO Tim Cook confirmed Apple's work on autonomous driving software, an unusual step as Apple does not often share details on products that are still under development.
"We're focusing on autonomous systems," said Cook. "It's a core technology that we view as very important. We sort of see it as the mother of all AI projects."