Apple Reportedly Seeking LiDAR Sensors With 'Revolutionary Design' for Self-Driving Vehicles
Apple has held talks with at least four potential suppliers of LiDAR sensors for self-driving vehicles, providing fresh evidence of the company's renewed ambitions to enter the autonomous vehicle space, according to Reuters.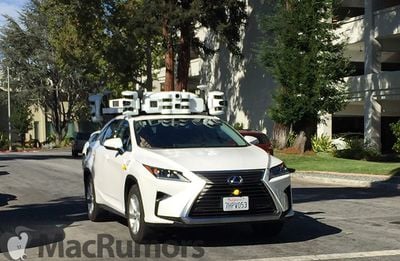 Apple has been using Lexus SUVs with LiDAR equipment to test autonomous technologies
The report claims Apple is seeking LiDAR units that are "smaller, cheaper and more easily mass produced" than current systems, which can cost over $100,000 and are considered "too bulky and prone to failure" for use in mass-produced vehicles. Apple is said to be "setting a high bar" with demands for a "revolutionary design."
While it remains unclear whether the goal of Apple's so-called "Project Titan" is to build its own vehicle or supply self-driving hardware and software to other automakers, the report says Apple wants to control the "perception stack" of sensors and software for autonomous vehicles, regardless of who makes it.
In addition to evaluating potential outside suppliers, Apple is believed to have its own LiDAR sensor technology under development, the report adds.
The report claims the next-generation LiDAR sensor designs that Apple is seeking could potentially be made with semiconductor manufacturing techniques, potentially significantly lowering costs, but the sources cited say Apple has not been happy with most of what it has seen so far.
Last year, Apple rehired its former VP of Mac hardware engineering Doug Field to work on Project Titan after a five-year stint as Tesla's engineering chief. Apple has a team of about 1,200 employees working on the project, according to court documents, but recent restructuring led to 190 layoffs.
Apple has been testing and developing autonomous driving software out on the streets of Cupertino, California, using Lexus SUVs, since early 2017. It's still unclear if we'll ever see a so-called Apple Car, but analyst Ming-Chi Kuo believes a release wouldn't be until 2023 to 2025 either way.