Mysterious Apple Car Spotted Roaming Bay Area Streets
There have been multiple sightings of a mysterious van with a strange apparatus on its roof in Concord, CA and, according to CBS affiliate KPIX 5, the car is leased to Apple. Bay Area blog Claycord posted photos of the Dodge Caravan earlier today.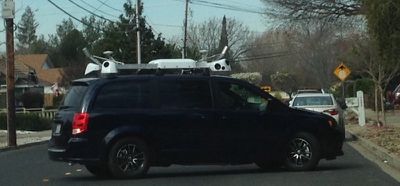 One possible use for the car could be for a mapping project, as the cameras on top of the vehicle are similar to other mapping cars. The Cupertino company has been planning on significantly improving its Maps application though, with plans for transit directions, improved points-of-interest data, indoor mapping and more. It would be likely that Apple would be prepping a feature similar to Google Street View or Bing StreetSide.
Claycord, however, noted that the Apple car looked similar to a self-driving Dodge Caravan spotted in New York in September 2014. Technology analyst Rob Enderle, who spoke to KPIX, also agreed that it's a self-driving car rather than a mapping car.

"Too many cameras," said Enderle. "It has cameras that are angled down at all four corners of the vehicle."
As noted by AppleInsider, Google's Street View cars do use a total of 15 5-megapixel cameras to stitch together its images. Apple's leased minivan appears to have similar technology, with 12 cameras that could potentially be used to stitch together images for a Street View-like picture.
Apple is not one of the six companies who have a permit for testing driverless cars, but Enderle says it wouldn't matter, noting that Apple could have a partnership with a manufacturer that allows them to lease and test a driverless car without a partner.
An Apple spokesperson told KPIX that the company had no comment.