Apple Working With Hertz on Autonomous Car Testing [Updated]
Apple's effort to test autonomous vehicle technology in California involves a collaboration with Hertz, the second largest U.S. car rental company, reports Bloomberg.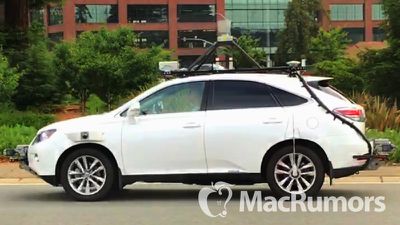 The disclosure of the relationship between Apple and Hertz came in documents recently released by the California Department of Motor Vehicles. The documents note Apple is leasing its small fleet of Lexus RX450h SUVs for autonomous driving tests from Hertz's fleet management group.
The iPhone maker is leasing Lexus RX450h sport-utility vehicles from Hertz's Donlen fleet-management unit, according to documents released recently by the California Department of Motor Vehicles. When Apple received its license to test three autonomous vehicles from the state's DMV in April, the documents listed Donlen as the lessor and Apple as the lessee.
Hertz's stock price is up nearly 15 percent on the news, as investors speculate about a larger partnership between the two companies as Apple's project moves forward.
The news comes as Alphabet's self-driving car unit Waymo has announced an agreement with Avis Budget to manage Waymo's fleet of Chrysler Pacifica minivans.
Update: Apple tells CNBC that there is no partnership with Hertz and that Apple is simply leasing six vehicles from Hertz for its project.