Lexus SUV Being Used for Apple's Self-Driving Software Test Spotted on the Road
Apple recently obtained a permit allowing the company to test its self-driving software on public roads in several Lexus SUVs, and now Bloomberg has shared details on the equipment Apple is using after one of the vehicles was spotted leaving an Apple facility.
Earlier this week, a white Lexus RX450h SUV was seen leaving an Apple building and was captured in a series of photos by an unnamed source who shared the images with Bloomberg. The vehicle is equipped with multiple sensors, cameras, and radar.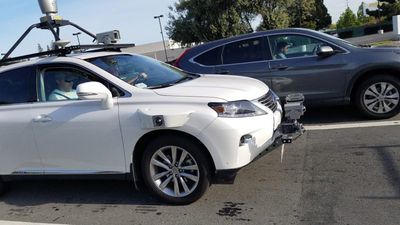 The sensors included Velodyne Lidar Inc.'s top-of-the-range 64-channel lidar, at least two radar and a series of cameras. The sensors appear to be products bought off the shelf from suppliers, rather than custom-made, according to an industry expert who saw the photos.
The vehicle is distinct from the vehicles used for Apple's mapping project, which uses a series of Dodge Caravans to capture data across the United States for the purpose of improving the Apple Maps app.
Apple was first granted a DMV permit to test autonomous vehicles on public roads on Friday, April 14. At the time, a DMV spokesperson said the company had registered three 2015 Lexus RX450h SUVs to be driven by six Apple employees with expertise in autonomous vehicles.


Apple's permit application and the appearance of the SUV confirm its work on a car-related project. Rumors originally suggested Apple was developing its own autonomous electric vehicle, but Apple is said to have since transitioned to building an autonomous driving system rather than a complete car.
In California, where Apple is testing its vehicles, companies that participate in the DMV's Autonomous Vehicle Testing Program must file Disengagement Reports that outline how many miles were covered with self-driving vehicles and whether any accidents occurred, so Apple won't be able to keep much of the testing on public roads a secret.
Apple's car team, led by Bob Mansfield, reportedly has until the end of the year to prove the feasibility of an Apple-designed autonomous driving system.