Steve Jobs Met With 'V-Vehicle' Creator in 2010 to Discuss Interest in a Cheaper, Lightweight Car
Although rumors surrounding Apple's electric car project began intensifying after the vehicle's development sped up last September, a new report out of The Guardian looks back before all of the current hubbub began, at the "secret car" that became of special interest to former Apple CEO Steve Jobs. Called the V-Vehicle and created by industrial designer Bryan Thompson, Jobs flew the designer out to San Francisco in 2010 to discuss Thompson's plans for the car, and pick his brain on the status of the automotive industry as a whole.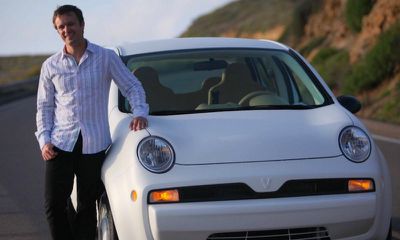 Thompson and the V-Vehicle
Thompson and his team created the V-Vehicle with the goal of constructing a disruptive force in the car industry with "a lightweight, petroleum-powered car that used cheaper materials and could sell for just $14,000." They had been working on it for two years when Jobs became interested in their progress, and invited Thompson to his home in Palo Alto to see it for himself.
According to Thompson, within their fifteen minutes together -- Jobs sitting in the driver side and Thompson in the passenger side -- he "learned more about plastics than in his years in design school and auto industry combined." The former Apple CEO discussed his thoughts on the V-Vehicle, focusing a lot of his time on the materials of its body, which were made of polypropylene and glass fibre. The results were a car that was 40 percent lighter than a normal steel-made vehicle, not to mention would cost 70 percent less capital to produce.

The inside of the V-Vehicle
Jobs told Thompson to think about emphasizing the plastic rather than disguising it. "Let the material be honest," he said, noting the dashboard, which was made of fibre-wood, a composite of synthetic resin and wood pulp. He suggested it would look better designed as one piece that "evoked a sense of high precision" – an idea Jobs often returned to with Apple's chief design officer Jonathan Ive.
Jobs continued to tip Thompson to take another look at the V-Vehicle's interior, telling him that "a taut surface has a sense that it's full of energy, like an animal ready to pounce. It's a subconscious thing that gives the product an impression of high quality and confidence." Thompson took Jobs' advice to heart and immediately began reworking a few subtle design changes in the car's interior on his flight back home.
Despite the V-Vehicle's potential for success, the business ultimately failed after venture funding evaporated and long-term plans for subsidized manufacturing plants failed due to tighter state budgets. Eventually, Thompson's designs were bought by LCV Capital Management in 2015, and V-Vehicle was renamed Next Autoworks, with a renewed plan to build the car in Italy.
Steve Jobs was said to have passed on building a car in 2008 to focus on the recently launched iPhone, although the former CEO remained interested in the vehicle project throughout the years. Rumors that have ultimately pegged the Apple Car for a 2020 launch began in early 2015, when mysterious vans linked to Apple began being spotted driving around Northern California.

Thompson's redesigned interior sketch
Those were in fact related to a mapping project, as Apple confirmed later, but the media interest in the potential for an Apple-made vehicle continued to fuel rumors surrounding a car that could potentially "
give Tesla a run for its money
."
Now, some of Steve Jobs' hopes for the V-Vehicle might be coming to fruition, including Apple's rumored talks to use BMW's i3 as a basis for Project Titan, which would fall in line with Jobs' appreciation of a precise, lightweight unibody material thanks to its carbon fiber outer shell. Those talks reportedly didn't end in an inked deal, but could "resume at a later stage," according to sources within BMW.
You can read The Guardian's full story on the meeting between Steve Jobs and Bryan Thompson.