Kuo: Apple to Launch Apple Car in 2023 to 2025
Apple will earn its two trillion dollar market cap through its services business, an augmented reality headset, and an Apple Car, according to reputable Apple analyst Ming-Chi Kuo, who now works for TF International Securities and today sent out a new note for investors outlining products that he expects to see in Apple's future.
According to Kuo, Apple will launch an Apple Car sometime between 2023 and 2025, with the car set to be positioned as "the next star product." Kuo foresees the Apple Car revolutionizing the automobile market much as the iPhone did back in 2007.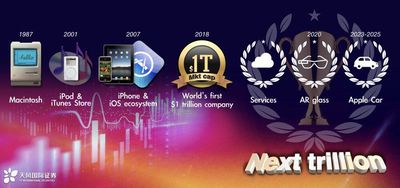 Kuo believes there are "huge replacement demands" in the auto sector because it's in the process of being redefined with new technologies. Apple's technology advances, such its work in augmented reality, would redefine cars and "differentiate the Apple Car from peers' products."
Apple, says Kuo, can do "better integration of hardware, software and services" than current competitors in the consumer electronics sector and potential competitors in the auto sector. Apple's services category will also grow significantly through its entrance into the "huge car finance market" after Apple launches the Apple Car.
We expect that Apple Car, which will likely be launched in 2023–2025, will be the next star product. The reasons for this are as follows: (1) Potentially huge replacement demands are emerging in the auto sector because it is being redefined by new technologies. The case is the same as the smartphone sector 10 years ago; (2) Apple's leading technology advantages (e.g. AR) would redefine cars and differentiate Apple Car from peers' products; (3) Apple's service will grow significantly by entering the huge car finance market via Apple Car, and (4) Apple can do a better integration of hardware, software, and service than current competitors in the consumer electronics sector and potential competitors in the auto sector.
Kuo's suggestion that Apple is planning to launch a full Apple Car is interesting, because rumors have suggested that while that was Apple's initial plan, focus has since shifted to autonomous driving software for cars rather than an Apple-branded and designed vehicle.
Work on Project Titan, Apple's autonomous vehicle program, has been ongoing since 2014, but it was said to be plagued with leadership issues, internal strife, and other problems, with Apple opting to shelve the idea of a car for the foreseeable future.
Hundreds of employees were laid off and leadership was transferred to Bob Mansfield, who transitioned the team's work to an autonomous driving system that could allow Apple to partner with existing car manufacturers. Apple has been testing and developing its autonomous driving software out on the streets of Cupertino in Lexus SUVs outfitted with autonomous driving equipment since early 2017.
Some recent hirings, including that of Doug Fields, who spent five years as Tesla's lead engineer, have, however, led to speculation that Apple may be reconsidering the idea of building its own vehicle. If Kuo is correct, Apple's current autonomous software research could be built into an actual Apple-branded car at some point.
Prior to when the project was shelved, Apple was said to be developing a self-driving electric vehicle. Apple early on met with manufacturers like Magna Steyr and BMW, and explored a range of technologies, including silent motorized doors, car interiors sans steering wheel or gas pedals, augmented reality displays, an improved LIDAR sensor that protrudes less from the top of a car, and spherical wheels, but it's not clear if any of these concepts will be revisited if the car project has indeed shifted back to a full car.
Kuo did not share additional information on the Apple Car project beyond a prospective launch date, but he did also comment on the future of AR, another market where he expects Apple to see significant revenue growth in the future.
Kuo believes that Apple is planning to introduce AR glasses in 2020, expanding on its existing augmented reality market. AR, says Kuo, is the "next-generation revolutionary UI," with Apple planning to redefine the UIs of its existing products by offering an AR experience created by the augmented reality glasses that are rumored to be in the works.
Multiple past rumors have suggested Apple is experimenting with a variety of AR and VR headsets, and augmented reality smart glasses seem to be one of the most persistent rumors. The smart glasses are said to include a dedicated display, a built-in processor, and a new "rOS" or reality operating system based on iOS.