Apple Car's Self-Driving System Reportedly Advances, Could Use Sensors From iPhone LiDAR Supplier
Apple has made advancements with its self-driving system and could use LiDAR sensors from Wenmao, Economic Daily News reports.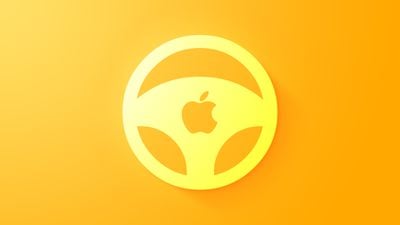 Apple has reportedly improved its vehicle project's self-driving capabilities and is expanding testing. The self-driving system apparently heavily relies on LiDAR sensors, which Apple may source from Chinese supplier Wenmao – a supplier that already provides LiDAR scanners for the iPhone and iPad Pro. While the company may take some time to develop capacity for automotive-grade LiDAR sensors, Wenmao's quality and existing relationship with Apple could make a partnership likely. Apple is likely to choose long-term supply chain partners like Wenmao early in the development process.
Another Economic Daily News report says that Apple supplier Foxconn's collaboration with German industrial giant Siemens to make advanced driver assistance systems could align with Apple's automotive strategy. Taiwanese companies like Foxconn are believed to have sufficient production capacity to build the vehicle. Apple is expected to continue testing until the car is a viable consumer product.
A major recent report from Bloomberg claims that Apple has scaled back its initial vision for the vehicle and dropped its proposed $120,000 price point, eliminating ambitions for a full self-driving system with no steering wheel or pedals, and an interior design focused on communal seating. Now, the car is expected to have a much more conventional design with more limited self-driving capabilities, for a price under $100,000. The car is now expected to launch around 2026.