Apple's Car Project Shifts Towards Autonomous Driving System Under Mansfield's Direction
Bob Mansfield, a longtime Apple executive who previously served as Senior Vice President of Technologies, recently took over Apple's secret car project. Under his leadership, Apple's car strategy has shifted towards autonomous driving, reports Bloomberg.
Apple is not abandoning its effort to build a full Apple Car, but it is said to be focusing more heavily on creating an autonomous driving system that would perhaps allow it to partner with or purchase a car manufacturer in the future. Apple is now said to be pursuing a two-prong development approach, working both on a car and the software to power it.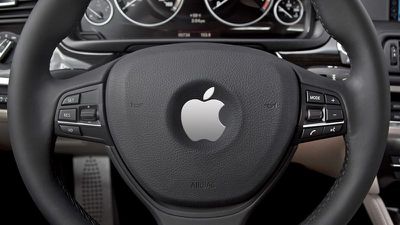 As Apple takes a renewed interested in autonomous driving systems, it has hired Dan Dodge, who ran BlackBerry's automotive software division and developed QNX, the software platform found in a wide range of in-car infotainment systems. Dodge, like other Apple car engineers and employees, reports to Mansfield, while Mansfield reports directly to Apple CEO Tim Cook.
Mansfield reportedly has three distinct teams in his division: a software team led by John Wright, a sensor team led by Benjamin Lyon, and a hardware engineering team led by D.J. Novotney. Under Mansfield's direction, Apple is continuing its aggressive hiring policies, taking on former Ford employees Todd Gray and Aindrea Campbell, both of whom have experience with car body manufacturing and research.
With Mansfield at the helm, Apple may be able to get its car project back on track. Rumors have suggested that the departure of Steve Zadesky, who formerly led the project, resulted in delays, internal strife due to challenges like unattainable timelines, and organizational changes. Recent rumors suggest Apple is now aiming to launch an Apple Car in 2021 instead of 2020, but if Apple decides to go with a software-based product meant to be built into existing cars, it could potentially debut earlier.