Apple has reportedly signed a 10-year lease for nearly 314,000 square feet of industrial manufacturing space in Santa Clara County, California (via Silicon Valley Business Journal).
The agreement between Apple and project developer McCarthy Ranch is for a single-story warehouse facility located at McCarthy Creekside, a new multiphase development in the city of Milpitas, for which Apple is said to be paying around 90 cents per square foot.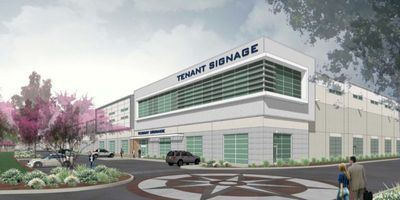 Render depicting corner of 800,000 square foot industrial development in Milpitas
Silicon Valley's vacancy rate was already a miniscule 1.5 percent, but the deal has reportedly made it hit an all-time low of just to 0.7 percent, according to the
Journal
.
"The shortage of available warehouse space is restricting tenant mobility," Lena Tutko, research manager for Colliers International, said. "Warehouse users are often left with two options: renewing their lease, as seen by the top four of five deals of the third quarter, or relocate outside of the Valley."
It's not yet clear what Apple's plans are for the industrial space north of San Jose, but developer Joey McCarthy told the Journal that McCarthy Creekside is purpose-built for "industrial, R&D, [and] manufacturing."
Aside from specialist operations like the Mac Pro facility in Austin, Texas, the vast majority of Apple's manufacturing takes place outside of the U.S., which adds an extra layer of intrigue to the company's intentions in Milpitas.
On the other hand, the space could indicate an expansion of Apple's autonomous car project. Apple is believed to be using several Bay Area facilities for its self-driving car research, while McCarthy Creekside is already home to autonomous driving R&D, with a building on the development having been leased to electric vehicle maker SF Motors.