Despite rumors earlier this week suggesting the
12-inch Retina MacBook Air
could see a launch during Apple's upcoming March 9 media event,
The Wall Street Journal
tonight released a report indicating the notebook won't be shipping until Q2 2015. The site shared the tidbit
in a detailed report
on upcoming features that might be added to the larger-screened 12.9-inch "iPad Pro."
While suppliers are gearing up to ship the new 12-inch MacBook Air in large quantities in the second quarter, Apple's launch schedule remains unclear, the people said.
A Q2 2015 shipment date for the 12-inch MacBook Air suggests Apple could be planning to launch the notebook around June, possibly at its Worldwide Developers Conference. Apple has launched products during WWDC before, introducing the Mac Pro in 2013 and the Retina MacBook Pro in 2012.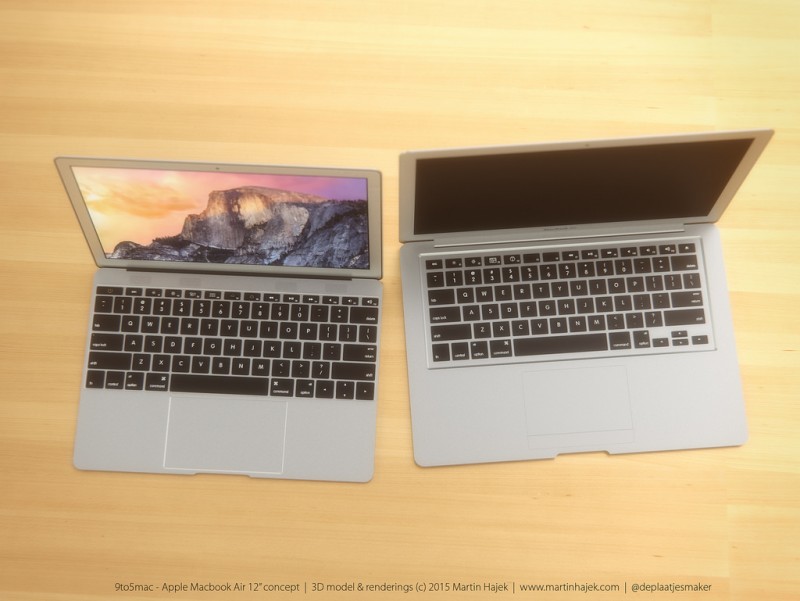 Rendering of the 12-inch MacBook Air next to an existing MacBook Air by Martin Hajek
Aside from a potential launch date for the notebook, there's one other significant point of interest in
The Wall Street Journal
's report -- a clear distinction between the 12-inch MacBook Air and the 12.9-inch iPad Pro. Some users have speculated that due to the similarity in screen size and the iPad-like features rumored for the 12-inch Retina MacBook Air, the two products are actually one, but this new report makes it very clear that Apple is developing two separate product lines.
Separately, Apple also plans to broaden its product offering with a new 12-inch MacBook Air, people familiar with the matter said.

Earlier this year, Apple's suppliers started mass production of a 12-inch MacBook Air, featuring a higher resolution display, they said.
There is some convergence between the two products, despite the fact that one is an iPad and one is a MacBook. The 12-inch MacBook Air is rumored to have iPad-like colors, fewer ports, and no Magsafe charger, while tonight's
WSJ
report points towards an iPad with USB ports, but it's likely the two products will continue to be separated by operating system.
Though Apple may not plan to launch the 12-inch Retina MacBook Air during its March 9 event, there's still a good chance the company may refresh its existing 11 and 13-inch MacBook Air lineup, which are overdue for an update. Screenshots said to be from a 13-inch MacBook Air with a Broadwell processor and integrated Intel HD 6000 graphics
were shared this afternoon
, suggesting a refresh is imminent.
Following up on a report from earlier today claiming Apple has
pushed back its plans
for the so-called "iPad Pro", asking suppliers to begin production in September rather than this quarter,
The Wall Street Journal weighs in
with its own claim that Apple is indeed now targeting the second half of this year for the mass production of the device.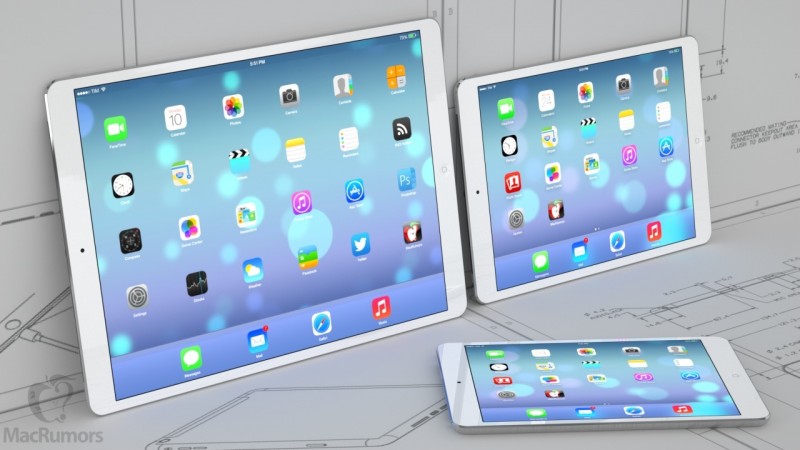 Mockup of iPad Pro, iPad Air, and iPad mini
Beyond timing, the report also claims Apple is still tweaking plans for the iPad Pro's design and feature set, with the company considering including USB 3.0 ports to accommodate data transfer and peripherals connectivity.
"Apple has continued to rework some of the features of the larger iPad. It is now considering the faster technology for data synchronization between the larger iPad and other computing devices," said the person. [..]

The company has also been considering adding ports to connect to a keyboard and mouse, the people said.
Apple is reportedly also looking into ways to speed up charging time for the iPad Pro, as the device will almost certainly come with an even higher-capacity battery than the iPad Air family.
Finally,
The Wall Street Journal
's sources indicate the iPad Pro's display does indeed measure 12.9 inches diagonally, marking a substantial increase over the iPad Air family's 9.7-inch display. Rumors have been split between 12.9 inches and 12.2 inches for the iPad Pro's display.
Apple has opted to delay production on the rumored larger-screened "iPad Pro" due to issues with display panel supply, reports
Bloomberg
. Manufacturing on the tablet will reportedly begin in September, rather than earlier in the year.
Production of the 12.9-inch-screen iPad is now scheduled to start around September because of delays involving the supply of display panels, said one of the people, who asked not to be identified because the details aren't public. Apple had initially planned to begin making the larger version this quarter, people familiar those plans had said.
This isn't the first time that rumors have hinted at delays for the iPad Pro. Apple was said to be targeting an early 2015 release date for the tablet last year, but those plans were reportedly put on hold. Back in October,
The Wall Street Journal
said that Apple had opted to delay mass production on the iPad in order to focus on iPhone 6 Plus production, and in November, KGI Securities analyst Ming-Chi Kuo said production
could be delayed until Q2 2015
because of difficulties related to the production of display components. With production delayed until September, the tablet could see a release in late 2015.

Rendering of the iPad Pro by Martin Hajek
Apple is planning to use the "iPad Pro," as the media calls it, to boost its flagging iPad sales. The tablet is expected to measure in somewhere between
12.2 and 12.9 inches
, dwarfing both the 9.7-inch iPad Air 2 and the 7.9-inch iPad mini 3.
It may be targeted
at the enterprise market
, and rumors have suggested it could sport an
"ultra" high-resolution display
and stereo speakers at the top and bottom edges of the device for an improved audio experience. It may also
ship with an optional stylus
accessory.
Apple began its efforts to decorate the Yerba Buena Center for the Arts in San Francisco yesterday,
putting up the scaffolding
that would allow workers to hang colorful banners and logos, and as of today, the first decorations have gone up.
Starting this morning, workers were spotted in the basket of a bright orange cherry picker, placing a banner across the glass of the Yerba Buena Center for the Arts where Apple will hold a
special "Spring Forward" media event
on March 9. The initial banner panels, which include Apple's iconic Apple logo, use the same general colors that were seen on the event invite, in shades of green ranging from pistachio to honeydew merging into shades of blue.

Workers have only just begun decorating the event center and it's likely the building's entire side will feature the same graduated lotus flower Apple design that was seen on the invitation, so colors should expand from green to blue to purple over the next few days as the company finishes preparations for Monday's event.
Apple's "Spring Forward" affair is said to be focused on the Apple Watch, and the company is expected to unveil additional details about the device, including information on battery life, pricing, and a launch date. Apple may also be planning to use the event to unveil the
12-inch Retina MacBook Air
and/or
refreshed 11 and 13-inch MacBook Airs
.
The event will kick off on Monday, March 9 at 10:00 a.m. Pacific Daylight Time. Apple plans to
provide live coverage of the event
on its website and through a channel on the Apple TV, and
MacRumors
will also be covering the event with both a live blog here on
MacRumors.com
and through our
MacRumorsLive Twitter account
.
HBO is in talks with Apple over a partnership that would see its upcoming standalone
web-only subscription television package
available on the Apple TV, reports Michael Learmonth, writing for
International Business Times
.
CNBC
has
also confirmed
that Apple and HBO are in talks in the video tweet posted below.
BREAKING: Sources tell @JBoorstin that Apple & HBO are in talks for Apple TV to be a launch partner for 'HBO Now'. https://t.co/hQd9AzA3Xr

— CNBC Now (@CNBCnow) March 4, 2015
Apple could potentially be one of HBO's launch partners for its web-only service, which may be called "HBO Now." News of HBO's web-based subscription service
first surfaced
in October of 2014, after HBO CEO Richard Plepler shared the company's plans at an investor presentation.
The service, aimed at cable cutters, will allow users to access HBO content without a cable subscription for a set monthly fee. With the launch of a cable-free subscription service, HBO will become the first major premium content provider to cease limiting its television and movie offerings to cable subscribers.
According to Learmonth, HBO's web-only subscription will launch in April alongside the premiere of the fifth season of
Game of Thrones
, which takes place on April 12. The service is said to cost $15 per month, which is roughly how much it costs to subscribe to HBO through a cable company. A partnership with Apple would allow the service to be watched on the Apple TV, much like the existing version of HBO's service, HBO Go. HBO Go is available to all existing HBO subscribers on a variety of devices like the iPad and Apple TV, but it requires an HBO subscription through a cable or satellite provider.

Cable companies like Time Warner and Comcast have long been reluctant to offer piecemeal pricing and companies like HBO have previously avoided moving away from traditional cable models in order to preserve the status quo and avoid upsetting existing revenue streams.
The introduction of HBO's service will be a major victory for cord cutters, and it could encourage other content providers to introduce similar offerings. Content providers' reluctance to shift away from traditional cable pricing models has been one of the major factors that's prevented Apple from
establishing deals for its own service
in the past.
Apple's MacBook Air hasn't been updated since last April, which means the company's line of ultraportable notebooks is due for a refresh. New screenshots
from the forums
of Chinese site Feng.com suggest an update is imminent, depicting the specifications of a MacBook Air with one of Intel's Broadwell processors. According to the user who posted the screenshots, they're from a 2015 MacBook Air that was produced by Foxconn.
The screenshots show the system information for a low-end 13-inch MacBook Air (MacBookAir7,2) with an Intel Core 1.6GHz i5-5250U processor and Intel HD Graphics 6000, which is
what we would expect to see
. The machine ships with 4GB of RAM and continues to use a display with a resolution of 1440 x 900. The battery appears to be very similar to the battery in the existing 13-inch MacBook Air.

The notebook is running a custom version of OS X Yosemite 10.10.2 with a build number of 14C2043, another marker we would expect to find in a new machine. The serial number provided is not registered with Apple and comes up as invalid, but that may be due to its unreleased status. There is no information within the screenshots that indicates the information has been faked, but there's also no concrete detail that earmarks them as real, either, aside from the fact that they closely align with what we would expect to see in the next MacBook Air refresh.

A chart suggests that the 13-inch MacBook will come in three iterations. The first two will use the 1.6GHz Core-i5 processor and will ship with either 128 or 256GB of storage. The higher-end model will use the Intel Core i7-5650U 2.2GHz chip and will ship with 8GB of RAM and 512GB of flash storage. There will be a variety of upgrade options as well.

There is no information available on the 11-inch MacBook Air, but it will use the same Broadwell chips and will offer many of the same upgrade options.
As for when the MacBook Air refresh will come, that's unknown. It appears the machines are ready to go, so it's very possible that Apple will announce the refresh during its
upcoming March 9 event
. Rumors initially suggested the MacBook Air might be
quietly updated on February 24
, but that date came and went, leaving a potential refresh date up in the air.
Apple's March 9 event is said to be focused on the Apple Watch, but it's possible the company will use the time to unveil other products as well. Rumors have suggested the 12-inch Retina MacBook Air
may also make an appearance at the event
, and there's a possibility Apple could unveil all three machines at the same time.
As with the MacBook Pro, it's likely the 12-inch Retina MacBook Air will initially be sold alongside existing MacBook Air machines due to differences in price. Over time, the Retina MacBook Air may replace the existing MacBook Air, just as the Retina MacBook Pro replaced the standard MacBook Pro.
The next-generation iPhone is expected to ship with 2GB of RAM and could also have a pre-installed
Apple SIM
, according to
AppleInsider
. The so-called "iPhone 6s," and presumably the "iPhone 6s Plus," would be adopting both features from the iPad Air 2, which also has 2GB of RAM and a pre-installed Apple SIM.

Both the iPhone 6 and iPhone 6 Plus, and all previous models dating back to the iPhone 5, have 1GB of RAM and must be used with a SIM card obtained from an individual carrier. Apple SIM, introduced alongside the iPad Air 2, allows you to choose between a variety of carriers without locking into long-term plans. Participating U.S. carriers include AT&T, Sprint and T-Mobile.
"The same source also told AppleInsider that Apple is strongly considering shipping its next-generation handset with the Apple SIM pre-installed. That piece, which also made its debut with the iPad Air 2, allows consumers to sign up for mobile data plans from any participating carrier directly from the Settings app without long-term contracts and to switch providers at any time."
While the report claims that Apple is strongly considering including a pre-installed Apple SIM on the next iPhone, the company's vice president of iPhone, iPod and iOS product marketing Greg Joswiak
downplayed the idea
last year because of the higher number of iPhone customers that purchase their smartphone directly from a carrier.
"It's about the customer experience," he said during an appearance here at Re/code's Code/Mobile conference. "We ultimately don't know who you are going to use as the carrier, [and] we want to make it as easy as possible."

Joswiak said Apple has not discussed putting the Apple SIM into iPhones, but said that because of the way most customers buy an iPhone--through a carrier directly--the Apple SIM is not as well suited. "I don't think you're going to go to the Verizon store and say, 'Can you hook me up with AT&T?,'" he said.
These rumors are rather predictable given that Apple typically improves the hardware specifications of iPhones and iPads each year, although the addition of a pre-installed Apple SIM on iPhone may still not materialize due to tough opposition from carriers. Verizon, for example, was notably absent as a participating carrier for Apple SIM when the iPad Air 2 was released last year.
Apple is expected to announce its next-generation iPhones in September per usual. The "iPhone 6s" was also rumored to have
2GB of RAM and Force Touch
in January based on sources within Apple's supply chain. Few other details about the upcoming iPhones are known, aside from a
disputed claim
that the devices will include a
DSLR-like dual-lens camera system
.
Branding website Brandchannel recently
revealed
the winners of the Brandcameo 2015 Product Placement Awards, which names the movies and brands with the most proliferation within Hollywood films over the past year. For the first time since 2011, Apple nabbed the 2014 Award for Overall Product Placement, appearing in 9 of the 35 films that topped the U.S. box office last year.
Brandchannel mentions the most influential Apple moments in films last year, perhaps the most popular of which is an
extended scene
in Marvel's blockbuster
Captain America: The Winter Soldier
, in which two of its protagonists use a MacBook Pro inside an Apple Store to hack into secretive S.H.I.E.L.D. data.

A quick tangential reference to an iPod Shuffle in
The Lego Movie
also helped Apple reign over previous winners like Budweiser (2013) and Mercedes-Benz (2012), and just barely beat out the likes of Coca-Cola and Sony for the award.
Apple bested both Coca-Cola and Sony by a single appearance, for which Apple can thank "The Lego Movie." The Apple logo doesn't appear in the film but Lord Business does talk about his iPod Shuffle. Recent winners Budweiser (2013) and Mercedes-Benz (2012) showed up in a distant five and six times respectively.

Other appearances include in "Ride Along," "The Other Woman," "Neighbors," "The Fault in Our Stars," "Think Like a Man Too," "Gone Girl" and "Ouija."
The website mentions that while Apple's return to product placement dominance in 2014, appearing in just over 25 percent of the top box office films, is a step up from the last few years, the company's brand appearances still remain well below its peak performance years. The brand saw the most proliferation in its "golden age" of 2009, appearing in nearly 50 percent of all number 1 movies that year. It dropped to 42.5 percent in 2011 and to just 15 percent in 2013.
The newly Apple-owned brand Beats, unfortunately, won the 2014 Award for Worst Product Placement. The company's popular Bluetooth speaker, the Beats Pill, popped up in a scene in the critically-panned
Transformers: Age of Extinction
, wherein Stanley Tucci creates a Pill using his mind and the fictional "Transformium" material that pushes much of the film's plot into motion.
Apple could be planning to introduce the much-rumored 12-inch Retina MacBook Air during its March 9 Apple Watch event, according to one site that claims to have sources within Apple.
The Michael Report
believes Apple will use the event to debut the ultrathin MacBook, which is rumored to have a Retina display and a redesigned chassis.
Many are expecting Apple talk more about the Apple Watch. However, sources familiar with the matter within Apple have exclusively told The Michael Report that Apple plans to unveil the long-awaited Retina MacBook Air at the same event. The Michael Report has independently verified this information to be highly credible.
While there have been no concrete rumors from major sites linking the Retina MacBook Air to Apple's March 9 event, previous rumors have indicated that Apple is planning for a spring release. Apple supplier Quanta is said to have
begun mass production
of the notebook in January, and KGI Securities analyst Ming-Chi Kuo
predicted a March launch
for the MacBook.

Rendering of the 12-inch Retina MacBook Air created by Martin Hajek
When taking these rumors into account, along with the fact that the MacBook Air is due for an update, the introduction of the Retina MacBook Air at Apple's March 9 event does seem like a possibility. It's also possible Apple will introduce new models of the existing 11 and 13-inch MacBook Air at the event -- the last update was in April and
there was a rumor
suggesting an update in February was imminent. Core M Broadwell chips believed to be appropriate for the 12-inch Retina MacBook have
been available since November
, and chips appropriate
for the standard MacBook Air
began shipping in January.
Along with a Retina display, the 12-inch MacBook Air is rumored to come without a fan assembly for silent operation, made possible by the aforementioned Core M chips, and it may also include a revamped trackpad that does not incorporate a mechanical button. It is said to feature smaller bezels in a Retina MacBook Pro-style black, a keyboard that stretches right to the edges of the machine, and speakers that are located above the keyboard.
The Michael Report
has a mixed track record when it comes to rumors. The site
accurately predicted
some design elements of the iPad Air 2, but its predictions may have been based on dummy models that were circulating around the Internet at the time. The site also
shared details on the iPhone 6 and 6 Plus
ahead of their launch, inaccurately calling the iPhone 6 Plus the "iPhone 6L" and suggesting the iPhones would come with quad-core processors and sapphire displays.
More details about what Apple plans to unveil at its Monday, March 9 event may come out through the week. Thus far, many sites have agreed that the focal point of the event will be the Apple Watch, with Apple unveiling new details about the device like its price and its official launch date.
Swedish car manufacturer Koenigsegg is known for its high-priced luxury sports cars, often called hypercars. At the Geneva Motor Show today, Koenigsegg
showed off its latest car
-- an ~1,800 horsepower hybrid vehicle with built-in support for Apple's CarPlay service.
Called the Regera, which translates to "to reign" in Swedish, the car can go from 0 to 250 miles per hour within 20 seconds, and it tops out at a speed of 255 miles per hour. It's equipped with a 5.0-litre twin-turbo V8 engine along with
three electric motors
. One motor replaces the standard transmission with the Koenigsegg Direct Drive system, and there's a motor dedicated to each rear wheel.

Inside, the Regera is equipped with an infotainment system that includes a 9-inch infrared
zForce Neonode touchscreen
, which is said to offer superior touch performance and multi-touch gestures. The infotainment system is compatible with Apple's CarPlay, letting Regera buyers connect their iPhones to their cars to access all of CarPlay's features.

The Koenigsegg Regera is priced at $1,890,000, and only 80 of the cars will be produced. The version being shown off at the Geneva Motor Show is the first in the series, and is said to be 95 percent complete.
A long list of automobile manufacturers have signed up to partner with Apple and introduce CarPlay in upcoming vehicles, but thus far, Ferrari is the only brand that has produced a car that's available with CarPlay -- the $300,000 Ferrari FF.
Audi
,
Volkswagen
, and
Hyundai
have all promised that CarPlay-compatible cars will be available in 2015, and there are a number of aftermarket CarPlay solutions from
Alpine
and
Pioneer
that are currently available for purchase.

Researchers have recently uncovered a major security flaw in software created by companies like Google and Apple, leaving many devices vulnerable to hacking attempts, reports
The Washington Post
. Called "FREAK" (Factoring Attack on RSA-EXPORT Keys), the vulnerability stems from a U.S. government policy that once prevented companies from exporting strong encryption, requiring them to instead create weak "export-grade" products to ship to customers outside of the United States.
These restrictions were lifted more than a decade ago, but the weaker encryption has continued to be used by software companies as a result of the old policy and it has even been built into software in the U.S. The existence of lingering "export-grade" encryption was unnoticed until this year, when researchers found they could force browsers to use lower-grade 512-bit encryption and then crack it.
Hackers could potentially employ the same tactic, cracking weak encryption and then stealing passwords and other information. Researchers also believe the vulnerability could be used to launch attacks on and infiltrate major websites. In testing, the export-grade encryption key was breached in seven hours using computers and more than a quarter of encrypted sites were found to be vulnerable.
"We thought of course people stopped using it," said Karthikeyan Bhargavan, a researcher at the French computer science lab INRIA whose team initially found the problem during testing of encryption systems.

Nadia Heninger, a University of Pennsylvania cryptographer, said, "This is basically a zombie from the '90s... I don't think anybody really realized anybody was still supporting these export suites."
As pointed out by
The Washington Post
, the FREAK vulnerability is an example of the problems that can arise when the government gets involved in device security. Government officials have
recently expressed concern
over the privacy features that Apple and Google have been building into their smartphones in response to outrage over secretive government surveillance programs
like PRISM
.
FBI Director James Comey has made remarks suggesting Apple and Google should scale back encryption, as government access to electronic devices is necessary in some cases. He has said that it may matter a "great, great deal" that the government be able to infiltrate the device of a kidnapper, criminal, or terrorist.
The researchers who discovered the flaw have notified government sites and major technology companies to fix the issue before it became widely publicized. FBI.gov and Whitehouse.gov have been fixed, and according to Apple spokeswoman Trudy Miller, Apple is preparing a security patch that will be "in place next week for both its computers and its mobile devices."
Apple has decided to hire the majority of its day-to-day security staff in Silicon valley as full-time employees, a company spokeswoman confirmed to the
San Jose Mercury News
. Many of the security guards that Apple has hired in the past as contractors will become part of the company's expanded in-house security team and receive the same benefits as other employees, including full health insurance, retirement contributions and a leave of absence for new parents.

Apple security guard in dispute with photographer at iPad event (via The Australian)
Apple will continue using contractors as security guards for special events, such as the upcoming
"Spring Forward" media event
at the Yerba Buena Center for the Arts on March 9th. Apple is believed to have begun
constructing an extension
on the Yerba Buena Center over the weekend, possibly as an Apple Watch demo area, and security guards wearing "Apple Security" shirts were spotted monitoring the premises.
"We will be hiring a large number of full-time people to handle our day-to-day security needs," the spokeswoman told the San Jose Mercury News. "We hope that virtually all of these positions will be filled by employees from our current security vendor and we're working closely with them on this process."
Apple has faced increasing pressure to provide individuals who cook, clean and monitor security for the company with the same benefits as other employees. Local union United Service Workers West staged a protest on Apple's headquarters in Cupertino, California in December over complaints that its security contractor Security Industry Specialists treated workers poorly and that many positions were part-time.
Other service workers in Silicon Valley are also fighting for better wages and benefits.
The Wall Street Journal
reported that a group of 158 bus drivers working for Compass Transportation, which provides shuttle service for Apple, eBay, Genentech, Yahoo and Zynga, voted on Friday to be represented by local union Teamsters Local 853 in negotiations with Compass over fair working conditions.
Note: Due to the political nature of the discussion regarding this topic, the discussion thread is located in our
Politics, Religion, Social Issues
forum. All forum members and site visitors are welcome to read and follow the thread, but posting is limited to forum members with at least 100 posts.