For all of its devices that use communications technologies like Bluetooth, Wi-Fi, and NFC, Apple has to submit them to the United States Federal Communications Commission for approval, and the filings, though restricted, occasionally give hints as to what Apple is working on.
In early January, Apple sought approval for an unnamed "Wireless Device" that features support for NFC and Bluetooth. With a model number of A1846, the device appears to be an iteration of a similar Wireless Device that was
submitted for regulatory approval
back in September. That device shared the same design but had a model number of A1844.
The A1846 model number is not similar to existing Apple products, unveiling no information. There are no photos of the device itself, but a regulatory label that was on the original A1844 device pictured pointed towards slightly curved edges and two included torx screws. Apple appears to have updated the imagery in the second A1846 submission to give fewer hints on its design.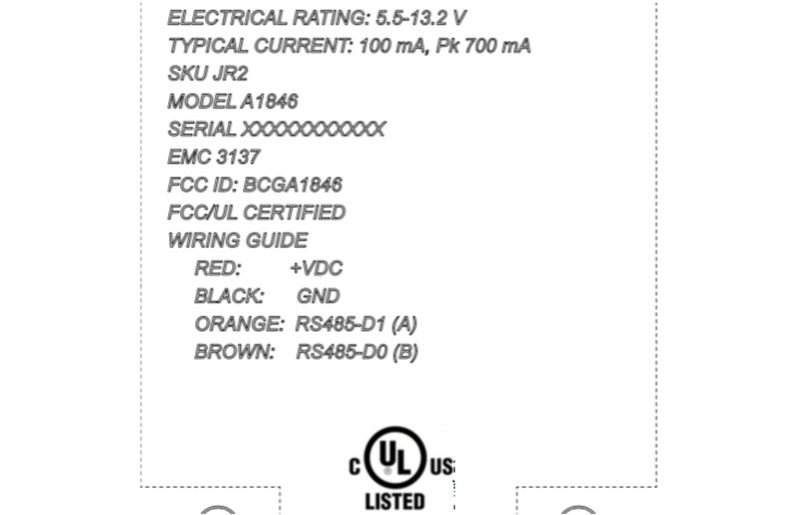 When the original "Wireless Device" was uncovered, there was some speculation that it could perhaps be a new
Apple TV
, but given the design of the product and the prominent FCC labeling, it's much more likely that this is a behind-the-scenes object that will not see a public release.
Regulatory information is etched directly on the back plate of the device along with a wiring guide, details that are not included on consumer-facing products.
It's possible that the device in question is something that's used in retail Apple stores, such as a product display unit or
iBeacon-based
equipment used to communicate with customer iOS devices.
Given Apple's secrecy and its request for the FCC to keep all images, descriptions, diagrams, and antenna locations for the device hidden from the public, we won't know more about the device until it's released, and if it is indeed a non-consumer-facing product as we suspect, we may never figure out what it is.
Over the course of the last year, there has been ongoing
speculation
that wireless charging company Energous has
inked a deal
with Apple and could potentially provide wireless charging technology for the upcoming
iPhone 8
.
While Energous CEO Steve Rizzone has continually hinted that his company has established an agreement with "one of the largest consumer electronic companies in the world," leading people to believe the partner is Apple, a new
investor's note
from Copperfield Research outlines why Apple has no plans to use Energous' WattUp radio frequency-based wireless charging solution.
Copperfield Research examined multiple
inductive charging patent applications
filed by Apple starting in 2013, which now number more than a dozen, suggesting the patents are a clear indication of Apple's desire to pursue its own in-house inductive charging solutions for future products. Inductive charging, widely used today, relies on magnetic coils to provide power rather than radio waves.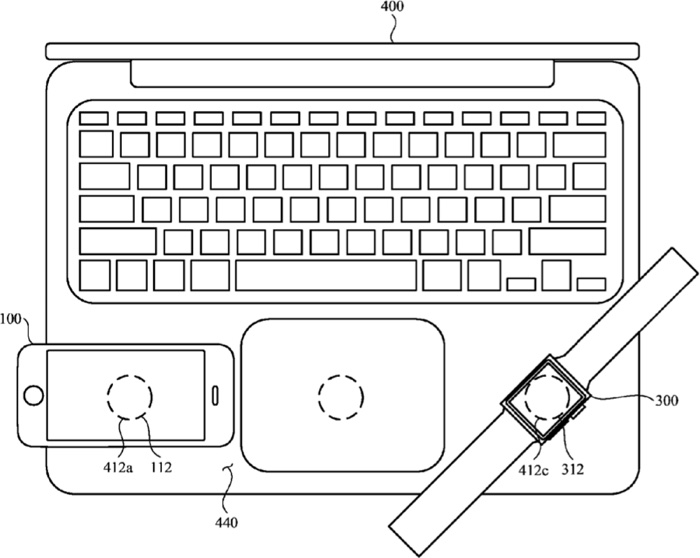 An image from an Apple patent covering inductive charging
The patents by themselves are not a clear indication of Apple's plans, but in
one patent filed in 2011
, Apple makes its feelings on radio frequency-based charging clear, calling it "very inefficient," "not practical," and potentially hazardous. In the interest of full disclosure, however, the patent was filed before any prospective relationship with Energous.
However, this type of radiative transfer is very inefficient because only a tiny portion of the supplied or radiated power, namely, that portion in the direction of, and overlapping with, the receiver is picked up. The vast majority of the power is radiated away in all the other directions and lost in free space. Such inefficient power transfer may be acceptable for data transmission, but is not practical for transferring useful amounts of electrical energy for the purpose of doing work, such as for charging electrical devices. [...]

In addition, such schemes may pose hazards to objects or people that cross or intersect the beam when modest to high amounts of power are being transmitted.
Furthermore, Copperfield Research suggests both rumored design decisions and recent news that Apple has
partnered with Lite-On Semiconductor
for wireless charging bridge rectifiers are indications of Apple's plan to use inductive charging.
Bridge rectifiers, explains Copperfield Research, are used to convert alternating current (AC) to direct current (DC), a component needed for inductive charging and one that would not be necessary should Apple be relying on an all-in-one module from Energous.
Apple's rumored decision to use a glass body also reportedly points towards inductive charging. A glass body would not be required for RF-based wireless charging technology, but is needed for an inductive charging solution.
Adding further credence to Apple's inductive charging roadmap are the consistent leaks from Asian sources that the next iPhone will feature glass casing. Inductive charging does not penetrate aluminum cases effectively, which is the material for the current iPhone casing. One reason Samsung adopted plastic material for its cases is to improve the performance of wireless charging.

A major misperception among tech blogs and WATT investors is that Apple's switch to a glass casing somehow confirms the inclusion of WATT's charging technology. This is ridiculous. The efficacy of RF wireless charging (WATT's technology) is not affected by aluminum or plastic cases.
Many of Apple's inductive charging patents outline the improvements Apple has made in the field over the course of the last few years and give hints as to how wireless charging could work if Apple is indeed developing an in-house inductive charging solution for the iPhone 8.
Patents point towards multiple objects that could provide power, such as a table top with a charging coil built in, a desktop charging station, or even a desktop or notebook computer, which could be used to provide power to an iPhone or iPad. Devices could even share power between one another, suggesting a fully charged iPad could charge an iPhone, or vice versa.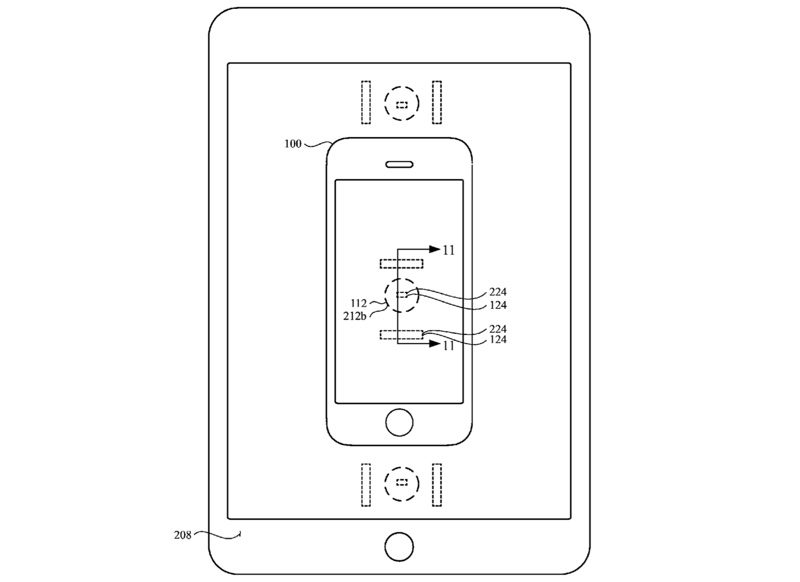 An image from an Apple patent covering inductive charging
Copperfield Research does believe that Apple had a partnership with Energous that gave the Cupertino-based company a way to research radio frequency-based charging without shelling out cash, but concludes that there is an "overwhelmingly conclusive mosaic" suggesting Apple will use in-house inductive charging for the iPhone 8.
Copperfield Research is made up of an anonymous group of researchers that have shorted Watt's stock and may not be entirely impartial, but the evidence they have presented makes a compelling argument for the use of an in-house inductive charging solution rather than a partnership with Energous.
Apple today released
macOS Sierra
10.12.3, the third update to the macOS Sierra operating system that
launched on September 20
. macOS Sierra 10.12.3 comes over a month after the release of
macOS Sierra 10.12.2
, and has been in testing since December 14.
macOS Sierra 10.12.3 is a free update for all customers who are running macOS Sierra. The update can be downloaded using the Software Update function in the
Mac App Store
.

No specific changes, bug fixes, or feature additions were discovered during the beta testing process, and Apple only said the update "improves the stability, compatibility, and security of your Mac." Apple's release notes paint a more complete picture, stating that the update improves graphics switching for the new 15-inch
MacBook
Pro, fixes issues with Adobe Premiere, and includes important fixes for Preview.
The macOS Sierra 10.12.3 Update improves the stability and security of your Mac, and is recommended for all users.
This update:

- Improves automatic graphics switching on MacBook Pro (15-inch, October 2016).
- Resolves graphics issues while encoding Adobe Premiere Pro projects on MacBook Pro with Touch Bar (13- and 15-inch, October 2016).
- Fixes an issue that prevented the searching of scanned PDF documents in Preview.
- Resolves a compatibility issue with PDF documents that are exported with encryption enabled.
- Fixes an issue that prevented some third-party applications from correctly importing images from digital cameras.

Enterprise content: Resolves an issue were network or cached user accounts (such as Active Directory accounts) using the maxFailedLoginAttempts password policy were becoming disabled.
macOS Sierra 10.12.3 will likely soon be followed by another update, as Apple has been committed to regularly making updates to the operating system since its September release.
Apple today released
iOS 10
.2.1 to the public following several weeks of testing. iOS 10.2.1 also comes more than a month after the release of
iOS 10.2
, the second major update to the iOS 10 operating system.
iOS 10.2.1 is a free over-the-air update available to all iOS 10 users. It can also be downloaded and installed on iOS devices using iTunes on a Mac or PC. The update is still rolling out and may not be immediately available on all devices.

No outward-facing changes or new features were discovered during the beta testing process, suggesting the update focuses on bug fixes and performance improvements. According to Apple's own release notes for iOS 10.2.1, the update brings unspecified bug fixes and security improvements.
The iOS 10.2.1 update will soon be followed by a new iOS 10.3 beta, if rumors are correct. The first iOS 10.3 beta, with a new "Theatre Mode" was rumored to be
coming out on January 10
, but has not yet appeared.
Samsung held a press conference on Monday in which it revealed the results of its internal investigation into why some of its Galaxy Note7 handsets
set on fire
. Last week, leaked reports
confirmed
the battery was to blame, but Samsung took pains today to explain the thoroughness of its investigation, which involved over 700 engineers and data gathered from testing 200,000 phones and 30,000 Note7 batteries.
In addition to enlisting the help of two independent testing labs, the Korean company built a large-scale test facility to automate different charging and discharging scenarios, which was able to replicate the failures of consumer handsets. Absolutely everything was examined, said Samsung, from hardware and software design, to manufacturing and logistics.

Samsung's Note7 test facility.
Samsung said that two separate flaws were to blame for some batteries setting on fire in both original and replacement phones. The original Note7 battery had a design flaw in the top-right corner that was liable to short-circuit, while the batteries in replacement units were prone to combustion because of a welding defect. Some handsets were also missing insulation tape. For those interested, the company also released an
infographic
explaining the findings in more detail.
Going forward, Samsung said it was introducing an 8-point Battery Safety Check that includes additional inspection and testing. The firm also said it was improving training for all battery handlers across its assembly and shipping chains. In addition, it explained that more space would be allowed around the batteries in its handsets to protect them from impact-related failures, and said it would take steps to improve its battery diagnostic and controller software.
"I [hope] this serves as an opportunity to improve safety of lithium-ion not only for Samsung but for the entire industry," Samsung mobile head DJ Koh told Recode, adding that Samsung takes responsibility for all components of the phone, including batteries made by other Samsung subsidiaries and those bought from outside companies.
Samsung confirmed that the changes would arrive in the forthcoming
Galaxy S8
, but told reporters not to expect its mid-cycle phone to make its usual appearance at the Mobile World Congress, held annually in February. No timeframe was given for the launch of the S8, suggesting Samsung is being careful not to put itself under undue pressure for its comeback after last year's Note7 debacle, which was said to be a result of the company trying to
beat Apple's iPhone 7 to market
.
Yahoo is under investigation from the Securities and Exchange Commission over its failure to disclose its massive data breaches sooner, according to
The Wall Street Journal
.
In September 2016, the internet company revealed that an unidentified hacker had stolen the personal data of "at least"
500 million users
. Then last month, the internet company admitted that over
one billion Yahoo user accounts
had been compromised in a hack dating back to August 2013. Information stolen included names, email addresses, phone numbers, birth dates, hashed passwords, security questions and answers.

According to today's report, the SEC is investigating why Yahoo waited years before disclosing the massive data breach, despite the fact that some staff had known about the incident since at least 2014. The SEC has requested documents from Yahoo relating to the hacks in order to decide whether the internet giant could have reported the breach to investors sooner.
Yahoo is currently negotiating a takeover bid by Verizon, who is reportedly seeking a $1 billion discount off an original $4.8 billion buyout agreement because of the hacking revelations. It's unclear what impact the SEC investigation will have on the deal, but Yahoo's share price had already fallen following the news.
Taiwanese iPhone manufacturer Foxconn is considering a $7 billion joint investment with Apple to establish a display manufacturing facility in the United States, it was reported on Sunday.
According to the
Nikkei Asian Review
, journalists who attended Foxconn's annual end-of-year party quoted chairman Terry Gou as saying that Apple is seeking to invest with the firm in a U.S. facility, which will eventually create 30,000 to 50,000 jobs.
The increase in demand for larger display panels makes local production a better solution than shipping from China to the U.S. market, Gou told reporters. In addition to the proposed display facility, Gou said Foxconn plans a new molding facility in the U.S., with the state of Pennsylvania earmarked as a possible location following investment discussions with local officials.
Gou also said that Smart Technologies, a Foxconn-controlled interactive display startup based in Canada, may move south of the border, after U.S. President Donald Trump signaled a possible renegotiation of the North American Free Trade Agreement.

According to reports, Gou said that the rise of U.S. protectionism was an inevitable consequence of the Trump administration, but questioned whether American consumers would be willing to pay significantly more for products as a result.
"In the future they may be paying some $500 more for U.S. products, but those do not necessarily work better than a $300 phone," he said, after urging U.S. authorities to provide concessions on land and electricity to facilitate Foxconn's manufacturing operations.

"Yes, we will continue to add to our investments in China," Gou told reporters. "China is the world's biggest market, and why should we turn down the biggest market?"
Foxconn's facility in Zhengzhou, China, produces over 100 million iPhones every year. Taking into account production from Taiwan and Hong Kong, China was responsible for more than 19 percent of Apple's global revenue in the fourth quarter of 2016.
Rising tension between the U.S. and China could benefit Gou, say people familiar with the tycoon's style. "Foxconn is known to leverage different provinces and countries against each other for better terms," an industry source said, suggesting Gou could pit both countries against each other as both sides courted new investments from the company.
Earlier this week it was
reported
that Foxconn was planning a new facility next to Apple's forthcoming research and development center in the southern Chinese city of Shenzhen. "Foxconn will not leave. Foxconn will stay in China," Gou told reporters in Guangzhou, when asked whether he plans to move existing manufacturing sites to the United States.
Note: Due to the political nature of the discussion regarding this topic, the discussion thread is located in our
Politics, Religion, Social Issues
forum. All forum members and site visitors are welcome to read and follow the thread, but posting is limited to forum members with at least 100 posts.
Noted KGI Securities analyst
Ming-Chi Kuo
released a research report today in which he outlined further expectations for Apple's 2017 iPhone, including new biometric identification technology as well as the necessity of a new design to provide better structural support for a flexible OLED display with
3D Touch
capability.
Apple may switch to a film sensor from the current FPCB sensor in order to provide better 3D Touch user experience, as a film sensor offers higher sensitivity. Also, we expect the new OLED iPhone will come with a flexible OLED panel. To avoid deforming the form factor of the flexible OLED panel from touch operation pressure, a metal structural part will be placed under the film sensor to provide more robust structural support.
Kuo also believes Apple is developing a new
Touch ID
technology for its next iPhone "to complement its full-screen (zero bezel) form factor design and to enhance transactions security". According to Kuo, the existing "under glass" design of fingerprint recognition doesn't meet the requirements of full-screen form factor designs, therefore an "under panel" placement is required.
As a result, Kuo says Apple aims to switch from the current capacitive-type to an optical-type system. Despite the technology still being in the early stages of development and the fact that OLED panel makers will have to provide bespoke designs for the system to work, Kuo believes Apple has the bargaining power to request the customizations.

Notably, Kuo believes the fingerprint recognition system will "ultimately be replaced by a facial recognition system" for enhanced security. "However, if the technical challenges cannot be overcome, we believe a combination of fingerprint and facial recognition is another possible solution."
Judging by the bio-recognition patents that Apple has applied for, we believe it is leaning toward facial recognition technology rather than iris recognition. However, we note that the technical challenges of facial recognition include: (1) algorithms; (2) hardware design; and (3) the build-out of a database for verification and authentication, which could be time consuming. As such, before Apple can fully replace the fingerprint system with facial recognition, a combination of the two steps of bio-recognition could be a valid solution for enhancing transactions security.
Assuming the technological challenges are not too great and adoption this year isn't too soon, Kuo suggests Apple's new system will usher in a "paradigm shift" for the application of biometric identification in smartphones.
Kuo's latest report builds on previous predictions regarding this year's "10th anniversary" iPhone, which is expected to feature a radical redesign with an embedded home button in an edge-to-edge display, a glass body, and potentially wireless charging.
Previous rumors
suggesting the
iPhone 8
could include advanced biometric features like facial recognition or iris scanning have pointed to the possibility that they could also power augmented reality camera functions.
Following news
yesterday
that Apple has filed suit against LTE modem supplier Qualcomm for engaging in anticompetitive licensing practices, the chipmaker hit back on Sunday by calling Apple's claims "baseless" and accusing it of "encouraging regulatory attacks".
Apple shared a statement with
several news sites
on Friday announcing the lawsuit, which argued that Qualcomm used its position as the sole supplier of a key iPhone component to drive up patent licensing fees. This morning Qualcomm responded in a
statement on its website
in which it claimed that Apple "intentionally mischaracterized our agreements and negotiations".

"While we are still in the process of reviewing the complaint in detail, it is quite clear that Apple's claims are baseless. Apple has intentionally mischaracterized our agreements and negotiations, as well as the enormity and value of the technology we have invented, contributed and shared with all mobile device makers through our licensing program. Apple has been actively encouraging regulatory attacks on Qualcomm's business in various jurisdictions around the world, as reflected in the recent KFTC decision and FTC complaint, by misrepresenting facts and withholding information. We welcome the opportunity to have these meritless claims heard in court where we will be entitled to full discovery of Apple's practices and a robust examination of the merits," said Don Rosenberg, executive vice president and general counsel, Qualcomm Incorporated.
Qualcomm was the sole supplier of LTE modems used in iPhones up until 2016, when
Intel
also began providing the component with the launch of the
iPhone 7
and iPhone 7 Plus. Apple claims Qualcomm forced it to use the LTE chips and pay back a percentage of the selling price of the phone in return for access to its patents.
Apple wants $1 billion in rebate payments, which were withheld by Qualcomm after Apple became involved in an antitrust investigation against the company in South Korea.
Group FaceTime calls will be a new feature introduced in iOS 11, according to an unverified rumor shared by Israeli site
The Verifier
. Citing "several people familiar with iOS development," the site says group FaceTime calls are being worked on by Apple's iOS 11 team, with some of the work taking place in Israel.
Said to be a "social" update that focuses on iMessage and FaceTime development, iOS 11 will reportedly let users start multi-person calls through a group conversation in iMessage. Up to five people at once will be able to participate in a call.

The Verifier
is not a site with an established track record for accurate rumors, so it is not clear how reliable this information is. We've heard few details on iOS 11 at this point in time, so the rumor should be viewed with skepticism until backed up by a secondary source.
The site also says that Apple could choose not to release group FaceTime calls in iOS 11, instead saving the feature for a future update.
Group FaceTime calls have been a long-desired feature on iOS and Mac devices, and would go a long way towards bringing FaceTime more in line with Microsoft's Skype software, which allows several people to communicate with one another through video chats.
iOS 11 will likely be released alongside new iPhones in the fall of 2017, but we expect to see a preview of the new software at the Worldwide Developers Conference, likely to be held in June of 2017.
Following
an FTC complaint
alleging Qualcomm engaged in anticompetitive patent licensing practices, Apple has
filed a lawsuit
against Qualcomm claiming the company has charged unfair royalties for "technologies they have nothing to do with."

According to a statement Apple
shared with several news sites
, Qualcomm "reinforces its dominance" through exclusionary tactics and high patent licensing fees. Apple's full statement is below:
"For many years Qualcomm has unfairly insisted on charging royalties for technologies they have nothing to do with. The more Apple innovates with unique features such as TouchID, advanced displays, and cameras, to name just a few, the more money Qualcomm collects for no reason and the more expensive it becomes for Apple to fund these innovations. Qualcomm built its business on older, legacy, standards but reinforces its dominance through exclusionary tactics and excessive royalties. Despite being just one of over a dozen companies who contributed to basic cellular standards, Qualcomm insists on charging Apple at least five times more in payments than all the other cellular patent licensors we have agreements with combined.

To protect this business scheme Qualcomm has taken increasingly radical steps, most recently withholding nearly $1B in payments from Apple as retaliation for responding truthfully to law enforcement agencies investigating them.

Apple believes deeply in innovation and we have always been willing to pay fair and reasonable rates for patents we use. We are extremely disappointed in the way Qualcomm is conducting its business with us and unfortunately after years of disagreement over what constitutes a fair and reasonable royalty we have no choice left but to turn to the courts."
In the lawsuit, filed in a federal district court in the Southern District of California, Apple accuses Qualcomm of using its position as the supplier of a key iPhone component to drive up patent licensing fees.
Qualcomm supplies the LTE modems used in Apple's line of iPhones, and up until 2016, the company was Apple's sole supplier. The
iPhone 7
and the iPhone 7 Plus use modems from both
Qualcomm and Intel
.
Qualcomm reportedly forced Apple to use its LTE chips exclusively in iOS devices and pay a percentage of the total average selling price of an iPhone for access to Qualcomm patents.
Qualcomm is supposed to provide Apple with quarterly rebates, but has failed to do so for the past year because of Apple's participation in an antitrust investigation against Qualcomm in South Korea. That investigation led to an $850+ million fine against Qualcomm for anticompetitive licensing practices.
Apple is seeking $1 billion in rebate payments that have been withheld.
Earlier this week, the United States Federal Trade Commission filed a lawsuit against Qualcomm that focused in part on Apple and Qualcomm's licensing deals. According to the FTC, Qualcomm imposes "onerous and anticompetitive supply and licensing terms" on its smartphone partners by abusing its patent portfolio.
Qualcomm has said it has "grave concerns" about the lack of evidence supporting the FTC's allegations and has promised to defend itself in federal court.
Apple CEO
Tim Cook
sold 30,000 shares of Apple stock this week, valued at $3.6 million based on the company's stock price of $120 at the time of the transactions, according to a U.S. Securities and Exchanges Commission
disclosure
. The shares were sold as scheduled pursuant to Cook's predetermined trading plan.

Cook retains 1,009,809 company shares worth over $121 million based on Apple's current stock price following the sale.
A recent SEC filing revealed Cook was paid $8.7 million in 2016, which is
$1.5 million less than he was paid in 2015
. The decrease stems from Apple failing to meet its own target performance goals for both net sales and operating income in 2016, resulting in senior executives receiving only 89.5% of their cash incentives.
However, upon reaching his fifth anniversary as Apple CEO last year, Cook
cashed in nearly $137 million
in previously-awarded stock bonuses tied to both his tenure and Apple's performance under his leadership. Accordingly, after bonuses, Cook actually earned roughly $145 million last year, his biggest payout yet.
Yesterday, Apple analyst Neil Cybart
opined
that Cook and his inner circle are "doing what needs to be done in order to maintain Apple's relevancy," but he noted "there is room for improvement." He called out sporadic Mac and iPad updates, and slow progress with
Siri
, as two blemishes among others in its product strategy.
In attempt to add a bit of relative context to this subjective grading:

• Product Strategy: A-
• Product Pipeline/R&D: A
• Operations: B-
• Marketing/Storytelling: C+
• Culture: B+
• Public Face: A+
• Financials: B
In related shareholder news, the world's largest asset manager BlackRock has
increased its stake in Apple
and now holds 6.1% of outstanding shares in the company, up from 5.7% a year ago. Its 322,683,504 shares are valued at over $38.7 billion based on Apple's current stock price.