macOS Sierra Now Available
Emergency alerts delivered to iPhones and other smartphones to warn customers about poor weather conditions, missing children, local crime, and more, may soon feature support for web links, photos, phone numbers, and longer message content.
The United States Federal Communications Commission on Thursday
voted to expand
emergency alerts from 90 to 360 characters on 4G and LTE networks, and to include support for links so people can follow up to get more information about an unfolding situation. As it stands, emergency alerts are short in length and often offer no resources for people to get in contact with emergency personnel if necessary.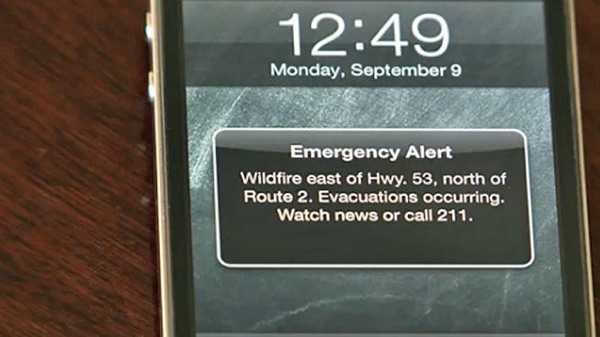 Image via NBC
Wireless providers like Verizon, AT&T, Sprint, and T-Mobile send these alerts and will be required to update their systems with support for the new features that have been mandated by the FCC.
"Vague directives in text about where to find more information about a suspect, just as we saw in New York, are not good enough," said Jessica Rosenworcel, an FCC commissioner. "As we move into the 5G future, we need to ensure that multimedia is available in all of our alert messages."
Carriers will also need to start supporting the transmission of Spanish language alerts and introduce a new type of safety alert designed to send "Emergency Governmental Information" like the locations of emergency shelters or an order to boil water before drinking.
The FCC's decision
follows criticism
of the emergency alert system after alerts were sent out in New York and New Jersey asking citizens to help track down a man suspected of setting off bombs in the area. The alert included a message advising people to "See media for pic," highlighting its shortcomings. It is not clear when the new rules will go into effect.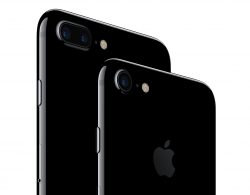 KGI Securities analyst
Ming-Chi Kuo
has outlined further predictions for next year's iPhone lineup, claiming the popularity of Jet Black models will encourage Apple to return to glass casing for 2017 models, as the material tends to have a higher gloss finish than metal.
While a glossy finish is possible for metal casing, we identify two prerequisites for the 2017 new iPhone to be competitive in terms of casing design, considering competitors will definitely launch smartphone models with glossy metal or glass casing prior to Apple's launch: (1) adoption of a glossy finish design; (2) enhanced productivity and higher yield will prevent a supply shortage, as has happened with jet black casing, which is manufactured at an unsatisfactory yield rate of 60-70% due to the metal material; and (3) better scratch resistance will improve user satisfaction. All things considered, we see glass casing as the only option.
Kuo believes Apple is more likely to stick with slightly curved 2.5D cover glass on the 2017 iPhone, as used on
iPhone 6s
, rather than adopt a fully curved 3D design, in light of mass production considerations and drop test performance. Kuo previously said Apple will launch a
5.8-inch iPhone with a curved OLED display and glass casing
next year, which a subsequent report said will be a
high-end model
. The other models would retain LCD displays with 4.7-inch and 5.5-inch screen sizes.
Kuo said the new glass casing will be reinforced by an aluminum metal frame, while stainless steel will be used for high-end models.
Metal frame can be stainless steel or aluminum, with former more likely for high-end models. As all-glass casing is not possible at present given technological bottlenecks, a metal frame surrounding the edge is necessary for reinforced structure design. As stainless steel has a better look than aluminum and costs more, we expect only high-end new iPhone models to come with a stainless steel frame next year.
The analyst believes Foxconn will be the sole supplier of high-end iPhone models next year as the exclusive manufacturer of the new stainless steel frame. Meanwhile, glass material supplier Corning and glass casing makers Lens Technology and Biel Crystal are said to be beneficiaries of the new glass design.
Apple released
iOS 10.1 beta
last week with a
new "Portrait" mode
on
iPhone 7
Plus. The depth-of-field feature uses the smartphone's dual cameras and advanced machine learning to make the subject in the foreground sharp while creating an out-of-focus blur in the background, known as the bokeh effect.
Since then, several
MacRumors
readers have shared beautiful shallow depth of field photos shot with iPhone 7 Plus. Many of the photos look like they were captured with a higher-end DSLR camera, which is impressive given how small the iPhone's cameras are. In many ways, the best camera truly is becoming the one you carry in your pocket.
MacRumors
reader Bryan, for example, shared some photos he shot at the ArtPrize international art competition in Grand Rapids, Michigan this week. Each photo beautifully demonstrates Apple's artificial bokeh effect, achieved by combining two images from the wide-angle and telephoto lenses to create a depth map.

The crowdsourced
iPhone 7 Plus Photography topic
in the
MacRumors
discussion forums has dozens of other great examples of both regular and shallow depth of field photos, including this swimming pool portrait shared by reader erwheezy. Make sure to click the link ahead to read the full article with more examples.
➜ Click here to read rest of article...
With the
iPhone 7
and
Apple Watch Series 2
launches having dominated the Apple news cycle in recent weeks, attention is now turning back to the Mac lineup, which has been in need of updates for quite some time as
highlighted by our Buyer's Guide
. Looking ahead to the rapidly approaching holiday shopping season, rumors have suggested Apple is preparing to update several of its Mac lines before the end of the year, led by a redesigned
MacBook Pro
that has been rumored to be ready for launch "as soon as October."
MacRumors
has learned that Apple is indeed moving rapidly toward a launch of the new MacBook Pro models, with the company's current development work on macOS 10.12.1 focused largely on preparing the operating system to support the updated hardware's new features, which have been rumored by several sources to include
Touch ID
support and an OLED "touch bar" replacing the current row of function keys across the top of keyboard. Apple is also said to be shifting to
"Polaris" graphics chips from AMD
on the higher-end 15-inch models.

Leaked MacBook Pro top case showing space for touch bar in place of function keys
Our understanding is that Apple is planning to seed one more beta version of macOS 10.12.1 for developer and public beta testing early next week, with a goal of finalizing the software update by the end of that week so it can be loaded onto the new hardware currently being produced by Apple's supply chain partners.
This timeline could of course change should last-minute bugs or other circumstances require adjustments to Apple's plans, but if it holds true, it appears Apple could have its new MacBook Pro models ready to ship to customers some time in the second half of October.
With an emphasis on preparing for the new MacBook Pro models and thus a need to stick to an aggressive timeline, Apple appears to be pushing off all but the most critical bug fixes and security patches beyond macOS 10.12.1. Less crucial fixes will be incorporated into the following macOS 10.12.2 update, which we understand Apple is aiming to begin seeding to developers around late October with a goal of public release around late November.
In addition to redesigned MacBook Pro models, Apple has
also been rumored
to be launching updated
MacBook Air
models with USB-C ports and new
iMac
s with AMD graphics chips before the end of the year. It is unclear, however, whether all three lines will be updated simultaneously and whether Apple will hold a media event to introduce the hardware or opt for a more low-key introduction via press release, perhaps with some embargoed media reviews alongside.
Finally, Apple is reportedly working with LG on a new 5K external display to replace the discontinued Apple
Thunderbolt Display
, although a timeframe for that product has yet to be reported. We've also yet to hear any word about the
Mac Pro
and
Mac mini
, both of which remain in significant need of updates.
Conversations in the Messages app feature end-to-end encryption that makes the content of the messages impossible to decipher, but according to documentation found by
The Intercept
, Apple tracks who its customers send iMessages to and is able to hand that information over to law enforcement when compelled to do so through a court order.
When a text message is sent to someone, the Messages app pings Apple's servers to see if the person has an iPhone or iPad in an effort to determine whether to send a message via iMessage or SMS. Each ping records date, time, number, and IP address, all of which is kept in a log that Apple says it stores for 30 days
Apple confirmed to The Intercept that it only retains these logs for a period of 30 days, though court orders of this kind can typically be extended in additional 30-day periods, meaning a series of monthlong log snapshots from Apple could be strung together by police to create a longer list of whose numbers someone has been entering.
The data on how Messages works was reportedly obtained by
The Intercept
from a document entitled "iMessage FAQ for Law Enforcement" that was given to the Florida Department of Law Enforcement's Electronic Surveillance Support Team. While labled "Law Enforcement Sources" and "For Official Use Only," it is not clear who wrote it.

Click to enlarge. Image via The Intercept
As
The Intercept
points out, the documentation suggests that each number entered into the Messages app is transmitted to Apple when a new chat is opened, even if a conversation does not end up taking place. An Apple spokesperson said that the logging information in the iMessage FAQ is "generally accurate" but did not give additional data to make it clearer exactly when the Messages app pings Apple's servers. Apple did, however, give the following statement:
When law enforcement presents us with a valid subpoena or court order, we provide the requested information if it is in our possession. Because iMessage is encrypted end-to-end, we do not have access to the contents of those communications. In some cases, we are able to provide data from server logs that are generated from customers accessing certain apps on their devices. We work closely with law enforcement to help them understand what we can provide and make clear these query logs don't contain the contents of conversations or prove that any communication actually took place.
Apple takes a
strong stance on privacy
and promises to keep customer data private with tools like end-to-end encryption for the Messages app, but it has always maintained that there is some information that it is able to provide to law enforcement officials when compelled to do so.
Apple's website features a privacy section that details the
information it collects
and the types of data that it provides
for government requests
, including a full rundown of what's available to law enforcement [
PDF
]. Apple's documentation does not appear to mention Messages specifically, but it does specify that
iCloud
connection logs are retained for 30 days and that FaceTime calls logs are also maintained.
Note: Due to the political nature of the discussion regarding this topic, the discussion thread is located in our
Politics, Religion, Social Issues
forum. All forum members and site visitors are welcome to read and follow the thread, but posting is limited to forum members with at least 100 posts.
Apple today
announced an enterprise partnership
with Deloitte, which will see Deloitte creating an Apple practice with more than 5,000 "strategic advisors" focused on providing businesses with guidance on how to "change the way they work," updating technology on all of their systems, from retail to R&D to inventory management.
The two also plan to create a new service from Deloitte Consulting called "EnterpriseNext," which will help Deloitte clients "fully take advantage" of the iOS ecosystem, from hardware to software.

"As the leader in digital transformation strategy, Deloitte is an ideal partner that brings a team of Apple-dedicated strategic advisors to help clients truly revolutionize how they work using iOS, iPhone and iPad," said Tim Cook, Apple's CEO. "iPhone and iPad are transforming how people everywhere get work done. And through this partnership, we're able to help even more businesses tap into the incredible capabilities that only the Apple ecosystem can deliver."
EnterpriseNext will offer expertise to businesses across more than 20 industries, providing guidance on how to take advantage of iOS devices, offering workshops on creating iOS solutions, and developing full native apps for businesses from Deloitte Digital Studios.
- EnterpriseNext Value Maps for iOS to help them discover the highest impact possibilities for iPhone and iPad within their industries, align their mobile opportunities and prioritize digital resources;
- EnterpriseNext Workshops for iOS to quickly take ideas from prototype to custom-built iOS solutions; and
- iOS architects, designers and engineers - housed within Deloitte Digital Studios around the world - to help produce easily deployable, high-quality native apps that integrate seamlessly with existing business platforms including ERP, CRM, analytics and HR.
Apple has been ramping up its efforts in the enterprise market over the past few years, first
teaming up with IBM
to get iPads and iPhones into the hands of businesses and help them to develop a range of custom apps. Apple has also
partnered with Cisco
and
SAP
to offer the necessary tools and integrations to make it easy for companies to adopt iOS devices.
Just over two weeks after
iOS 10
was
released to the public
, its adoption rate has reached 48.16 percent, successfully overtaking iOS 9, according to data obtained from Mixpanel's
iOS 10 adoption tracker
.
iOS 10 is now installed on slightly more iOS devices than iOS 9, with Mixpanel's numbers suggesting 47.79 percent of iPhones, iPads, and
iPod touch
es continue to run Apple's previous-generation operating system. 4.06 percent of devices still have iOS 8 or earlier installed.

Since iOS 10 was released, its adoption numbers have been growing steadily and have been almost on pace with iOS 9 adoption rates during this time last year. One day after release, iOS 10 was installed on
14.5 percent of devices
, and at just under one week, following the release of the
iPhone 7
and iPhone 7 Plus, it was installed on
34 percent of devices
.
iOS 10 saw some early installation issues that may have made people wary of downloading the update, but its steady growth can be attributed to the many appealing features it offers, including a revamped Messages app with stickers and a full
App Store
, a
Siri
API for developers, a redesigned Lock Screen experience, a new Music app, new facial and object recognition capabilities in Photos, and more.
Last year, less than two weeks after iOS 9 was released, Apple said it was installed on more than 50 percent of active devices, making it the operating system with the
fastest ever adoption rates
. Based on Mixpanel's numbers, it doesn't appear iOS 10 has outpaced it, but it did come close.
Apple Music
has been ranked the highest in overall customer satisfaction among seven streaming music brands that were compared in a
new study
by J.D. Power. Based on 4,482 individuals who have paid for a subscription music service in the last six months, J.D. Power's inaugural music study measured six key areas in each service: performance and reliability, ease of use, cost of service, content, communication, and customer service.
Based on a 1,000 point scale, Apple Music ranked highest with a score of 834, followed by Rhapsody (826), Pandora (825), and Spotify (824), while the industry average was ranked as 822. Apple Music earned five out of five total "
power circle
" marks in three categories, meaning it's "among the best" in content, performance and reliability, and ease of use. The service earned four out of five power circles in cost of service, communication, and customer service, earning it a "better than most" descriptor in these areas.

"The streaming music customer experience appears to be affected by a number of dimensions, including paid vs. free streaming, device choice and content selection," said Kirk Parsons, senior director and technology, media & telecom practice leader at J.D. Power. "The key to success, however, is increasingly becoming how well streaming music brands create a viable music ecosystem that can not only support multiple types of devices, but also facilitate listeners' social sharing and following of playlists with others."
J.D. Power discovered a few key findings in its study, including a direct correlation between paid streaming services and higher customer satisfaction. These premium services earned a 19 point advantage over freemium options, specifically excelling in the customer service and communication categories. Streaming services that support peripheral devices -- like smartwatches, home automation controllers, and virtual reality -- also saw higher satisfaction over services that don't offer these alternative music streaming methods.
An interesting sticking point in the music streaming conversation lately, J.D. Power found that exclusive content "improves customer advocacy." In total, 74 percent of people who stream these exclusive tracks said they "definitely will" recommend their service, in comparison to 54 percent of people who do not listen to exclusive music but would also recommend their streaming platform to a friend.

A detailed look at the performance of each service in the six categories can be found here
Ultimately, J.D. Power found that the "social" aspect of each service is what seems to be driving activity, with "fully engaged" listeners who share and consume the playlists of other users among the most satisfied customers. Passive listeners (who don't share their content or listen to other users' content) account for the largest piece of the streaming industry at 44 percent, followed by fully engaged listeners at 29 percent, followers at 22 percent (those who don't share their music, but consume content of others), and finally sharers at 5 percent (the inverse of followers).
In the bottom spots of the study are TuneIn, Amazon Prime Music, and Google Music, with all three ranking between average and poor in the content and ease of use categories. With streaming services here to stay, more companies are
planning to introduce
Apple Music and Spotify-like music on demand competitors instead of focusing on free radio streaming options.
The most recent measure of Apple Music had the service topping
17 million subscribers
and continuing to grow at a steady rate. Despite J.D. Power's discovery that exclusive content is generating user advocacy for each service that supports it, Apple Music has found itself in hot water lately because of its
reliance on such tactics
.
Apple is working on building an all-new campus location in London's Battersea Power Station, where 1,400 employees will be moved from eight locations around London to occupy the company's new UK offices (via
Evening Standard
). Battersea is currently under a "painstaking" restoration process after 33 years of being abandoned, with a predicted opening date for Apple's offices expected sometime in 2021.
For the site, Apple is leasing 500,000 square feet in total, making it one of Apple's largest offices outside of its
monolithic campuses in the United States
. The company's official European headquarters is said to remain in Cork, Ireland, where 4,000 of its employees work.

Rendering of redeveloped Battersea campus with historic brick power station in center
In a statement to the Standard, Apple said it was looking forward to the 2021 opening of "our new London campus" as staff relocate to "this magnificent new development at one of the city's best-known landmarks". It added: "This is a great opportunity to have our entire team working and collaborating in one location while supporting the renovation of a neighbourhood rich with history."
Apple's "central function" employees are believed to be relocated to Battersea, including individuals in finance and human resources. The 42-acre location isn't dedicated solely to Apple, with various other residential, office, and retail shops planned for the area. The Cupertino-based company is predicted to occupy about 40 percent of the total office space at Battersea once everything is finished, with enough room for 3,000 employees.
Apple will occupy the top six floors inside the former boiler house around a huge central atrium. There will also be three floors of shops, 253 apartments around a "garden square in the sky", a 2,000-seater auditorium and cinemas in a scheme designed by London architects Wilkinson Eyre.
The first tenants will move into the Battersea complex's apartments as early as December, with shops and restaurants coming in the spring of 2017. Apple will keep working in various other London offices -- including locations in Hanover Street and James Street -- until the completion of its section of Battersea in 2021.
In California, construction on
Apple Campus 2
is continuing to inch closer to the site's expected completion by the end of the year. The
newest drone video
shows the 2.8 million square foot campus with a nearly-complete main building as workers begin to focus on landscape additions and finishing up the glass facade of the circular building.
Note: Due to the political nature of the discussion regarding this topic, the discussion thread is located in our
Politics, Religion, Social Issues
forum. All forum members and site visitors are welcome to read and follow the thread, but posting is limited to forum members with at least 100 posts.
DxO Labs has published an in-depth
iPhone 7 camera review
, calling it "a very solid evolution over the
iPhone 6s
" after extensive testing. The single-lens smartphone achieved an overall DxOMark Mobile Score of 86,
topping the iPhone 6s
by two points but trailing the Samsung Galaxy S7 Edge and five other devices.
iPhone 7
has a wider DCI-P3 color gamut that allows for more vibrant colors compared to the traditional sRGB standard. The photo on the right, for example, rendered using the DCI-P3 color space, has richer reds displayed compared to the photo on the left rendered using the traditional sRGB color space.

One of the interesting innovations in the iPhone 7 is its use of a wider-gamut color space, allowing it to store and display deeper-and-richer colors in its JPEG photos. To take full advantage of this new capability you'll want to view your images on a color-rich display like that of the iPhone 7 and other Apple devices that support the new DCI-P3 color gamut used by the iPhone 7 and iPhone 7 Plus, or on a premium, color-managed monitor or an Ultra HD TV. Conversely, iPhone 7 photos may look slightly washed-out when viewed on devices that do not support the appropriate color management (DCI-P3), as they would wrongly interpret iPhone7 JPEGs as being encoded in sRGB.
DxO said the iPhone 7 offers great exposures with wide dynamic range, accurate white balance and color rendering, and good detail preservation when shooting outdoors in bright daylight. The test noted some exposure failures, such as overexposed highlights, but said the instances of these were minimal.

Shooting in bright light, the iPhone 7 captures very good exposures with wide dynamic range, making it an excellent choice for landscape, streets scenes, and architecture, as well as for general outdoor (daylight) photography. Colors are both vivid and pleasant, especially in sunny conditions, and generally the white balance is stable. We observed some light green casts in some very specific conditions, but they were fairly minimal.
The review also awarded high marks for the iPhone 7 camera's excellent corner-to-corner sharpness, reduced noise, and accurate color representation. DxO shared the photo below as an example of what it called excellent White Balance. The review said, in some cases, a barely noticeable green cast can appear.

Accurate color representation is only possible when the camera correctly estimates the color of light falling on the scene – typically called the White Balance. Part of the job of the camera's image processing chip is to analyze the scene as it is captured and select a White Balance, ranging from warm to cool, that recreates the scene the way the human eye sees it. The new image signal processor in the iPhone delivers on this test, with images typically showing excellent White Balance.
Additional photos and test results can be found in the
DxOMark review
. DxO has analyzed the image and video quality of over 9,000 cameras, lenses, and mobile phones, and its tests are generally respected within the industry. The company also sells some consumer-facing products like the
DxO ONE camera
.
DxO said its iPhone 7 Plus camera review is coming very soon.
Insurance company Aetna today
announced
a major health initiative centered on the iPhone, iPad, and Apple Watch, which will see Aetna subsidizing the cost of the Apple Watch for both large employers and individual customers.
Starting this fall during open enrollment season, Aetna will subsidize "a signficant portion" of the Apple Watch cost and will offer monthly payroll deductions to cover the remaining cost.

Aetna also plans to provide Apple Watches at no cost to all of its nearly 50,000 employees as part of a wellness reimbursement program to encourage them to live healthier lives.
"We are thrilled that Aetna will be helping their members and employees take greater control of their health using Apple Watch," said Tim Cook, Apple's CEO. "Aetna's new initiatives will be a powerful force toward creating better customer experiences in health care, and we look forward to working with Aetna to make them successful."
Aetna plans to develop several iOS health initiatives with "support" from Apple, debuting "deeply integrated" health apps for the iPhone, iPad, and Apple Watch that will be available to all Aetna customers.
According to Aetna, these apps will "simplify the healthcare process" with features like care management to guide customers through a new diagnosis or a medication, medication reminders and tools for easy refills, quick contact with doctors, integration with Apple Wallet for paying bills and checking deductibles, and tools to help Aetna members get the most out of their insurance benefits.
Aetna's health-related apps will be available starting in early 2017, but the Apple Watch initiative will begin in 2016. Aetna has not detailed how much of the cost will be subsidized or which Apple Watch models will be available to subscribers.
Apple today seeded the second beta of an upcoming
macOS Sierra
update to developers and public beta testers for testing purposes, nearly a week after
seeding the first beta
and a week after
releasing
the new operating system to the public.
macOS Sierra 10.12.1 beta 2, build 16B2333a, can be downloaded from the Apple Developer Center (developers only), Apple's beta testing website (beta testers only) and through the Software update mechanism in the
Mac App Store
for those who previously installed the first 10.12.1 beta.

macOS Sierra 10.12.1 appears to focus on bug fixes and under-the-hood performance improvements to address issues that have been found since the operating system's release. Few outward-facing changes were discovered in the first beta, but it does include Photos support for the new
iPhone 7 Plus Portrait feature
introduced with the
iOS 10
.1 beta.
Any new features that are discovered in the second 10.12.1 beta will be listed below.
macOS Sierra is a significant update that brings features like
Siri
support, a new storage optimization option, cross device copy paste, auto unlocking with the Apple Watch, and more.