WWDC 2016: iOS 10, macOS Sierra, and More
Apple "is being more conservative" when placing its orders with chip assembler Advanced Semiconductor Engineering, once again suggesting that the 2016 "
iPhone 7
" will face a weaker demand in comparison to normal cycles, due to a dearth of hardware innovation in the handset (via
Nikkei
). Apple wasn't specifically mentioned during ASE's recent shareholder meeting, but a reference to "the big client in the U.S." overtly ties in with Apple, which contributed 31.2 percent of ASE's $8.73 billion revenue in 2015.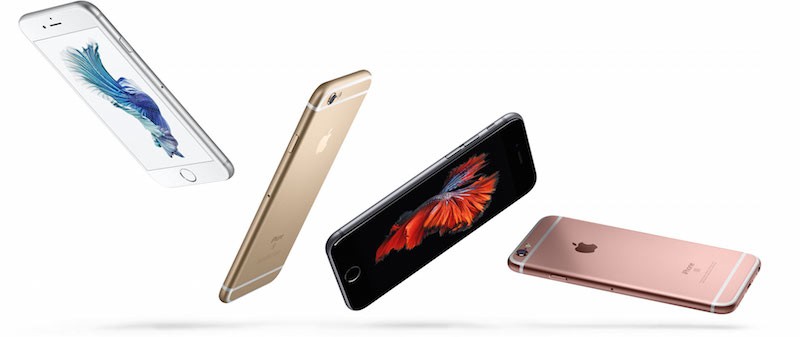 "The big client in the U.S. is a little more conservative when placing orders this year," said Tien Wu, ASE's chief operating officer, ahead of the company's annual shareholder meeting.

"In the smartphone market, meanwhile, other players besides Apple are more aggressive regarding booking chips this year," Wu said. But, he added, "I don't think anybody is overly aggressive this year, so I don't think there would be any serious inventory correction issue similar to last year."
The
doom and gloom forecast
for iPhone sales this year have reached a high point in the middle of 2016, with recent reports
suggesting
the iPhone 7 is unlikely to reverse recent
year-over-year declines
in sales for the company. Most rumors cite the same reasons: consumer apathy due to a
lack of innovation
in comparison to last year's
iPhone 6s
and iPhone 6s Plus.
The biggest hardware revisions of the iPhone 7 are predicted to
center around
the removal of the 3.5mm headphone jack, the addition of a new
dual-lens camera
(possibly only on the 5.5-inch model), and restructured antenna bands. Otherwise, the devices are expected to look similar to the iPhone 6s form factor, with a
mega-cycle upgrade
hitting in 2017 in time for the line's ten-year anniversary.
Florida resident Thomas S. Ross has filed a lawsuit against Apple this week, claiming that the iPhone, iPad, and iPod infringe upon his 1992 invention of a hand-drawn "Electronic Reading Device" (ERD). The court filing claims the plaintiff was "first to file a device so designed and aggregated," nearly 15 years before the first iPhone.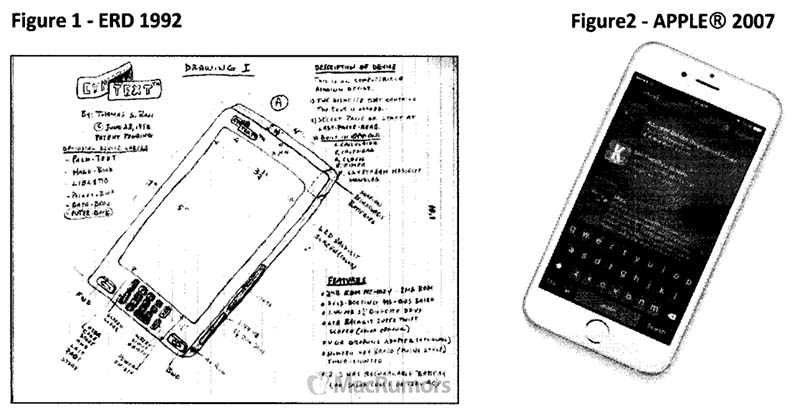 Between May 23, 1992 and September 10, 1992, Ross designed three hand-drawn technical drawings of the device, primarily consisting of flat rectangular panels with rounded corners that "embodied a fusion of design and function in a way that never existed prior to 1992."
What Ross contemplated, was a device that could allow one to read stories, novels, news articles, as well as look at pictures, watch video presentations, or even movies, on a flat touch-screen that was back-lit. He further imagined that it could include communication functions, such as a phone and a modem, input/output capability, so as to allow the user to write notes, and be capable of storing reading and writing material utilizing internal and external storage media. He also imagined that the device would have batteries and even be equipped with solar panels.
Ross applied for a utility patent to protect his invention in November 1992, but the application was declared abandoned in April 1995 by the U.S. Patent and Trademark Office after he failed to pay the required application fees. He also filed to copyright his technical drawings with the U.S. Copyright Office in 2014.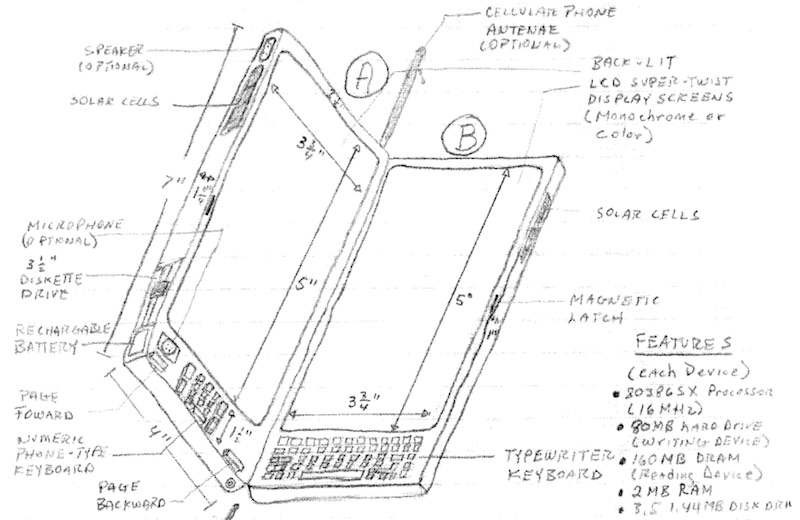 While the plaintiff claims that he continues to experience "great and irreparable injury that cannot fully be compensated or measured in money," he has demanded a jury trial and is seeking restitution no less than $10 billion and a royalty of up to 1.5% on Apple's worldwide sales of infringing devices.
Ross v. Apple, Inc. was filed with the Florida Southern District Court on June 27. The case number is 0:2016cv61471.
After a few weeks of new
iOS 10
features slowly being discovered by beta testers, one
new 3D Touch-enabled shortcut
was stumbled upon recently that will let users prioritize the bulk download of apps. When more than one app is installing, users on iOS 10 can
3D Touch
to select "Prioritize Download" and temporarily pause the installation of other apps while the selected one gains favor.

On devices running
iOS 9
and earlier, bulk downloads require users to run through every app downloading and tap to pause them, leaving only their favored app downloading. Apple's streamlined process in iOS 10 should greatly alleviate the frustration in moments where multiple apps are waiting to be downloaded and installed onto an iPhone.
(Thanks, Eric!)
At its recent Worldwide Developers Conference, Apple unveiled an all new "Remote" app for iOS devices, which has been entirely overhauled to make it easier than ever to control a fourth-generation
Apple TV
with an iPhone.
In the video below, we took a look at the Remote app to give
MacRumors
readers an early glimpse at what's in store. The new Remote app, which connects to an Apple TV via Bluetooth, mimics the exact layout of the
Siri
Remote for a navigation experience that's streamlined across different input methods.
When content like movies or music is playing, the Remote app includes a full "Now Playing" view for control purposes, along with a dedicated Menu button and a Siri button. As with the physical Apple TV Remote, navigation through the iOS app is done via touch gestures.
Entering text, like passwords and usernames, is much easier with the iOS Remote app because any text field automatically brings up a keyboard. Full Siri voice commands are supported, as is dictation. Because it includes the same gyroscope and accelerometer in the Siri Remote, an iPhone can be used as a dedicated game controller for playing games on the Apple TV.
The Apple TV Remote app is currently available to developers and can be downloaded through the Apple Developer website. It's not clear when the Apple TV Remote app will be released, but it may be released alongside tvOS 10 and iOS 10 this fall. The developer beta of the app only requires
iOS 9.3.2
and tvOS 9.2.1, so there's a possibility it may launch ahead of the new operating systems.
For details on new Apple TV features coming in tvOS 10, make sure to
check out our tvOS 10 roundup
. Don't miss out on our previous videos, which have covered iOS 10, watchOS 3, and macOS Sierra:
-
WWDC 2016 Overview in Seven Minutes
-
iOS 10's Overhauled Lockscreen
-
The New iOS 10 Photos App
-
The New iOS 10 Messages App
-
macOS Sierra - Siri
-
iOS 10 Hidden Features
-
watchOS 3 Overview
-
iOS 10's Redesigned Apple Music Experience
-
3D Touch in iOS 10
-
The New Home App for Controlling HomeKit Devices
-
Everything New in tvOS 10
We've also got roundups for all of the upcoming operating systems, including
watchOS 3
,
macOS Sierra
, and
iOS 10
.
Following a sketchy rumor last week that said Apple is planning to introduce a
"Deep Blue" color option
for the upcoming
iPhone 7
, Japanese blog
Mac Otakara
has clarified to
AppleInsider
that the new color will actually be a "much darker" variant of space gray that is "close to black, though not quite black."

Black and slate iPhone 5 on left vs. space gray iPhone 5s (Mike Cronin via YouTube)
Monday's indications from Macotakara sources appear to be a clarification from earlier reports that suggested Apple would ditch space gray for a "deep blue" color option. Sources who claim to have seen the next-generation iPhone coloring apparently mistook the darker space gray for a blue shade.
The so-called "new, darker shade" could more closely resemble the look of the "space black" stainless steel
Apple Watch
, pictured below, which is darker than the "space gray" aluminum Apple Watch Sport. Meanwhile, Apple will reportedly continue to offer the iPhone 7 series in silver, gold, and rose gold color options.
Apple has used different shades of "space gray" and "black and slate" across its iPhone, iPad, Mac, and Apple Watch lineups over the years. The
iPhone 6s
and
iPad Pro
, for example, each have a lighter shade of "space gray" compared to the iPhone 5s and original iPad Air respectively.

Apple's vision of "space gray" has changed over the years (MrHarryT via Reddit)
Apple is expected to announce the iPhone 7 and iPhone 7 Plus/
Pro
in September. The 4.7" and 5.5" smartphones are rumored to feature a
thinner iPhone 6s-like design
,
sans a 3.5mm headphone jack
, while each may have a
faster Apple A10 processor
,
improved waterproofing
,
repositioned antenna bands
, and
faster LTE and Wi-Fi
. A
dual-lens camera and 3GB of RAM
may be exclusive to the 5.5-inch model.
Google is set to launch its own smartphone by the end of the year in an effort to compete more directly with Apple and Samsung devices, according to
The Telegraph
.
Citing "senior sources" familiar with the matter, the report claims that the company plans to unveil a Google-branded handset that is separate from its Nexus range of phones, which are designed and manufactured through partnerships with the likes of LG and HTC. Google is also said to be in discussions with mobile operators about the release of the phone by the end of 2016.

The Nexus 6 handset by Motorola, one of Google's manufacturing partners.
If true, the news would signal a significant shift in ambitions for the company's mobile arm, which has historically focused on software development with its Android OS and left handset design largely in the hands of hardware manufacturers.
By contrast, Google's own internal handset division will take full control over "design, manufacturing and software," the newspaper reported. No other details were offered by the sources, while Google declined to comment on the story.
Last month, Google CEO Sundar Pichai said the company was "investing more effort" into phones, although this was interpreted to mean it wanted to work more closely with existing Nexus device makers. Similarly, in April,
Recode
reported that former president of Motorola Rick Osterloh was returning to Google to take over hardware development on the company's Nexus phones and its OEM partnerships, but no indication was given that an own-branded phone was in the works.
Google's Android OS is used on over 1.4 billion mobile devices globally, but differences in handsets have sometimes seen the company struggle to ensure rollout consistency between software updates.
A Google-branded phone would therefore make sense from a software point of view and allow the company to control the hardware running its OS and let it showcase its other mobile software services.
Such a move however isn't without risk. In April, the European Commission formally charged Google with monopoly abuse, accusing it of using the success of Android to unfairly push its search engine and Chrome browser on users. Not only that, much of the company's mobile service revenue is made through iOS devices, so Apple could potentially make life hard for Google if it felt threatened by its move into mobile hardware design.
Two images have emerged online this morning allegedly showing the rear cases of an
iPhone 7
and 7 Plus leaked from the Chinese supply chain.
The first image posted by French site
nowhereelse.fr
claims to show the back of the upcoming 4.7-inch iPhone 7 with the
expected
antenna bands restricted to the edges of the casing, rather than running along the rear.
Alongside the usual microphone and LED flash, it also appears to show a larger protruding camera cut-out, which is consistent with rumors that the device will feature a
larger back camera
with likely improved CMOS sensor.

Interestingly,
Engadget
's take on the same alleged leak cites a couple of claims from its source at Chinese repair shop Rock Fix that we've heard before. One is that the headphone jack is "here to stay" on the 4.7-inch handset, the other is that the iPhone 7 will come in two flavors: a base model to replace the
iPhone 6
, alongside the expected flagship model.
The first claim comes despite widespread and apparently
confirmed
rumors indicating that Apple will switch exclusively to Lightning and Bluetooth audio output for wired and wireless headphones.
The second claim appears to be associated with an
earlier leaked image
from Rock Fix depicting a trio of iPhone 7 and 7 Plus display components that could just as easily be from early prototype stages. Both claims seem unlikely at this late stage in the rumor cycle.

Meanwhile, the alleged shot of an iPhone 7 Plus case depicts the now-familiar pill-shaped camera enclosure, corroborating widely circulated rumors that Apple plans for a superior dual-lens camera to be exclusive to the larger 5.5-inch handset.
In the close-up shown here, the top of the plastic shell enclosing the case also appears to have an unusual opening in the centre.
Nowhereelse.fr
suggests this could indicate the presence of a sensor or port of some kind, although such an inclusion would be unusual at this location.
Apple is expected to announce the iPhone 7 series
in September
. The smartphones are also expected to retain
iPhone 6s-like designs
with
faster Apple A10 processors
,
dustproofing and waterproofing
, and
faster LTE and Wi-Fi
.
tvOS, the operating system that runs on the fourth-generation
Apple TV
, is also set to receive some updates this fall alongside iOS, macOS, and watchOS.
tvOS isn't getting as many changes as these other operating systems, but as can be seen in the video below, there are some important new features being added that make it easier to find content and easier to watch live television.
Subscribe to the MacRumors YouTube channel for more videos.
New in tvOS 10 is
Siri
's ability to search for movies by topic, bringing up content around a theme. Queries like "Show me high school comedies from the 80s" or "Find me movies about dinosaurs" now work. Siri's also gaining the ability to open live channels directly through a Live Tune-In feature that works when you say something like "Watch CBS News" or "Watch ESPN," and Siri can also manage HomeKit accessories.
At WWDC, Apple mentioned that YouTube search is on the way, allowing users to ask Siri to find cute kitten videos or videos of hamsters eating tiny burritos, but that's actually a feature that's going to be available ahead of the fall release of tvOS.
A new Single Sign-On option for pay TV apps is available in tvOS 10, allowing users to sign in once with their cable credentials to access live cable content available through their cable subscription. Apple plans to introduce a new Remote app for iOS devices that mirrors the layout of the Siri remote, and developers are getting a lot of new APIs to build into their apps.
For the first time, games will be able to require a controller, so more complicated controls will be possible, and there are also APIs for recording and live broadcasting, using HomeKit, and accessing
iCloud
Photo Library photos.
Other new features in tvOS include a dark mode, a Continuity option for easier text input on the iPhone, automatic app downloads, a "Memories" feature in Photos, and a redesigned
Apple Music
app.
Not all tvOS features are working in the developer beta now, including Single Sign-On, but Apple will likely add functionality as the beta testing process progresses.
For full details on the new features coming in tvOS 10, make sure to
check out our tvOS 10 roundup
. Don't miss out on our previous videos, which have covered iOS 10, watchOS 3, and macOS Sierra:
-
WWDC 2016 Overview in Seven Minutes
-
iOS 10's Overhauled Lockscreen
-
The New iOS 10 Photos App
-
The New iOS 10 Messages App
-
macOS Sierra - Siri
-
iOS 10 Hidden Features
-
watchOS 3 Overview
-
iOS 10's Redesigned Apple Music Experience
-
3D Touch in iOS 10
-
The New Home App for Controlling HomeKit Devices
We've also got roundups for all of the upcoming operating systems, including
watchOS 3
,
macOS Sierra
, and
iOS 10
.
When Apple introduced
iOS 10
,
macOS Sierra
,
watchOS 3
, and
tvOS 10
at the 2016 Worldwide Developers Conference, it also announced plans to implement a new technology called Differential Privacy, which helps the company gather data and usage patterns for a large number of users without compromising individual security.
At the time, Apple said Differential Privacy would be used in iOS 10 to collect data to improve QuickType and emoji suggestions, Spotlight deep link suggestions, and Lookup Hints in Notes, and said it would be used in macOS Sierra to improve autocorrect suggestions and Lookup Hints.

There's been a lot of confusion about differential privacy and what it means for end users, leading
Recode
to write a piece that clarifies many of the details of differential privacy.
First and foremost, as with all of Apple's data collection, there is an option to opt out of sharing data with the company. Differential data collection is entirely opt in and users can decide whether or not to send data to Apple.
Apple will start collecting data starting in iOS 10, and has not been doing so already, and it also will not use the cloud-stored photos of iOS users to bolster image recognition capabilities in the Photos app.
As for what data is being collected, Apple says that differential privacy will initially be limited to four specific use cases: New words that users add to their local dictionaries, emojis typed by the user (so that Apple can suggest emoji replacements), deep links used inside apps (provided they are marked for public indexing) and lookup hints within notes.

Apple will also continue to do a lot of its predictive work on the device, something it started with the proactive features in iOS 9. This work doesn't tap the cloud for analysis, nor is the data shared using differential privacy.
Apple's deep concern for user privacy has put its
services like
Siri
behind competing services from other companies, but Differential Privacy gives the company a way to collect useful data without compromising the security of its customer base.
As Apple's VP of software engineering Craig Federighi explained at the WWDC keynote, Differential privacy uses hashing, subsampling, and noise injection to enable crowd-sourced learning without simultaneously gathering data on individual people.
Apple yesterday announced plans to
discontinue the 5-year-old Thunderbolt Display
, leaving it unclear if Apple's display business is coming to an end or if another model is in the works for a future release. According to
BuzzFeed's John Paczkowski
, Apple isn't done with Thunderbolt displays.
In a tweet shared this morning, Paczkowski said he's heard from unspecified sources that a next-generation display will feature an integrated GPU, a possibility that was
first bandied about
in early June, ahead of WWDC.
Thunderbolt Display takes dirt nap as expected. Sources telling me next-gen display will indeed have integrated GPU https://t.co/kx6n0vQGMf

— John Paczkowski (@JohnPaczkowski) June 24, 2016
A Thunderbolt Display with a built-in graphics card would be able to work with almost any Mac because it would be driven by an internal graphics card rather than the machine it's connected to.
It's believed Apple has not introduced a 5K display to match the 5K
iMac
because there are no machines that could run it over a single stream cable, a fact that will remain true even in upcoming machines like a rumored Skylake
Retina MacBook
Pro.

Paczkowski doesn't include other details about the display Apple has in the works, but rumors have suggested it will feature a resolution of 5120 x 2880 and it's also likely to include USB-C ports that support Thunderbolt 3.
Stock shortages
ahead of the Worldwide Developers Conference led to speculation that Apple could refresh the Thunderbolt Display at the event, but that did not end up happening. There is no word on when Apple might release a new display, but with an integrated GPU, it would not have any specific requirements and could theoretically debut at any time.
If a new Thunderbolt Display is planned for 2016, a logical guess at a release date might be in the fall alongside rumored redesigned
Retina MacBook Pros
.

Apple may switch to micro-LED displays for the
Apple Watch
in the second half of 2017 at the earliest, moving away from the current OLED technology used, according to supply chain sources for Taiwanese website
DigiTimes
.
The timeline suggests that the much-rumored
Apple Watch 2
lineup expected to debut in the
second half of 2016
will continue to have OLED displays, with the move towards micro-LED panels liking occurring in tandem with the tentatively named Apple Watch 3.
Micro-LED displays can be thinner and lighter and allow for improved color gamut, increased brightness, and higher resolutions. The panels do not require backlighting like traditional LCD displays, but they can be difficult and expensive to mass produce. Micro LEDs range in size from 1-micron to 100-micron.
Earlier this year, KGI Securities analyst
Ming-Chi Kuo
said the Apple Watch 2 will
mainly feature internal improvements
, with more significant form factor design changes not occurring until 2017. By then, the switch to micro-LED panels and other technological advances could allow for a thinner Apple Watch.
Apple
acquired micro-LED display maker LuxVue Technology
in 2014, and one of the company's investors at the time said it had "a technical breakthrough in displays." LuxVue holds multiple micro-LED-related patents and, in 2013, it raised $25.2 million in funding to pursue the technology.
Apple also opened a
facility in northern Taiwan
last year, where it is believed to be
focusing on micro-LED technology
.
The current Apple Watch is the only Apple product with an OLED display due to its small size. The company continues to use LCD technology based on a TFT manufacturing process for iPhones, but widespread rumors suggest Apple will release its first
OLED-based iPhone
as early as September 2017.
Apple today told
several news sites
that it plans to discontinue its
Thunderbolt Display
, which has been available for purchase online and in Apple retail stores since it was first introduced in the summer of 2011.

"We're discontinuing the Apple Thunderbolt Display. It will be available through Apple.com, Apple's retail stores and Apple Authorized Resellers while supplies last. There are a number of great third-party options available for Mac users," said an Apple spokesperson.
Apple will continue to sell existing Thunderbolt Display stock so long as it remains available, but once stock is exhausted, the Thunderbolt Display will no longer be available as production is ceasing. It is not clear why Apple has decided to make an announcement concerning the discontinuation of the display and if it means a new 4K or 5K display is on the horizon.
Stock shortages
ahead of WWDC
sparked rumors that Apple might be planning to introduce a new display at the event, but no new hardware appeared and Apple instead focused on software for iOS devices, Macs,
Apple TV
s, and
Apple Watch
devices.
Rumors have suggested Apple is
working on a 5K display
, and if true, such a display could feature a resolution of 5120 x 2880 pixels, USB-C/Thunderbolt 3 peripherals, and a design that mimics the latest
iMac
s. Speculation suggests it could come equipped with a built-in GPU or use a DisplayPort 1.2 Multi-Stream Transport setup to stitch two halves of a display together to make one seamless display.
If a new Thunderbolt Display is in the works, it could launch alongside next-generation Skylake
Retina MacBook Pros
, which are rumored to be in the works for late fall.