Samsung will supply Apple with displays for the second-generation
iPad Air
and the 12.9-inch 'iPad Pro' starting later this year, reports Korean-news outlet
inews24
(via
Digitimes
). The Korean company will begin manufacturing the displays in the coming months, as the panels are said to feature IPS technology similar to Apple's current line of iPads.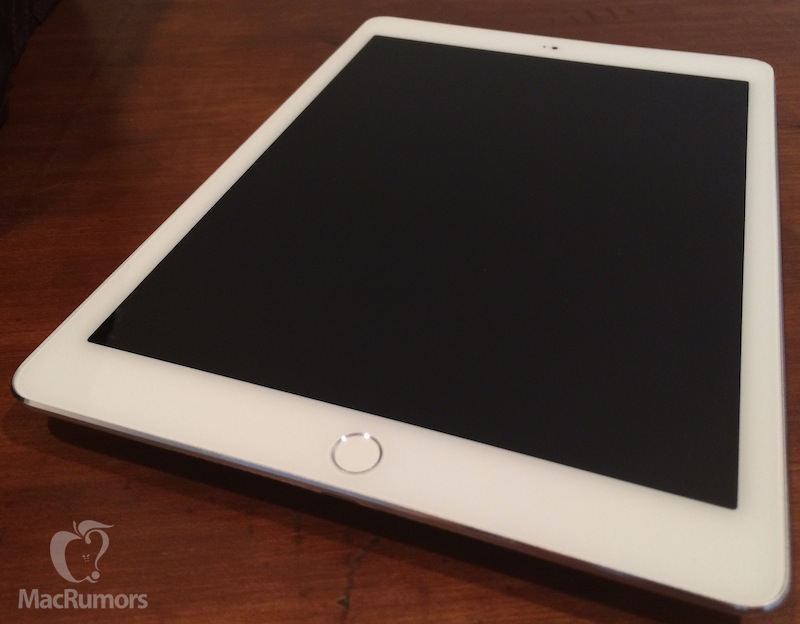 Physical mockup of the second-generation iPad Air
If the report is legitimate, it is likely that Apple will have a steady supply of panels for its first batch of iPad Air 2 units, which may
launch in time
for the upcoming holiday shopping season. Some reports have also claimed that the 12.9-inch iPad Pro could be
released in early 2015
, which may lead to Samsung becoming the top supplier of displays for the new tablet if other suppliers are unable to meet Apple's demands.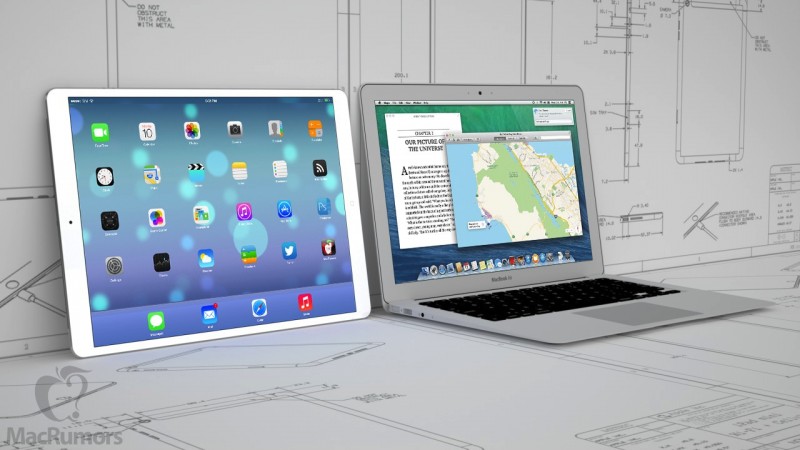 Rendering of a 12.9-inch iPad next to a 13-inch MacBook Air
Apple has been attempting to reduce its reliance on Samsung as a component supplier due to tensions between the two companies as they have become top competitors in the mobile device market. However, Samsung's technological advantages and production capacity as a display supplier have proven valuable to Apple over the years, as the Korean company even
became Apple's top iPad display supplier in Q1 2014
.
The iPad Air 2 is rumored to feature a
slightly thinner body
, a faster A8 processor,
2GB of RAM
,
support for Apple Pay, and a Touch ID fingerprint sensor
. Meanwhile, the 12.9-inch iPad Pro is said to include a
more powerful A8X processor
to power its large, high-resolution display.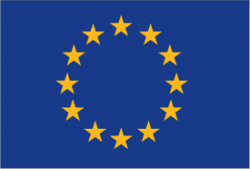 The European Commission today announced the results of its formal investigation into Apple's tax arrangements in Ireland, accusing the company of receiving illegal state aid from the country,
reports
The Wall Street Journal.
In its findings, the regulatory body stated that deals between Apple and Ireland struck in 1991 and 2007 helped Irish authorities "confer a selective advantage upon Apple" that resulted in a lowering of its tax liability. The Commission also added that Apple's increase in sales for its business in Ireland appear to be inconsistent when related to comparable operating costs that would come with growth. Furthermore, the Commission notes that there was a reported increase in "sales income" by 415%, but states that most of the profit-generating work was done elsewhere.
Accordingly, the Commission's of the opinion that through those rulings the Irish authorities confer an advantage on Apple. That advantage is obtained every year and on-going, when the annual tax liability is agreed upon by the tax authorities in view of that ruling.
Apple's tax policies have been questioned on numerous occasions throughout the past few years, as the company is said to utilize
multiple subsidiary companies
located in the Irish city of Cork to move money around
without significant tax penalties
. This in due in part to an exemption in the region's law, which allows companies that are managed abroad but located in Ireland to be exempt from taxes. CEO Tim Cook
defended
the company's tax practices in 2013, calling for a
tax reform
and simplified corporate tax policies along with lower rates for repatriation.
Apple and the Irish government will now have one month to respond to the findings published in the Commission's reports, as the case will likely take up to 18 months to reach a conclusion. In addition to its findings regarding Apple and Ireland, the European Commission also announced that it is investigating state aid cases involving coffee company Starbucks and car maker Fiat and their arrangements with the Netherlands and Luxembourg, respectively.
Note: Due to the political nature of the discussion regarding this topic, the discussion thread is located in our
Politics, Religion, Social Issues
forum. All forum members and site visitors are welcome to read and follow the thread, but posting is limited to forum members with at least 100 posts.
As indicated by an
announcement
yesterday, Apple has teamed up with Parisian fashion boutique
Colette
to show off the Apple Watch at the retailer's gallery on Rue Saint-Honoré in Paris for today only. The special event marks the first public appearance for the Apple Watch since being announced last month at a media event, as a
long line began forming
around Colette's before the event started at 11 AM local time.

According to
Engadget
, Colette is displaying both the 38mm and 42mm versions of the Apple Watch to the public, while
MacGeneration
(
Google Translate
) states that the models being displayed are mostly from the
Apple Watch Sport Collection
while some are from the
Apple Watch Collection
. Also on display are some watches from the
Apple Watch Edition Collection
, which feature 18-karat gold casings and a sapphire display.

Image taken by Elle magazine editor-in-chief Robbie Myers
Customers are only being allowed to look at the devices and will not have the opportunity to actually try out the smartwatch's capabilities. However, some journalists were allowed to try on the devices. Apple will also not be announcing any new details about the device at today's event, as info about full pricing and battery life remain unknown.

Left to right: Colette's Sarah Andelman with Karl Lagerfeld, Anna Wintour, Jony Ive, and Marc Newson (via Vogue's Suzy Menkes)
A number of members from Apple's industrial design team are also present at the event, including Apple's Senior Vice President of Design Jony Ive and
newly hired
Apple designer Marc Newson. Both Ive and Newson were also pictured with a number of high-profile fashion personalities, including notable designer Karl Lagerfeld and
Vogue
magazine editor-in-chief Anna Wintour. Other fashion journalists present also include
Jean-Seb Stehli
of
Madame Figaro
and
Elle
magazine editor-in-chief
Robbie Myers
.
In addition to positioning the Apple Watch as a brand new product, Apple has also been pushing the wearable device as a fashionable accessory. The company
invited
top fashion editors and bloggers to its September 9 media event, and even allowed some to go hands-on with the smartwatch.
Fashion publications
including
InStyle
and
Vogue
were impressed with the Apple Watch, praising its design and the Digital Crown input method. However, others like The Doneger Group's Roseanne Morrison were
unimpressed
with the device, calling it "not pretty" and "future techno as opposed to feminine sexy."
At its event earlier this month, Apple said it is targeting a early 2015 launch for its wearable device. A report after the event stated that Apple would be "lucky" to
launch
the watch by Valentine's Day due to software development issues. The Apple Watch will start at $349 and may
run up to
$1,200 for the high-end Edition version.
Apple has
announced
that it will be begin selling the iPhone 6 and iPhone 6 Plus beginning Friday, October 17. The devices will be available through Apple's online store and retail locations in China and will also be sold at China Mobile, China Telecom, and China Unicom stores. Customers in China will be able to pre-order the iPhone 6 and iPhone 6 Plus beginning Friday, October 10.
Pricing for the 4.7-inch iPhone 6 will start at 5,288 RMB ($860) for the 16GB model, 6,088 RMB ($990) for the 64GB model, and 6,888 RMB ($1120) for the 128GB model. The 16 GB, 64 GB, and 128 GB iPhone 6 Plus models will sell for 6,088 RMB ($990), 6,888 RMB ($1120), and 7,788 RMB ($1267), respectively. All iPhone 6 and iPhone 6 Plus models will be available in gold, silver, and space gray variants.

"We are thrilled to bring iPhone 6 and iPhone 6 Plus to our customers in China on all three carriers at launch," said Apple's CEO Tim Cook. "With support for TD-LTE and FDD-LTE, iPhone 6 and iPhone 6 Plus customers will have access to high-speed mobile networks from China Mobile, China Telecom and China Unicom for an incredible experience."
Earlier today, it was
revealed
that Apple had received the final license needed to start iPhone 6 sales in China. The iPhone 6 and iPhone 6 Plus launched in the
first wave
of countries on September 19, and was
made available to more countries
last Friday, September 26. Apple
revealed
on September 22 that it had sold ten million units of both phones in its opening weekend, breaking the previous record of nine million units set by the iPhone 5s and iPhone 5c
last year
.
The first beta of iOS 8.1
seeded earlier today
has not yet revealed a significant number of changes visible to regular users, but developer Hamza Sood has managed to uncover several interesting hidden settings and strings from the new version.
First, Sood
shares a screenshot
of a hidden Settings pane for Apple Pay inside. The pane will allow users to manage their entered credit and debit cards linked to Apple Pay, as well as define their default card, billing and shipping address, email, and phone.

The Settings screen for Apple Pay also links to a privacy disclosure outlining how the user's card and device information and location may be sent back to Apple and perhaps passed on to the card issuer to determine eligibility and detect possible fraud.
Apple Pay will allow users to easily authenticate payments to their preferred credit and debit cards, using NFC for point-of-sale transactions with the iPhone 6 and 6 Plus and Apple Watch while also allowing for Touch ID-based authentication of purchase transactions in apps supporting Apple Pay. Apple has announced that Apple Pay will be launching in October, and iOS 8.1 is likely to be the update carrying that support, but the company has not yet flipped the switch to broadly enable it in this first developer seed.
While Apple has so far only announced that the iPhone 6 and 6 Plus and Apple Watch will be compatible with Apple Pay, Sood has also turned up evidence suggesting next-generation iPad models will
include Touch ID support and Apple Pay
. The evidence comes in the form of a code string addressing support for the services:
Pay with iPad using Touch ID. With Apple Pay, you no longer need to type card numbers and shipping information.
It is unclear whether the upcoming iPads will include NFC technology for point-of-sale transactions or if Apple Pay support on the iPad will be limited to app-based transactions, but Apple's upcoming iPad have been widely rumored to see the addition of Touch ID.
Ahead of an
event
planned for tomorrow in conjunction with Apple, Parisian fashion boutique Colette appears to be preparing to show off the Apple Watch at its boutique on Rue Saint-Honoré in Paris. Various photos on Twitter and Instagram show the location displaying the Apple Watch prominently, with different variants of the device being placed in colored ovals.

(Image credit: papasoey via Instagram)
While it is not known as to what exactly will be shown off at Colette's event tomorrow, hints from the invitation flyer suggest that the Apple Watch will be the highlight. Colette has also been known to be
very selective
of what makes it into their flagship location, and it is likely that a collaboration with Apple is part of an initiative by the Cupertino company to push its wearable device as a fashionable item.

(Image credit: @JeromeRoussin via Twitter)
Apple announced earlier this month at its media event that it would start shipping the device in early 2015. A
report after the event suggested
Apple would be "lucky" to launch the watch by Valentine's Day due to issues with software development. The device will be available in three collections, including a high-end
Edition collection
which boasts an 18-karat gold enclosure and sapphire crystal display.
Update 9:13 PM:
Colette's website has
announced
that the boutique is inviting people to preview the Apple Watch in a special one-day event.
Apple's iCloud appears to be down for some users, with many people reporting issues logging into iCloud.com and accessing iCloud content like Mail, Calendar, and Notes.
According to Apple's
System Status Page
, all iCloud services and features are entirely inaccessible for some users, with the outage starting just after 3 PM Pacific Time. The downtime comes just after Apple released an
iOS 8.1 update to developers
and following news of a
significant iCloud Drive bug
that causes documents to be deleted when "Reset All Settings" is used on an iOS 8 devices.

Apple has not provided a timeline for when access to iCloud services might be restored, but the issue appears to be affecting just a portion of iCloud users, as others are reporting no problems at all.
Update 5:33 PM:
All iCloud services appear to be functionally normally again as indicated by Apple's System Status Page.
Apple today released the first beta of iOS 8.1 to registered developers for testing purposes, just a few days after the release of iOS 8.0.2, which fixed a bug introduced with iOS 8.0.1. The beta arrives as build number 12B401.
Apple has also released a new Apple TV beta and Xcode 6.1 beta 3.

iOS 8.1 likely includes several bug fixes for issues in iOS 8, and it also likely includes support for Apple Pay, Apple's mobile payments service that is launching in October.
Along with iOS 8.1, Apple is also
simultaneously working
on iOS 8.2 and iOS 8.3, all of which are expected to add new functionality to the operating system.
iOS 8 has had a rough start, with Apple temporarily
removing HealthKit
ahead of the launch of iOS 8 and then releasing an unstable iOS 8.0.1 update that disabled the cellular and Touch ID service of many users. Apple released iOS 8.0.2 to fix the issue, but several other problems have come to light, including a bug that
causes iCloud Drive documents
to be deleted.
Apple today
released
OS X bash update 1.0 for OS X Mavericks to fix a vulnerability in the bash UNIX shell.
The security flaw, known in the media as "
Shellshock
," was discovered last week. Uncovered by security researchers, the
exploit in the bash command shell
in OS X and Linux could be used to deploy malicious code.

According to an
Apple spokesperson
, most OS X users were not at risk form the bash vulnerabilities, but the company promised to work quickly to provide an update.
Bash, a UNIX command shell and language included in OS X, has a weakness that could allow unauthorized users to remotely gain control of vulnerable systems. With OS X, systems are safe by default and not exposed to remote exploits of bash unless users configure advanced UNIX services. We are working to quickly provide a software update for our advanced UNIX users.
Along with the fix for OS X Mavericks, Apple has released updates for both
OS X Lion
and
OS X Mountain Lion
. There is no Yosemite download available as of yet, but Apple may be planning to issue a fix in the near future. The three updates are available via Apple's support pages and should be available via the Software Update tool soon.
It appears that there may be a serious bug with the "Reset All Settings" option in iOS 8, causing users who activate the feature to lose all of their iWork documents stored in iCloud Drive. According to multiple posters on the
MacRumors
forums
, using the "Reset All Settings" option under General --> Reset has caused documents to be permanently deleted from iCloud Drive.

Because iOS 8 was so sluggish on my iPad 3 I reset all settings (No data or media will be deleted) and sped it up BUT deleted my iWork data! Then promptly synced and deleted it in iCloud.I have public beta of Yosemite so can't roll back via time machine. I have no pre iOS 8 backups in iTunes or iCloud to revert to (well iCloud device backups don't contain cloud documents and I should have iOS 7 backups in iTunes but can't find any. iCloud has no trash like dropbox. They seem gone forever.
The "Reset All Settings" option explicitly says that "No data or media will be deleted," and it is meant to reset all user preferences to the default out-of-the-box settings. That the option is deleting iCloud Drive documents appears to be a serious bug, though it may be limited to Apple's own iWork apps like
Pages
,
Keynote
, and
Numbers
. One
user
had all of his iWork documents wiped by using "Reset All Settings," while other app information remained in iCloud.
In our own testing, using "Reset All Settings" deleted all iWork documents stored in iCloud Drive on the iPhone and on iCloud.com. After allowing time for syncing to a Mac running OS X Yosemite, all of the documents disappeared from that machine as well. Preview and TextEdit documents, which cannot be accessed on the iPhone, remained untouched on the Mac.
There appears to be no simple way to recover iCloud Drive documents that have been erased by "Reset All Settings" in Yosemite, and several people who have been affected by the bug are now in contact with Apple support in an effort to retrieve their documents. A
Mavericks user
was, however, able to recover his files from a backup folder, and OS X Yosemite users may also have luck with
recovering files via Time Machine
.
One user said that Apple was waiting on engineers to investigate the issue, while another said his account had been
placed
in troubleshooting mode to attempt to recover the data.
Introduced with iOS 8 and OS X Yosemite,
iCloud Drive
is Apple's answer to cloud-based storage services like Dropbox. iCloud Drive allows users to store a variety of documents like spreadsheets, PDFs, images, and more, accessing them on any device. Currently OS X Mavericks users can access iCloud Drive documents via iCloud.com, but iCloud Drive will be fully functional in October, after OS X Yosemite is released.
Users who have iCloud Drive enabled may want to refrain from using the "Reset All Settings" option on their devices for the time being, in order to avoid accidentally erasing important documents stored in iCloud Drive.
Based on web traffic data, it appears Apple may be hastening its iOS updates as it prepares to launch several major products in the coming months. As noted by
9to5Mac
, the Cupertino company is simultaneously testing three major iOS 8 iterations that may be released according to an expedited schedule.
Web server analytics indicate Apple is currently actively testing iOS 8.1, 8.2 and 8.3. The development is an unusual one, as Apple typically only publicly tests one of each iOS version (full, major update, minor update) at a time, releasing major updates months apart after the initial September rollout. An example is iOS 7, which debuted in September 2013 and was not updated to iOS 7.1 until March 2014.

Visits to MacRumors from devices running iOS 8.2 now numbering in the dozens per day
The most likely explanation for this change in pattern involves major product launches over the coming months. The company is preparing to roll out
Apple Pay
in October, with the new NFC-based payment system almost certainly falling into the major software update category. Other products on the horizon include the upcoming
Apple Watch
and a rumored
12.9-inch "iPad Pro"
, both of which appear set to launch early next year and which would also require significant iOS updates to support them.
Apple released iOS 8 earlier this month with a handful of new features including support for extensions, widget notifications, and third-party keyboards. iOS 8 has had a rocky start, with the company temporarily
removing
HealthKit-enabled apps at launch due to an unspecified issue. Apple also released and
quickly removed
iOS 8.0.1 after the update disabled cellular connectivity and Touch ID on iPhone 6 and 6 Plus devices.
Apple and Parisian fashion boutique Colette are preparing a "one day only experience" on September 30, reports French blog
Macplus
[
Google Translate
]. Showcased on
Colette's website
, the event will be held from 11:00 AM to 7:00 PM local time at the retailer's gallery on rue Saint-Honoré in Paris.
Information on what will be shown during the one-day event has not been revealed, but hints from the invitation and Colette's own fashion focus suggest the Apple Watch will be the highlight. The pattern of dots on the promotional image appears very similar to the zoomed-out home screen of the Apple Watch, with each dot representing an app icon.

Apple
unveiled
the Apple Watch earlier this month alongside the iPhone 6 and 6 Plus. The smartwatch will be available in a variety of configurations, including a high-fashion
Edition collection
that features an 18-karat gold casing and sapphire crystal display and a
Sport collection
for fitness enthusiasts. Apple is targeting an early 2015 launch, but the company will reportedly be
hard-pressed
to make the device available to the public in time for February's Valentine's Day holiday.
Update 8:55 AM
: As
noted
by forum member
Rogifan
, Apple industrial design team member Mikael Silvanto has posted several photos on his
Instagram account
yesterday documenting his trip to Paris for Paris Fashion Week. In
one photo
, a member of the team is shown wearing Apple Watch at a meal, while
another photo
taken onboard the plane en route to Paris may show Jony Ive and Marc Newson in the background.