Multiple rumors suggest that 2019 will be the year that we finally get a genuine dark mode for the iPhone and the
iPad
, with
iOS 13
set to introduce a new feature that will bring Apple's iOS devices in line with Macs.
Dark mode for macOS came with
macOS Mojave
, and soon we'll have feature parity between the two operating systems, with both offering light and dark mode options.
There are some Apple apps on iOS that already offer dark mode options like Maps and Books, and others like Stocks,
Apple Watch
, and some parts of iTunes are already equipped with darker themes, but what's coming in iOS 13 is a systemwide dark mode.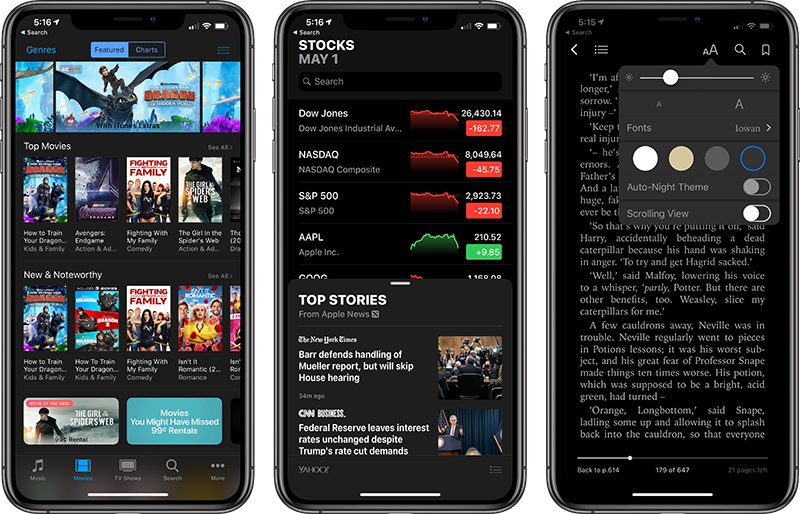 What Dark Mode Might Look Like
We don't know specifically how dark mode will be implemented on iOS devices and just what it might look like, but there have been multiple mockups of dark mode on iOS since it's such a highly desired feature.
The dark mode on macOS doesn't use true blacks for contrast reasons, but because Apple has OLED devices, it's possible the iPhone version dark mode will indeed offer true black options or accents rather than the darker gray shades that Mojave uses. The mockups we've included below might give us a glimpse of just what we can expect.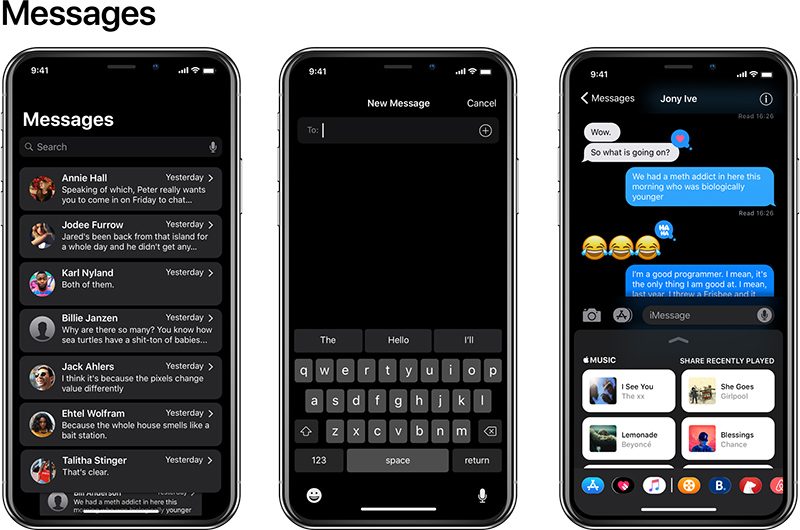 Dark Mode for Messages, by Maximos Angelakis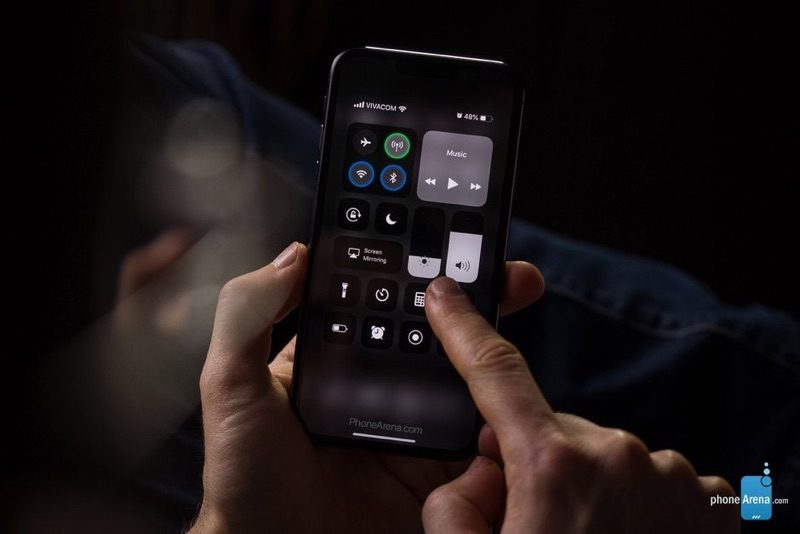 Dark Mode Control Center from PhoneArena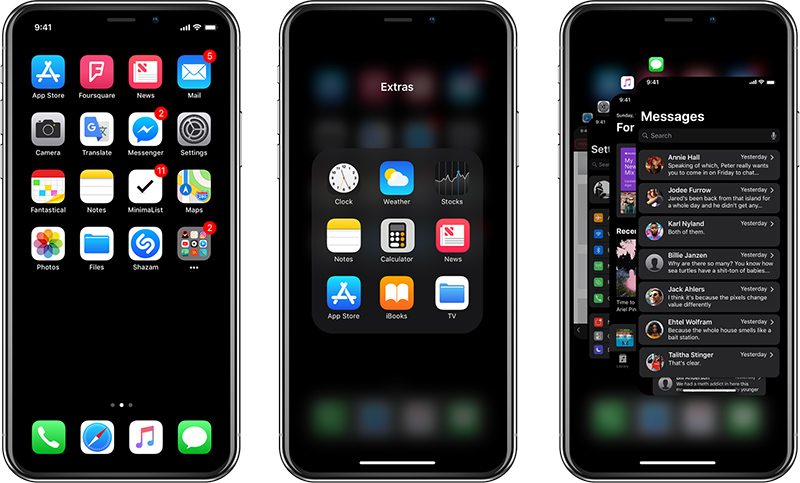 Dark Mode Home screen and App Switcher, by Maximos Angelakis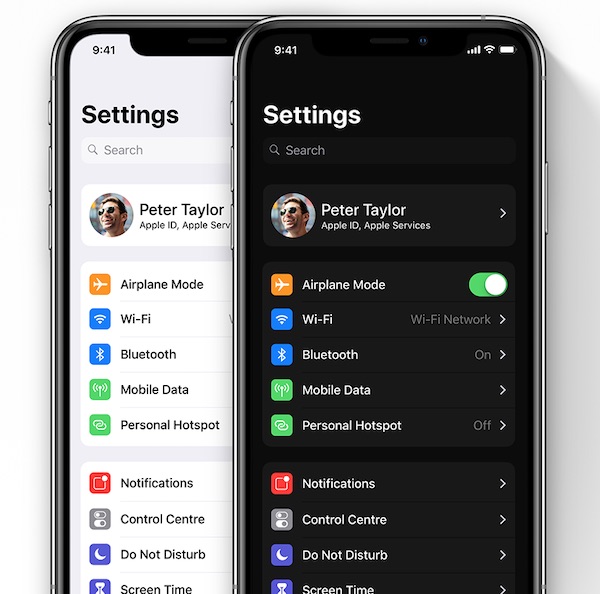 Dark Mode Settings app compared to normal Settings app, by Léo Vallet
Dark Mode for Apps
For macOS Mojave, Apple overhauled several of the built-in apps for the Mac with new dark mode options and we can likely expect Apple to do the same thing for its stock iOS apps.
We could see dark mode options for apps like Photos, Calendar, Mail, Maps, Notes, Safari, and more.
When Apple introduced a dark mode for the Mac,
Mac App Store
developers were quick to update their apps with darker themes, so it probably won't take too long for third-party iOS apps to support dark mode options once the iOS 13 version rolls out. Some third-party apps, like Twitter and Facebook Messenger, already offer dark modes.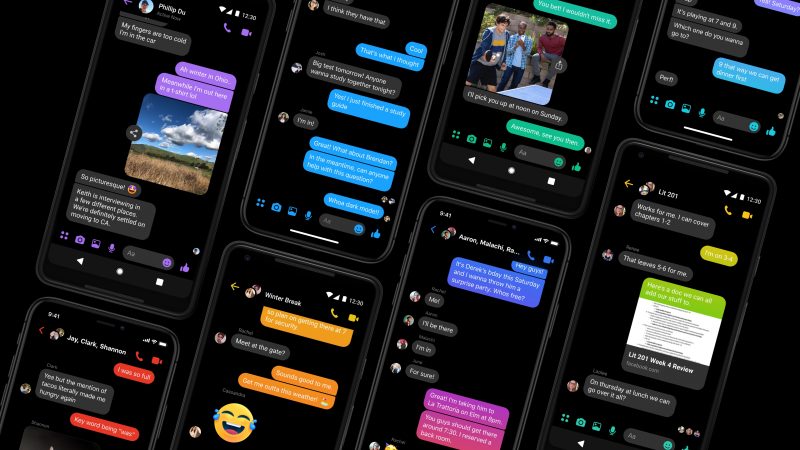 Dynamic Wallpapers?
With macOS Mojave we got some Dynamic Desktops that are designed to shift from light to dark over the course of the day. It's possible Apple has some special iPhone and iPad wallpapers planned for the dark mode coming in iOS 13, but there's been no confirmation yet.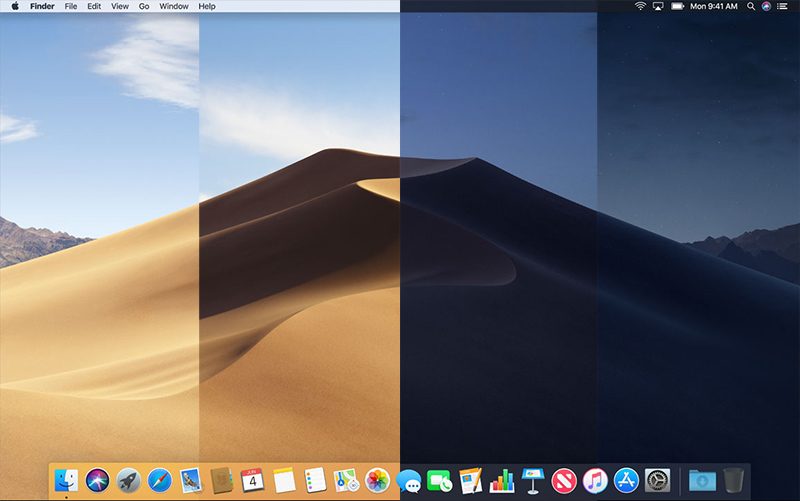 Either way, dark mode should look fantastic with the OLED displays on modern iPhones including the
iPhone X
, XS, and XS Max, plus future 2019 OLED devices.
How Dark Mode Will Work
macOS Mojave has a toggle in the System Preferences to turn on dark mode, so we can expect a similar toggle in the iOS Settings app to enable it.
On the Mac, there's no option to automatically turn on a darker theme when the sunsets or based on time, so it's not entirely clear if this will be something offered on iOS.
Dark Mode Release Date
Apple will show off iOS 13 and its new features at the keynote event for the Worldwide Developers Conference on June 3, and dark mode is expected to be one of those new features.
After iOS 13 makes its debut, Apple will provide the update to developers so they can begin getting their apps ready for the update.
Based on past iOS releases, public beta testers will be able to download iOS 13 later in the summer, and finally, iOS 13 and the new dark mode will see a launch in September alongside new iPhones.
Guide Feedback
Have questions about Dark Mode, know of a great concept, or want to offer feedback on this guide?
Send us an email here
.