Apple at WWDC 2020 announced plans to transition away from Intel chips to Macs built with its own Apple silicon chips starting in late 2020. Apple's custom chips are Arm-based and are similar to the A-series chips used in iPhones and iPads, and Apple unveiled the first Apple silicon Macs in November 2020.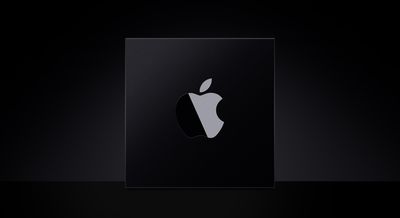 This guide covers everything we know about Apple silicon, Apple's plans to transition the entire Mac lineup away from Intel chips, and Apple's efforts to make it easy for developers to design apps for the new Arm-based Macs.
The First Apple silicon Macs
Apple's first Macs with Apple silicon chips, the late 2020 MacBook Air, MacBook Pro, Mac mini and the 2021 iPad Pro and iMac all use the M1 chip, which is Apple's first custom-designed Arm-based chip for Mac.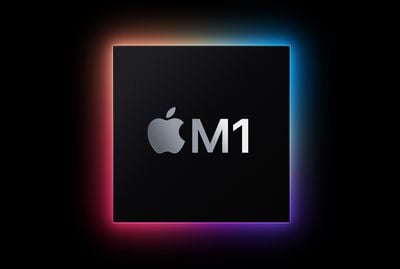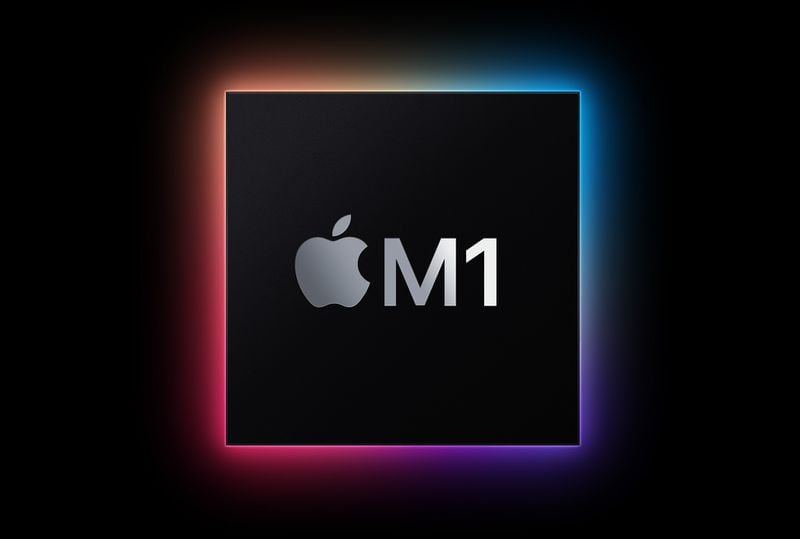 The ‌M1‌ is Apple's first "System on a Chip" for the Mac, and it integrates several different components including the CPU, GPU, unified memory architecture (RAM), Neural Engine, Secure Enclave, SSD controller, image signal processor, encode/decode engines, Thunderbolt controller with USB 4 support, and more, all of which power the different features in the Mac.
The ‌M1‌ chip is the most powerful chip that Apple has created to date, and it is similar to the A14 chip in the latest ‌iPhone‌ and iPad Air models, built on a 5-nanometer process by Taiwan Semiconductor Manufacturing Company (TSMC).
It features an 8-core CPU with four high-performance cores and four high-efficiency cores. The high-performance cores are designed to offer the best performance for power-intensive single-threaded tasks, while the four high-efficiency cores are available for tasks that don't require as much power, such as web browsing. This is what gives ‌M1‌ Macs incredible battery life.


There's also an 8-core GPU and a 16-core Neural Engine, and in comparison to Intel Macs, the ‌M1‌ chip is Apple's fastest ever chip in terms of single-core performance. It's also more powerful than the Intel chips used in the 16-inch MacBook Pro, and performance is close to many desktop machines.
For more details on the M1 chip, make sure to check out our full M1 guide.
Why Apple Made the Switch
Apple is adopting its own Apple silicon chips to make better Macs. Apple's chips bring a whole new level of performance with more powerful Macs that are also more energy-efficient. Apple says that its advanced power management capabilities allow for maximized performance paired with better than ever battery life of up to 20 hours. That's double the battery life of equivalent Intel-based machines.
Apple silicon Advantage
Apple has years of experience with power-efficient chip design thanks to its work on the ‌iPhone‌, iPad, and Apple Watch, all of which use custom-designed chips developed by Apple engineers. Apple has made huge gains in processor performance over the years, and its chips are now more than powerful enough to be used in Macs.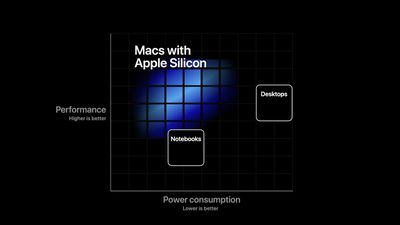 Apple aimed to deliver the highest possible performance with the lowest power consumption, a goal that its expertise made it well-suited to achieve. Better performance and efficiency were Apple's main goals, but there are other reasons that the company decided to transition away from Intel, and that includes all of the custom technologies that are built into Apple silicon to further boost the Mac's capabilities and make it stand out from the competition.
Deep integration between software and hardware has always made iPhones stand out from other smartphones, and the same is true for the Mac. Apple's custom chips provide best-in-class security with the Secure Enclave and high-performance graphics capabilities for pro apps and games, but the true performance gains remain to be seen.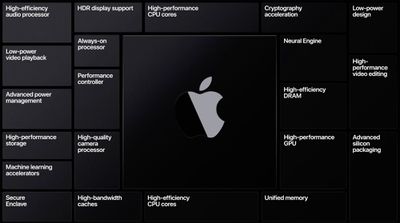 Apple silicon chips are built with Neural Engines and Machine Learning Accelerators to make Macs ideal platforms for machine learning. Other technologies include a high-quality camera processor, performance controller, Secure Enclave and Touch ID, high-performance DRAM, unified memory, and cryptography acceleration.
Ditching Intel
Many of Apple's existing Macs use x86 chips from Intel, while its iPhones and some iPads use Arm-based chips. x86 chips and Arm chips like the ‌M1‌ are built using different architectures, so the transition from x86 to Arm takes some effort.


Apple has been using Intel's chips in its Mac lineup since 2006 after transitioning away from PowerPC processors, which has meant that Apple has been subject to Intel's release timelines, chip delays, and security issues, which have, at times, negatively affected Apple's own device release plans.
Apple has cited platform consolidation and performance advantages as reasons for ditching Intel chips, but one former Intel engineer claimed that Intel's issues with Skylake chips drove Apple to speed up development of its Arm-based chips. There have been rumors about Apple designing its own Mac chips since 2014, so the decision to stop using Intel chips was in the works for a long time.
Swapping to house-made chips lets Apple release updates on its own schedule and with more regular technology improvements, plus Apple is also able to differentiate its devices from competing products with tight integration between software and hardware, similar to its iOS platform and A-series chips.
Common iOS and Mac Architecture
With Apple designing its own chips for iOS devices and Macs, there is a common architecture across all Apple product lines, which makes it easier for developers to write and optimize software that runs on all Apple products.
In fact, apps designed for the ‌iPhone‌ and the ‌iPad‌ can run on Apple silicon natively, and compatible iOS apps can be downloaded from the Mac App Store on an ‌M1‌ Mac.
Easing the Transition
macOS Big Sur is equipped with tools to help both developers and Apple customers transition from Intel chips to Apple silicon. All Apple apps, including Apple's pro apps like Final Cut Pro and Logic Pro, are already running natively on Apple silicon and are available on ‌M1‌ Macs.
Companies like Adobe and Microsoft are working on apps that will run natively on Apple silicon, as are other third-party developers.
Developers can use Xcode to get their apps up and running on Apple silicon in just a matter of days, and Apple has developed tools for building new Universal 2 app binaries that work on Intel Macs and Macs built on Apple silicon so developers can still support Intel Macs with a single binary for all users.
Support for Intel Macs
Apple will continue to release software updates for Intel Macs for years after the transition to Apple silicon, so those who purchase Intel-based Macs can expect to receive macOS updates throughout the life of their machines.
Running Intel Apps on Apple silicon
Apple expects most developers to develop native apps quickly, but users can run Intel apps even if those apps haven't been updated, thanks to Rosetta 2, a translation process that runs in the background and is invisible to the user.
Rosetta 2 translates existing Intel apps so they work on Macs equipped with Apple silicon quickly, seamlessly, and without issues. Apple has demoed Rosetta 2 with apps and games and there's no difference between running an Intel app on an Intel machine and on an Apple silicon machine. All of the features work and the software is just as quick.
Apple has also introduced new virtualization technologies that will let developers run Linux or tools like Docker. Rosetta 2 does not support virtualization using apps like VMware or Parallels, so it is not possible to run Windows using that method unless the apps are rebuilt for Apple silicon, and it's not clear if that will happen at this time in regard to licensing.
No Boot Camp
Windows does not operate in Boot Camp mode on Macs that run Apple silicon as Microsoft only licenses Windows 10 on Arm to OEMs and has no current plans make an Arm-based version of Windows freely available.
Apple has also said that it does not plan to support Boot Camp on its future Macs. "We're not direct booting an alternate operating system," Apple software engineering chief Craig Federighi said. "Purely virtualization is the route." If, however, Microsoft releases an Arm-based version of Windows that consumers can purchase, things might change.
Apple silicon Macs and Thunderbolt Support
Apple is transitioning away from Intel's chips in its Mac and is instead opting to use Apple silicon chips, but Apple is continuing to support Intel's Thunderbolt USB-C standard. The ‌M1‌ Macs support USB 4 and Thunderbolt 3.
Current Arm-Based Macs
Apple has released the 2020 ‌‌MacBook Air‌‌, 13-inch MacBook Pro, and ‌‌Mac mini‌‌ with ‌M1‌ chips, replacing the low-end machines in those lineups. In 2021, Apple added the ‌M1‌ ‌iPad Pro‌ models and the ‌M1‌ ‌iMac‌.
It is not worth purchasing an Intel ‌‌Mac mini‌, ‌iMac‌,‌ or 13-inch ‌MacBook Pro at this point because the ‌M1‌ chip outperforms all of the chips used in Apple's portable devices and it is only outclassed by desktop processors.
Future Arm-Based Macs
Apple is working on updated Apple silicon chips designed for the MacBook Pro, ‌MacBook Air‌, Mac Pro, ‌iMac‌, and ‌Mac mini‌, according to Bloomberg.
Redesigned MacBook Pro models will have higher-end Apple silicon chips that feature 10 cores, with eight high-performance cores and two energy-efficient cores, along with 16 and 32 graphics core options. The chips will support up to 64GB RAM and will have an improved Neural Engine.
Apple plans to use the same chip for the ‌Mac mini‌, while the upcoming ‌Mac Pro‌ that's in the works for 2022 will feature two processors that are either twice or four times as powerful as the MacBook Pro chip.
These chips will feature 20 or 40 computing cores with 16 high-performance or 32 high-performance cores and four or eight high-efficiency cores, along with 64 and 128 core options for graphics.
For a redesigned version of the ‌MacBook Air‌ and a new low-end 13-inch MacBook Pro, Apple is developing a direct successor to the ‌M1‌ chip that will have the same number of computing cores (eight), but it will run faster. It will also have 9 or 10 graphics cores, up from 7 or 8.
Guide Feedback
Have questions about Apple's work on Arm-based Macs or want to offer feedback on this guide? Send us an email here.