In summer 2019, Apple will launch an Apple Card credit card that's linked to Apple Pay and integrated into the iPhone Wallet app, bringing with it some innovative tools to help users manage their spending. Backed by Goldman Sachs and Mastercard, Apple's virtual credit card will also be available as a physical titanium card for use at merchants that don't accept ‌Apple Pay‌.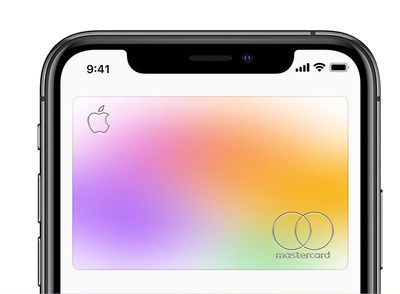 Whether you make digital ‌Apple Pay‌ payments or use the titanium equivalent to make purchases, Apple Card will give you cash back rewards on them, and that means Apple will be entering a market dominated by a raft of already well-established cards offering similar cash back reward schemes. So apart from being built right into ‌iPhone‌ and with all that it entails, how does ‌Apple Card‌ stack up against the big banks' rival offerings? Keep reading to find out.

How Apple Card Cash Back Works
First, let's take a look at how Apple's cash back scheme works. ‌Apple Card‌ will offer three types of cash back rewards depending on how and where you use it.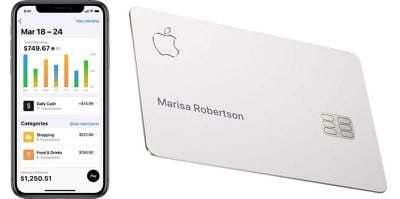 For purchases made from Apple's online store or any of its retail stores you get 3% cash back. This figure also includes purchases made from the App Store, iTunes Store, and Apple services.
For purchases made using ‌Apple Pay‌, Apple's digital mobile payment platform, you get 2% cash back.
For all other purchases using the titanium Apple Credit Card, you get 1% cash back.
Cash rewards are either paid daily into the Wallet app via your Apple Cash digital card (if you've signed up for it), or paid on a monthly basis as a credit on your statement balance.


Daily Cash can be used for ‌Apple Pay‌ purchases, sent to friends or family using the Apple Cash feature in Messages, or transferred over to your bank account, which typically takes between one and three days. You can also use the Instant Transfer feature for a small fee.

Apple Card and Fees
When it launches in summer 2019, ‌Apple Card‌ will be a fee-free credit card. That means there are no annual fees, no foreign transaction fees, no fees for making a late payment, and no fees for exceeding your credit limit (which, as with any other credit card, will vary from person to person depending on their credit score).
In claiming no late fees, Apple means making a late payment won't result in a one-time late payment fee (frequently $29 or more with other cards), but you will have to pay interest on your outstanding balance, and as with other credit cards, a late payment will impact your credit score.

Apple Card Interest Rate
‌Apple Card‌ will offer an annual percentage rate (APR) of between 13.24% and 24.24%, depending on your credit score. The national average APR is 17.67%, so it's a good deal if you have a high credit score, but works out similar to other credit card companies when it comes to lower credit scores.

Other Reward Cards
Chase Freedom Unlimited


Chase Freedom Unlimited is one of the best cards on the market for uncomplicated, no-frills cash back and no annual fee. Users earn 3% on all purchases in their first year up to $20,000. After a year, the card doles out unlimited 1.5% cash back on all transactions.
The Chase card offers an introductory 0% APR on purchases and balances for the first 15 months after opening the account, and then switches to a variable APR (17.24-25.99%).
How it compares: The Chase Freedom Unlimited card is a strong rival to ‌Apple Card‌, and its 3% cash back on all purchases in the first year is three times more than ‌Apple Card‌'s base rate for standard purchases. It's worth remembering that ‌Apple Card‌'s 3% cash back offer only applies to purchases made from Apple, and it only offers 2% cash back on transactions processed using ‌Apple Pay‌. Just note that you need to sign up for the Chase Freedom Reward at a local branch to qualify for the 3% cash back, and after the first year, cash back drops to 1.5%, which isn't quite as impressive, though still beats Apple's 1% on all regular non-Apple Pay non-Apple Store purchases.
‌Apple Card‌ advertises lower interest rates, but Chase Freedom Unlimited has no interest rates on purchases and balance transfers for the first 15 months. In addition, cash back earned on the Chase card can be converted to Chase Ultimate Reward points, which can be easily transferred to airlines or hotels.

Barclaycard Visa with Apple Rewards


The Barclaycard Visa with Apple Rewards Card is a co-branded card promoted by Apple as "Barclaycard Financing" and is aimed at people who want pay for new Apple products and pay for them over time. It offers deferred interest for purchases from Apple made within the first 30 days of opening the card, and customers can activate another deferred financing term when their first one is over via customer support. The more you spend, the longer the deferred financing term: Purchases less than $499 have a 6-month term, spending up to $999 gets you a 12-month term, and anything over $999 comes with an 18-month term.
The Barclaycard Visa with Apple Rewards Card has no annual fee and uses a points rewards system where each point is worth 1 cent. That essentially gets you a 3% cash back equivalent at Apple and iTunes, 2% cash back at restaurants, and 1% on purchases made everywhere else. Customers who sign up also earn $50 in bonus Apple Store or ‌App Store‌ & iTunes Gift Cards after their purchase.
How it compares: The Barclaycard Visa with Apple Rewards Card is a good choice if you're planning to make a big purchase from Apple and want to pay for it over time without incurring interest. ‌Apple Card‌ offers no introductory financing equivalent. Just note that if you don't make your Barclaycard Visa payments on time or fail to pay off the full balance by the end of the financing term, you get charged interest from the original purchase date for the full term, which can become painful for your wallet.
Also, unlike ‌Apple Card‌, Barclaycard Visa With Apple Rewards doesn't require the use of ‌Apple Pay‌ to earn the highest reward rate. However earned rewards can only be redeemed at Apple or as ‌App Store‌/iTunes gift card, whereas cash back earned on ‌Apple Card‌ can be spent whichever way you like.

Capital One Quicksilver Cash Rewards Credit Card


Earning cash on your purchases couldn't be simpler with the Capital One Quicksilver Cash Rewards Credit Card. With no annual fee, the card offers unlimited 1.5% cash back on every purchase you make, and there are no reward categories you need to bother with. In addition, there's a $150 cash bonus when you spend $500 or more on purchases made within the first three months. Not only that, customers also get a 0% introductory APR on purchases and balance transfers for 15 months (16.24%-26.24% variable APR after that).
How it compares: The Capital One Quicksilver Cash Rewards Credit Card System couldn't be much more straightforward – when you pay for something, whatever it is, wherever you are, you get a flat rate 1.5% cash back, and there's no limit to how much you can earn. If you'd rather not have to think about which category your purchase comes under – whether your transaction uses ‌Apple Pay‌, for instance – then it's a great no-nonsense alternative to ‌Apple Card‌. The zero % intro APR is an added bonus, too.

Citi Double Cash Card


The Citi Double Cash Card is another no-nonsense reward system gives you a total of 2% cash back on all transactions – 1% when you make the purchase and 1% when you pay it off. There are no reward categories with this card, so it doesn't matter what you buy or how you pay, you still get the same flat rate. There's an introductory 0% APR on balance transfers only for 18 months, after which it switches to between 15.74% and 25.74% variable APR.
How it compares: The Citi Double Cash Card is one of the best cash back cards around, and makes ‌Apple Card‌'s categorized rewards feel almost a little restrictive in comparison. The only downside with the Citi card is that you redeem your cash rewards through monthly statement credit, bank account deposit, or gift card, and it has to be a minimum $25 redemption. By contrast, whatever amount of cash you earn with ‌Apple Card‌ is deposited into your Apple Cash wallet on a daily basis, so there's no waiting around.

Choosing the Right Card for You
When it comes to choosing a rewards card, the best thing to do is consider your daily spending habits. If most of the merchants you shop at support ‌Apple Pay‌ and you find yourself taking out your ‌iPhone‌ at the register more often than not, then Apple Card is a solid choice, offering a 2% cash back rate that equals some of the best flat-rate cards currently available. However, if you don't use ‌Apple Pay‌ regularly, a no-nonsense flat rate reward card like the Citi Double Cash Card might be a better alternative. On the other hand, if you're planning a big purchase and want to pay for it over time without incurring interest while also taking advantage of cash rewards, the Chase Freedom Unlimited Card might be more suited to you.