Apple tonight spoke out on President Trump's
move to rescind
Obama administration protections for transgender students, providing
a statement
to
Axios
. The protections had allowed transgender students to use bathrooms that corresponded to their gender identity.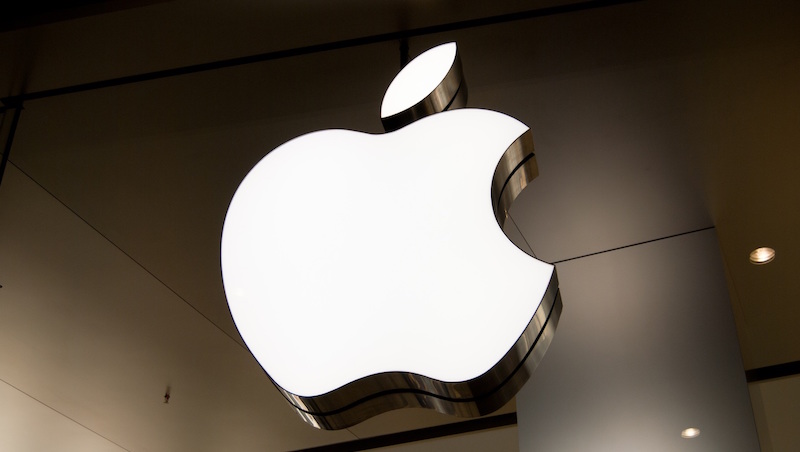 The Cupertino company reiterated its commitment to equality, saying that everyone deserves a chance to be free from stigma and discrimination.
"Apple believes everyone deserves a chance to thrive in an environment free from stigma and discrimination. We support efforts toward greater acceptance, not less, and we strongly believe that transgender students should be treated as equals. We disagree with any effort to limit or rescind their rights and protections."
This isn't the first time Apple has spoken out against the actions of the Trump administration. In late January, CEO
Tim Cook
said that the immigration executive order was
not a policy that Apple supported
. Apple made its HR, legal and security teams available to employees who were affected and eventually
joined nearly 100 firms
filing a legal brief against the order.
Under Cook, Apple has had a history of speaking out in favor of equality. In March 2015, Cook
spoke out
against Indiana's controversial "Religious Freedom" law, which allowed business owners to turn away LGBTQ customers by citing "religious freedom." Cook also called on Arkansas Governor Asa Hutchinson to veto the bill.
Additionally, in 2013 both Cook and Apple came out
in support
of the Employment Nondiscrimination Act and released a
statement of support
after the Supreme Court gay marriage ruling.
Note: Due to the political nature of the discussion regarding this topic, the discussion thread is located in our
Politics, Religion, Social Issues
forum. All forum members and site visitors are welcome to read and follow the thread, but posting is limited to forum members with at least 100 posts.
ColorWare
, a company that custom paints Apple products, today announced that it is now accepting orders for Apple's AirPods, which can be purchased from the site in range of different colors.
For $289, a $130 premium over the $159 price of the AirPods, ColorWare will paint them in one of 58 different shades, from solids to metallics in every color of the rainbow. A deep glossy black is also an option, giving customers who have been wanting a "Jet Black" set of AirPods a way to get it.

Each AirPod can be painted in a different shade, and for an extra $30, ColorWare will also paint the AirPod Charging Case. Along with a custom color, users can also choose a matte or gloss finish, for a set of AirPods that are totally unique.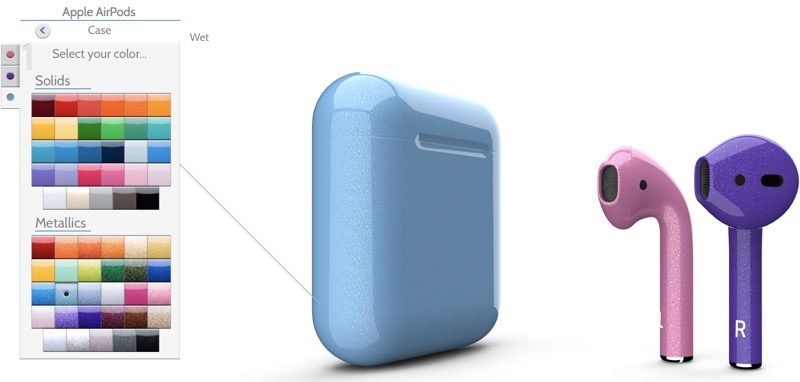 To paint various products, ColorWare fully disassembles them and carefully custom paints each individual component. On its Twitter account, ColorWare says developing a process for the AirPods was "FAR from easy."
It was FAR from easy, but we made it happen! AirPods now come in your choice of 58 colors: https://t.co/9ukve4qGKe #WeDidIt pic.twitter.com/suvrPPoazy

— ColorWare (@ColorWare) February 22, 2017
The total price for a fully customized set of AirPods plus case is $319, which is about double the price of a plain white set of AirPods purchased from Apple. In addition to shelling out quite a bit of money for a custom set, those who order AirPods from ColorWare will also need to wait for approximately six weeks for their order to arrive. ColorWare often lets customers send in their own devices to be painted, but this isn't currently an option with the AirPods.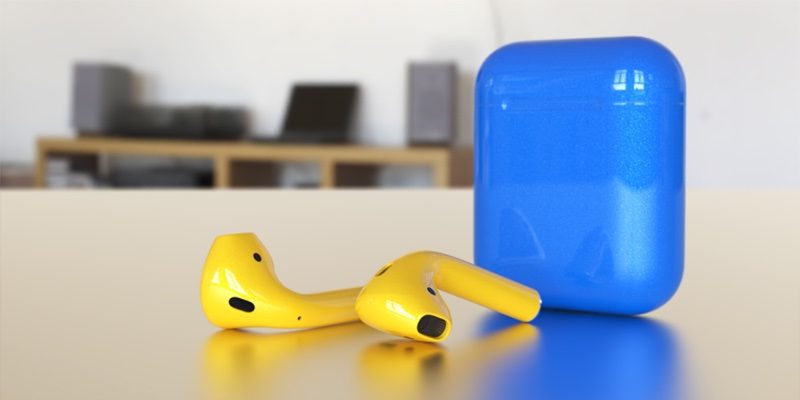 Because $319 is a lot of money to shell out for an accessory, ColorWare does
offer paint samples
so users can test colors out before placing an order. Each set of three paint samples costs $15.
All ColorWare work is guaranteed for 12 months, and 24 months with the purchase of an additional warranty. Returns are available for the first 30 days but are subject to a 25 percent restocking fee.
ColorWare paints a range of devices, from
iMac
s and
MacBook
s to Apple accessories like the Magic Keyboard and the Magic Mouse 2. The company also paints other accessories, like game consoles and headphones (including Beats), plus it offers a range of skins for products like the MacBook and iPhone.

Just over five months after
iOS 10
was released to the public, the operating system is now installed on 79% of active iOS devices, according to the
latest adoption data
shared by Apple.
iOS 9 remains installed on 16% of active iPhone, iPad, and
iPod touch
devices, while 5% of devices are running an earlier iOS version, as measured by the
App Store
on February 20.
iOS 10 adoption appears to be slightly outpacing iOS 9 adoption over the same time period. iOS 9 adoption briefly
stalled at 77%
of active devices last February.
iOS 10 could see further adoption when iOS 10.3, which is currently in beta for
developers
and
public testers
, is officially released. The software update's
key new features
include "
Find My AirPods
" and a switch to the all-new Apple File System (APFS).
iOS adoption continues to significantly outpace Android. Nougat, the latest version of Android, is installed on
just 1.2% of active Android devices
as of February 6, despite being released six months ago today. Android Lollipop, released in November 2014, is still installed on 32.9% of active devices.
Apple's control over both hardware and software gives it an advantage over the Android ecosystem, while Apple persistently notifies iPhone, iPad, and iPod touch users to update to the latest iOS version, including offering the option to have the software update install overnight while the device is plugged in.
Apple today
announced
that Apple Campus 2 will be open and ready for employees to begin moving in this April, while also officially naming the site "
Apple Park
." Moving more than 12,000 employees to the site will take more than six months, the company said, and some smaller building construction and landscaping will continue into the summer.

In honor of the late CEO Steve Jobs -- who would have turned 62 on Friday, February 24 -- Apple announced that the theater at Apple Park will be named the "Steve Jobs Theater." The theater will be one of the buildings that opens later this year, and is situated at one of the highest point on the campus, overlooking the nearby meadows and the large, circular main building at Apple Park.
"Steve's vision for Apple stretched far beyond his time with us. He intended Apple Park to be the home of innovation for generations to come," said Tim Cook, Apple's CEO. "The workspaces and parklands are designed to inspire our team as well as benefit the environment. We've achieved the most energy-efficient building of its kind in the world and the campus will run entirely on renewable energy."
Apple's press release also covered a collection of other buildings at Apple Park, including a visitor's center that will include a full Apple Store and cafe, both of which will be open to the public. Apple worked in collaboration with Foster + Partners to build Apple Park, which occupies 175 acres and will be powered by 100 percent renewable energy.
The main building, which has been referred to as the "Spaceship" building, includes 17 megawatts of rooftop solar power, meaning Apple Park will be running one of the largest solar energy installations on the planet when it opens in April. Apple also takes pride in the Park's landscaping initiatives, which has resulted in the replacement of 5 million-square-feet of asphalt with various greeneries, as well as over 9,000 native and drought-resistant trees.
Construction on the campus began back in 2013 and was originally pegged for completion in late 2016 before construction delays pushed back its opening date. Throughout the years, coverage of the campus has been ongoing thanks to reliable drone videos that have showed up every month or so, giving Apple fans the chance to see major construction milestones like the first time the
Spaceship building took shape
, all the way up to the
day that lights began turning on
.
Check out more images and a video about Apple Park
here
.
Apple recently purchased the
iCloud
.net domain, one of the last major iCloud-related web addresses that wasn't in its possession, reports
TechCrunch
.
The iCloud.net domain, which now appears to be
registered to Apple
, was the home of the "iCloud Social Network," a dubious-looking social networking platform designed to allow people to share activities, pictures, music, videos, and other content.

It's not clear how many users iCloud.net had before Apple purchased the domain, but the site now states that the iCloud.net services will be shut down at the end of February 2017, and data will be destroyed in March. It has apparently existed since 2011, and
in a blog post
, the site's owner said "iCloud.net finished his mission, it is time for him to retire."
MacRumors
received a tip suggesting Apple had purchased the domain for $1.5 million, but we have been unable to verify the information. The price Apple paid for iCloud.net is unknown and the company declined to comment on the purchase when contacted by
TechCrunch
.
Back in 2011, ahead of the launch of the iCloud service, Apple purchased the iCloud.com domain name from
Swedish company Xcerion
, shelling out approximately $5.2 million. Apple also possesses upwards of
100 iCloud domains
, ranging from iCloud.us and iCloud.eu to iCloudApps.com and iCloudAds.com.
It's not clear why Apple waited more than five years to acquire the iCloud.net domain, and it likely was just done as a measure to make sure the company owned all of the iCloud-related domains, but
TechCrunch
speculates that the purchase may have been made due to ongoing work on a
social networking app
that Apple is rumored to have in development.
While the rumored app may not use iCloud branding, the existence of an Apple social network could have been confused with an iCloud.net social network, an ambiguity Apple may have wanted to resolve with the purchase of the iCloud.net domain.
T-Mobile
,
Verizon
,
AT&T
, and
Sprint
, the four major carriers in the United States, all offer unlimited data plan options as of last week, allowing customers to forget about traditional data caps.
With so many options now available for unlimited data, we thought we'd do an in-depth video comparing the plans offered by the four companies to figure out the best value based on price and coverage.
Subscribe to the MacRumors YouTube channel for more videos
Unsurprisingly, Sprint offers the lowest prices, but many people choose not to use Sprint because its LTE coverage is poorer than other carriers. Eliminating Sprint, T-Mobile offers the next best deal, while Verizon comes in third, and AT&T comes in at a distant fourth.
For a single individual, Sprint charges $50 for new customers (for a limited time -- it goes up to $60 next year). T-Mobile charges $70, Verizon charges $80, and AT&T charges $100, making it the most expensive unlimited plan of the four carriers for an individual user.
Prices even out a bit more with an increasing number of lines. At four lines, Sprint is charging $90 (new customers only -- and it's $160 next year), T-Mobile charges $160, and Verizon and AT&T both charge $180. Not all plans are equal though, especially in AT&T's case.
While Verizon, Sprint, and T-Mobile all offer high-definition video streaming by default, AT&T limits video streaming to 480p unless customers specifically opt out. Sprint, Verizon, and T-Mobile all also offer 10GB of tethering data per line for connecting your Mac or iPad to your phone, but AT&T offers no mobile hotspot functionality with its unlimited plan.
T-Mobile offers the same video streaming and hotspot option that Verizon and Sprint do, but its prices are better than Verizon and aren't much more than Sprint, while offering a better network. T-Mobile is also the only network that offers fee-free data plans, so the price listed -- $70 -- is what you pay. T-Mobile doesn't charge activation fees, but other carriers do, which is something to take into account.
All networks will "deprioritize" (aka slow down) data after a certain amount of data is used per month. T-Mobile's limit is 28GB, while AT&T's is 22GB, Verizon's is 22GB, and Sprint's is 23GB. When these caps are hit, data speeds are slowed down.
On paper, T-Mobile seems to offer the best value for the price, but it's always worth taking a look at coverage maps and getting the opinion of other cellular users in your area before choosing a provider. There are also other benefits to look into, such as coverage abroad -- another area where T-Mobile leads the pack.
Apple's
latest line of notebooks
introduced an entirely revamped keyboard featuring flatter keys built using a second-generation butterfly mechanism, designed to optimize for stability while also maximizing travel. The butterfly mechanism was originally introduced in the ultra thin
MacBook
, but a newer version was implemented in the MacBook Pro.
There have been mixed opinions about the keyboard of the 2016 MacBook Pro due to its vastly different feel compared to previous-generation MacBook Pro models, and it appears the new butterfly mechanism may also be less reliable compared to older construction techniques.
A growing number of customers who have purchased a 2016 MacBook Pro are running into issues with the keyboard, including
non-functional keys
, strange
high-pitched sounds
on some keys, and keys with a
non-uniform feel
. There are dozens of threads both on
MacRumors
and on
the Apple Support site
.

One of the most significant issues appears to be keys that make different higher-pitched sounds than other keys in some cases, a problem that was caught on video by
MacRumors
user monstermac77. As is demonstrated, when the caps lock key is pressed, it makes a sound that's much different than the other keys on the keyboard.
According to monstermac77, the issue is only reproducible when the Mac is warm, a complaint that has been echoed by several other MacBook owners in the thread, suggesting heat plays a role in activating the problem. Some users are experiencing the
overly-clicky sound
without heat, though.
Within a few hours of using my Late 2016 MacBook Pro 15" with Touch Bar, I noticed some of my keys made a very high pitched click on-key-up (when I lifted my finger from the pressed down key). The affected keys: Caps Lock, left Option, and very occasionally: Delete, 'H', and 'C'.
The high-pitched clicking sound is irritating, but it isn't as serious as
some of the other issues
MacBook Pro owners have been having with the keyboard. In some cases, certain keys on the MacBook Pro miss clicks, enter double letters, or refuse to respond at all, a problem that we here at
MacRumors
have also experienced.
MacRumors
reader rroch describes the problem:
My 2016 15'' MacBook Pro arrived yesterday (as one of the first). 63 of the 64 keys work fine. But the i-key most of the time types the letter twice. I suggest you test out your keyboard thoroughly. With auto-correct it can be easy to think it works. However, my password contains the letter i, and I quickly became super frustrated not being able to get my password right (come to think about it, maybe that's why they added Touch ID, so you don't need the keyboard for passwords). So take a document, turn off auto-correct, and check all the keys. I found that the failure happens more frequently with a slight delay before releasing the key.
It's not clear what's causing the issue with the keys that suddenly become non-functional, but the butterfly mechanism is sensitive and can be interrupted by something as simple as a bit of dust. In our case, with the machine we had that was experiencing issues with a specific key, the problem cleared up on its own, but other MacBook owners have not been so lucky.
One other minor keyboard complaint is an inconsistent feel across keys, with some keys
that feel spongier
than others or that don't press down consistently. This seems to be related to a problem with the butterfly mechanism which some users report having fixed with a needle or other thin tool, but most people should not try that sort of repair at home.
While many of the complaints seem to be focused on the 15-inch MacBook Pro with Touch Bar, some users have also had problems with both the 13-inch model with a Touch Bar and the 13-inch model with no Touch Bar.
Customers who are experiencing keyboard problems should visit an Apple Store or an Apple Authorized Service Provider. In most cases, Apple is offering repairs and replacements for affected users, especially those who have verifiable hardware problems related to skipping keys, but some
MacRumors
readers have needed to go through several replacement machines to find a keyboard that doesn't experience issues.
Keyboard replacements are also not a simple matter on a machine as complex as the MacBook Pro, and users should expect repairs or replacements to take multiple days. According to reports from customers who have sought repairs, Apple is outright replacing most Touch Bar models while sending non-Touch Bar models out for repairs.
Ahead of
Mobile World Congress
next week, Qualcomm and Intel have separately announced the latest LTE modems for smartphones with theoretical download speeds exceeding so-called "Gigabit LTE," aka 1 Gbps. Apple sources LTE modems for iPhones from both chipmakers.

Qualcomm's new
Snapdragon X20 modem
is the first-announced modem to support Category 18 download speeds up to an ultra fast 1.2 Gbps, with Category 13 upload speeds of up to 150 Mbps. That builds upon Qualcomm's
Snapdragon X16
, which has a peak download speed of 1 Gbps.
Qualcomm said the Snapdragon X20, built on a leading-edge 10nm FinFET process, supports more combinations of LTE carriers and a higher number of total LTE spatial streams. This "vastly expanded flexibility" will for more operators around the world to deploy Gigabit LTE in the future.
Qualcomm said the first products with the Snapdragon X20 modem are expected to be available in the first half of 2018.
Intel's new
XMM 7560 modem
[
PDF
] supports LTE Advanced Pro for up to Category 16 download speeds "exceeding" 1 Gbps, and Category 13 upload speeds of up to 225 Mbps. The XMM 7560 modem is Intel's fifth-generation LTE modem, and the first to be manufactured based on its 14nm process.
Intel said the XMM 7560 modem is expected to sample in the first half of this year and move into production soon afterward.
Both modems support 5x carrier aggregation, 4x4 MIMO configurations, up to 256-QAM, and other technologies. Both chips also work with a number of cellular technologies, covering most LTE, CDMA, and GSM standards, meaning that equipped smartphones will be usable on most networks around the world.
Overall, Qualcomm appears to remain a step ahead of Intel, but it's a rather moot point for now given that Australian carrier Telstra currently has the only Gigabit LTE network in the world. There are also no Gigabit LTE-capable smartphones, although the
first ones are expected
to be announced at Mobile World Congress next week.
Nevertheless, the broader availability of Gigabit LTE is on the horizon. More smartphones will inevitably support the faster speeds in the future, while
AT&T
,
Sprint
, and
T-Mobile
are all testing or plan to deploy Gigabit LTE this year in the United States, on the bigger path towards next-generation 5G networking.
But even then, it is important to remember these are just theoretical speeds. In the latest
OpenSignal testing
, based on aggregated data from nearly 170,000 smartphone users, average LTE download speeds at AT&T, Verizon, Sprint, and T-Mobile ranged between 8 Mbps and 17 Mbps—a far cry from 1 Gbps.
Apple could theoretically include the Snapdragon X20 or Intel XMM 7560 in a future iPhone, thereby making it a Gigabit LTE-capable smartphone, but it may elect to wait until more networks are up to speed.
iPhone 7
and iPhone 7 Plus are equipped with Qualcomm's
Snapdragon X12
or Intel's XMM 7360 depending on the model. The X12 has a theoretical peak download speed of up to 600 Mbps, while the XMM 7360 reaches up to 450 Mbps. Qualcomm models were unsurprisingly
found to be faster
in subsequent testing.
Apple today seeded the third beta of an upcoming
iOS 10
.3 update to public beta testers for testing purposes, two weeks after
seeding the second public beta
and one day after providing the third iOS 10.3 beta
to developers
.
Beta testers who have signed up for Apple's beta testing program will receive the iOS 10.3 beta update over-the-air after installing the proper certificate on their iOS device.
Those who want to be a part of Apple's beta testing program can sign up to participate through the beta testing website, which gives users access to both iOS and
macOS Sierra
betas. Betas are not stable and include many bugs, so they should be installed on a secondary device.

As a major 10.x update, iOS 10.3 introduces a new "Find My AirPods" option to help users locate a lost AirPod. Located in the "Find My Friends" app, the Find My AirPods feature keeps track of the last known location where AirPods were connected to an iOS device via Bluetooth, and it allows the AirPods to play a sound to make finding them nearby easier.
Subscribe to the MacRumors YouTube channel for more videos.
Along with a Find My AirPods feature, the update also includes a shift to Apple File System (APFS). First introduced in 2016, APFS is optimized for Flash/SSD storage and includes strong encryption and other important features.
Apple recommends all users make an
iCloud
backup before installing iOS 10.3, as the update will cause the iPhone's file system to switch over to Apple File System.
iOS 10.3
also introduces
a tweaked app animation, a new Apple ID profile in the Settings app, a better breakdown on how iCloud storage is being used,
Siri
Kit improvements, new iCloud analytics options, Verizon Wi-Fi calling on iCloud devices, 32-bit app alerts, and more. The third beta introduces an "App Compatibility" section in the Settings app, letting users see if they have outdated apps that won't work with future versions of iOS.

The tentatively named "Apple Watch Series 3" will feature a new glass-film touchscreen in place of the current touch-on-lens solution, with shipments to begin in the second half of this year, according to Taiwan-based
DigiTimes
.
While it remains unclear if the switch to a film-based solution will have any obvious consumer-facing benefits, this is more interestingly the first rumor to surface about the supply chain ramping up for the next Apple Watch.
The timeline matches a Chinese report last month that claimed the third-generation Apple Watch will be
unveiled in the third quarter of 2017
with battery life and performance improvements. The report said Series 3 models, to be manufactured by Quanta, will lack any significant hardware changes.
Few other details are known about the next Apple Watch models, which could feasibly launch alongside the "
iPhone 8
" in September.
KGI Securities analyst
Ming-Chi Kuo
and other sources have claimed the Apple Watch could
gain an LTE chip
for cellular capabilities as early as 2017, while a supply chain report last year said Apple may
switch from OLED to micro-LED displays
for the Apple Watch in the second half of 2017 at the earliest.
Micro-LED displays have benefits such as thinness, lightness, improved color gamut, increased brightness, and higher resolutions. The panels do not require backlighting like traditional LCD displays, but they can be difficult and expensive to mass produce. Micro LEDs range in size from 1-micron to 100-micron.
Apple has filed patents for a number of ideas that could eventually be included in an Apple Watch, such as a
heart rate identification system
,
modular bands
,
haptic feedback band
, and a
band with a built-in charger
. More significant health and fitness features could be added pending further FDA approvals.
Ahead of Apple Watch Series 3 models, Apple is expected to introduce new bands at its rumored
iPad Pro-focused event
next month.
The widely rumored 5.8-inch iPhone with an edge-to-edge OLED display will match the
iPhone 7
Plus with 3GB of RAM and come in two storage options, 64GB and 256GB, according to Chinese research firm
TrendForce
.

The report, which outlines several already-rumored features, added that the so-called "
iPhone 8
" will not have a fully curved display due to production and drop test issues with 3D glass. Instead, the high-end device will adopt the same slightly curved 2.5D cover glass used since the iPhone 6 and iPhone 6 Plus in 2014.
TrendForce said Apple will
remove the Home button
on the iPhone, as widely rumored, and integrate the related functions into the display. If that fact is accurate, it suggests rumored
3D facial recognition capabilities
could
supplement
rather than
fully replace Touch ID
, which could be
embedded into the display
.
TrendForce itself expects the "iPhone 8" to incorporate 3D sensing technology that can be used for facial recognition and augmented reality features.
The research note said the 5.8-inch iPhone will be accompanied by updated 4.7-inch and 5.5-inch models with LCD displays. The 5.5-inch model will allegedly have the same 3GB of RAM as the iPhone 7 Plus, while the 4.7-inch model is said to have 2GB of RAM. Both models are expected to include up to 256GB of storage.
Rumors are generally shaping up to suggest the 5.8-inch iPhone with an OLED display will be a significant upgrade, but the model could
cost upwards of $1,000
in the United States. Meanwhile, the new 4.7-inch and 5.5-inch models are expected to be iterative but less expensive upgrades to the iPhone 7 and iPhone 7 Plus.
Last year, TrendForce accurately predicted the iPhone 7 and iPhone 7 Plus would be available in
32GB, 128GB, and 256GB
storage capacities.
The rumored "
iPhone 8
" with an edge-to-edge OLED display will gain a "revolutionary" front-facing camera system that consists of three modules that enable fully-featured 3D sensing capabilities, according to new predictions shared by KGI Securities analyst
Ming-Chi Kuo
. The upgraded camera system will be fueled by PrimeSense algorithms, which
Apple acquired in 2013
.

The three modules include an existing front camera module of current iPhones, an infrared transmitting module, and an infrared receiving module. Using these advancements, the camera will be able to find the location and depth of objects placed in front of it, with potential applications including facial and iris recognition.
The camera will function by merging the depth information captured by the IR transmitting and receiving modules with the traditional 2D images captured by the front camera. This not only could be used for the iPhone 8's long-rumored
iris recognition feature
, but even in some gaming applications -- and future AR/VR experiences -- where users could place their own 3D-scanned face in the game using a quick selfie.
Today's news of an overhaul to the front-facing camera of the iPhone 8 follows speculation surrounding the potential of Apple dropping
Touch ID
and instead focusing on either 3D
facial recognition
or iris scanning as the device's main security feature. JPMorgan analyst Rod Hall has stated that facial recognition could be a more secure alternative, and help increase
Apple Pay
adoption with retailers and financial institutions.
According to Kuo, this three-module front-facing camera system "will bring an innovative user experience" to the OLED iPhone 8, but for now it'll be reserved as exclusive to that model. "Future iPhones may come with a similar system for the rear camera," the analyst noted.