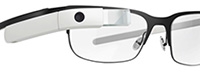 Apple is "stepping up" its augmented reality eyewear efforts, with an eventual goal of releasing a consumer-facing product, according to the
Financial Times
.
Apple first began to build a team to examine the feasibility of a head-worn device more than a year ago. Now, it is devoting more resources to its augmented-reality efforts, with the aim of taking it from a science project towards a consumer product, according to people familiar with the company's plans.
Don't expect to be wearing a pair of Apple-branded augmented reality glasses in the near future, however, as the report said any potential launch remains at least a year away, or "perhaps much longer."
Bloomberg
was first to report that Apple is
exploring digital glasses
that would connect wirelessly to iPhones and "show images and other information in the wearer's field of vision." The report said the digital glasses, which may use augmented reality, would not launch until 2018 at the earliest if at all.
One person who expects a sooner launch is tech evangelist Robert Scoble, who insists that Apple is
working on a pair of "mixed reality" glasses
that will debut alongside the 2017 iPhone lineup, according to his sources. He also said Apple and German company Carl Zeiss are
working together
on augmented reality optics.
Scoble's information has yet to be corroborated by other sources, so 2018 or later remains a more likely timeline at this point.
While a standalone product appears to remain far off, most analysts agree that Apple will start
incorporating AR-related features into its existing products
in the