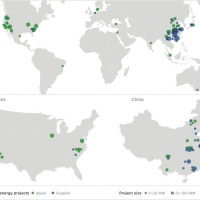 Apple today shared its 2018 environmental report [
PDF
], outlining all of the improvements and changes that were implemented throughout 2017 and early 2018 to lessen the company's overall environmental impact.
As was
announced earlier this month
, Apple recently hit a major milestone and longtime environmental goal, with 100 percent of its operations around the world powered by renewable energy. Apple has also convinced 23 of its suppliers to commit to using 100 percent renewable energy so far.
A map of Apple's renewable energy projects
These efforts allowed Apple to cut down on its total carbon footprint in 2017. During the year, Apple was responsible for 27.5 million metric tons of greenhouse gases, down from 29.5 million metric tons in 2016.
A breakdown of Apple's carbon footprint
Through its unwavering commitment to renewable energy, improvements to energy efficiency, and a reduction in emissions from aluminum manufacturing, Apple has reduced emissions by 54 percent worldwide since 2011, and as of 2018, 66 percent of the renewable energy Apple procures comes from Apple's own projects.
Over the course of 2017, Apple worked to implement energy efficiency improvements to its facilities around the world, including Apple retail stores. Upgrades were made to LED lighting, heating, ventilation, and air-conditioning systems, resulting in an overall electricity savings of 3.7 million kilowatt-hours per year.
Apple's overall energy footprint was reduced by 14.7 million kWh and 225,000 therms in fiscal 2017, and combined with other efficiency measures implemented