2017's Biggest Apple Leaks: iPhone X, Apple Watch Series 3, HomePod, Apple TV 4K, and More
With the year quickly drawing to a close, now is an opportune time to reflect on the biggest Apple rumors and leaks of 2017.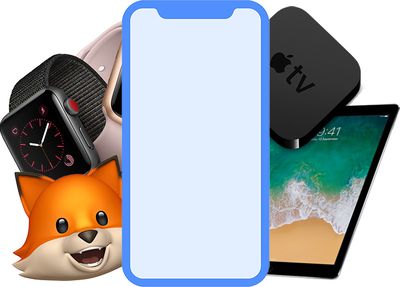 Many new products released by Apple this year were widely rumored in the months leading up to their introductions, including the iPhone X, iPhone 8 and iPhone 8 Plus, Apple Watch Series 3, Apple TV 4K, HomePod, and new iPads. We even had an advanced look at software features like Animoji.
2017 was a particularly interesting year for Apple rumors given leaked or prematurely released versions of iOS 11 and HomePod firmware contained references to several products that had yet to be announced. While not every rumor proved true, much of Apple's roadmap this year was revealed ahead of time.
We've rounded up some of the most notable rumors and leaks of the year, primarily focusing on information that proved to be accurate.

2017 in Rumors
iPhone X
iPhone X is so radically different that rumors about the device began to surface all the way back in early 2016, so we'll start with a primer.
The first report about Apple's plans to release a high-end iPhone with an OLED display this year came from Japan's Nikkei Asian Review in March 2016, roughly a year and a half before the iPhone X was unveiled.
In the same month, DigiTimes revealed the device would have a 5.8-inch display, and KGI Securities analyst Ming-Chi Kuo said it would have glass on both the front and back sides, a metal frame, wireless charging, and facial or iris recognition.
By April 2016, the device was being called the iPhone 8. Barclays analyst Mark Moskowitz said it wouldn't have a home button.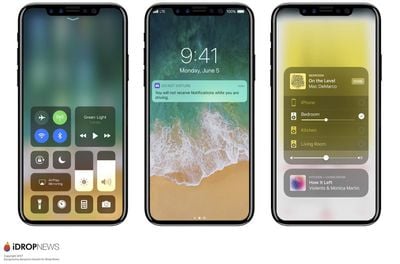 In May 2016,
Daring Fireball
's John Gruber heard early scuttlebutt suggesting the device would
have an edge-to-edge display
, with the front-facing camera, Touch ID, and other sensors hidden under the display.
The information provided to Gruber wasn't entirely accurate, but he was on the right track. Rumors continued to surface about Apple removing the home button and adopting facial or iris recognition in lieu of Touch ID.
In September 2016, Kuo said stainless steel would likely be Apple's metal of choice for the iPhone X's frame, with slightly curved 2.5D cover glass on top of the display, as used since the iPhone 6 and iPhone 6 Plus.
Rumors also began picking up about the iPhone X having a vertically-aligned dual-lens camera with dual optical image stabilization.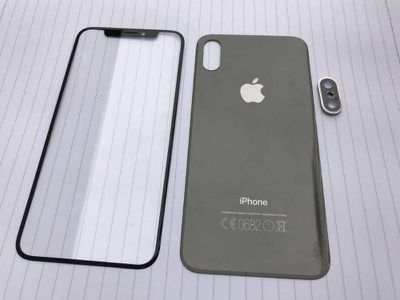 iPhone X part leak in June 2017 reveals vertically-aligned dual-lens camera
By the end of 2016, several reports had claimed Apple would release a trio of new iPhones in 2017, including the all-new 5.8-inch model and updated 4.7-inch and 5.5-inch models to replace the iPhone 7 and iPhone 7 Plus.
The first iPhone X rumors of 2017 lent credence to the device having a stainless steel frame, facial recognition, and support for inductive charging, rather than RF-based over-the-air wireless charging from Energous.
February was a busy month for iPhone X rumors, with the device said to have 64GB and 256GB storage options, 3GB of RAM, no Touch ID, a higher-capacity two-cell L-shaped battery pack, and a "revolutionary" front camera with 3D facial recognition that we now know as the TrueDepth system.
Around that time, we also learned the device would have a starting price of at least $1,000 in the United States.
In March, KGI Securities analyst Ming-Chi Kuo dismissed a rumor about the iPhone X having a USB-C connector, noting that it would still have a Lightning connector with support for fast charging via USB-C Power Delivery.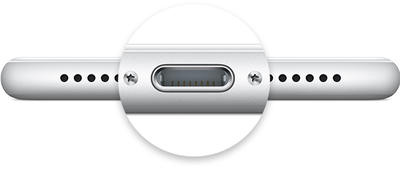 In late March, analysts at Barclays said the iPhone X would have a True Tone display that shifts colors based on ambient lighting.
In April, we saw the first schematic of the iPhone X's sensor housing, more commonly known as the notch. The notch houses the front camera, an infrared camera, a flood illuminator, a dot projector, a microphone, an ambient light sensor, a proximity sensor, and an earpiece that doubles as a speaker.
Rumors about Apple placing Touch ID on the back of the iPhone X persisted into May, but they ultimately proved to be inaccurate. Also in May, we learned the device would have louder stereo speakers.
June was filled with the first iPhone X part leaks, mockups, screen protectors, and dummy units that all pointed towards the device having an all-screen design except for the notch. MacRumors also saw hints of the iPhone 8 showing up in web analytics, suggesting Apple was testing the device internally.
July saw both KGI Securities analyst Ming-Chi Kuo and Bloomberg confirm that Face ID would fully replace Touch ID on the iPhone X.
Perhaps the biggest iPhone X leak to date came in late July courtesy of Apple itself. Shortly after the company accidentally released an internal version of firmware for its upcoming HomePod speaker, developers uncovered a glyph of an iPhone with an all-screen design except for a notch at the top.

iPhone X glyph from leaked iOS 11 golden master
The HomePod firmware proved to be a gold mine for iPhone X leaks, revealing the device's infrared face detection,
tap to wake function
,
split-up status bar
,
4K video recording at up to 60 FPS
,
Face ID compatibility with Apple Pay
,
suppressed notification sounds
when looking at the screen, and much more.
Despite so much of the iPhone X being revealed in the HomePod firmware, August still saw some fresh leaks, including a photo of the device's A11 Bionic chip. Japanese website Mac Otakara also reported that the iPhone X's inductive charging ability would support transmission of up to 7.5 watts of power.
As if the HomePod firmware leaks weren't bad enough for Apple, MacRumors was anonymously provided with download links to a final version of iOS 11 in early September. The software update contained several unredacted references to unannounced iPhone X hardware and software features.
MacRumors uncovered iPhone X screenshots within the iOS 11 filesystem that showed off the new gesture-based home screen indicator. There were also hints that the elongated side button, previously known as the sleep-wake button, could be held to activate Siri or double tapped to bring up the Apple Pay wallet.


The golden master of iOS 11 also referenced the Face ID name for Apple's facial recognition system, True Tone support, a collection of new iPhone X wallpapers, and Apple's new Portrait Lighting feature, including the Contour Light, Natural Light, Stage Light, Stage Light Mono, and Studio Light options.
Within the iOS 11 filesystem, we also found a video file showing four different Animoji characters, including a monkey, cat, dog, and robot. The discovery made it clear that Apple had been working on animated emoji that could presumably be controlled with the iPhone X's then-rumored facial recognition system.



The iOS 11 golden master soon made its way into the hands of some developers, who continued to make discoveries, including technical details about the A11 Bionic being a six-core chip with two high power cores and four low power cores.
The golden master also contained a device tree that confirmed the iPhone X, iPhone 8, and iPhone 8 Plus names of Apple's latest smartphones.

iPhone 8 and iPhone 8 Plus
Originally dubbed the iPhone 7s and iPhone 7s Plus, rumors about the new 4.7-inch and 5.5-inch models first surfaced in March 2016.


At the time, KGI Securities analyst Ming-Chi Kuo said Apple could launch new 4.7-inch and 5.5-inch sized iPhones with LCDs in 2017, with the iPhone X serving as a high-end option. Japan's Nikkei Asian Review said likewise in August 2016.
Kuo followed up with a research note in September 2016 claiming the iPhone 8 and iPhone 8 Plus would feature aluminum frames sandwiched between glass on both the front and back sides, with stainless steel limited to the high-end iPhone X.
Two more research notes from Kuo in November 2016 specified that the iPhone 8 would have a single-lens camera, while the iPhone 8 Plus would have a dual-lens camera, and that both devices would support inductive charging.
In late March 2017, analysts at Barclays said the iPhone 8 and iPhone 8 Plus would have a True Tone display.
Kuo was back at it in March as well, claiming that the iPhone 8 and iPhone 8 Plus would retain Lightning connectors, but with newly added fast charging capabilities via the USB-C Power Delivery specification.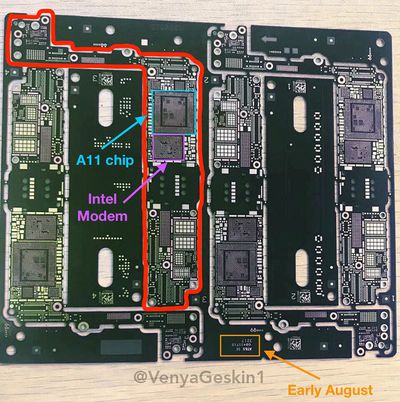 In April, Apple's manufacturing partner TSMC reportedly began production of the A11 Bionic chip for the iPhone 8 and iPhone 8 Plus. In August, leaker Benjamin Geskin shared a photo of a bare logic board for the iPhone 8 Plus with pads etched on it for the A11 chip and an Intel modem for Wi-Fi and LTE.

Apple Watch Series 3
Heading into the Apple Watch's third year, speculation continued about the potential for the device's first major redesign.
Just three days into 2017, however, Taiwanese publication Economic Daily News reported that Series 3 models wouldn't feature any significant design changes, with a focus on internal battery and performance improvements. KGI Securities analyst Ming-Chi Kuo also ruled out any obvious form factor changes.
Meanwhile, in March, Wall Street analyst Christopher Rolland said Series 3 models would likely include a SIM card for LTE connectivity. He shared his information following a trip to Asia, where many of Apple's suppliers are located.
Bloomberg also said Series 3 models would be available with a cellular connection in a report in August, nearly one year after it reported that Apple had hit a roadblock in adding LTE support to Series 2 models. Apple allegedly chose to delay adding the functionality due to battery life considerations.
These rumors were essentially confirmed in late July, when Apple accidentally released firmware for its upcoming HomePod speaker that contained a reference to a codenamed Apple Watch with an embedded SIM card.
Then, just days before Apple's event, a final version of iOS 11 leaked to MacRumors revealed an image of an Apple Watch with signal bars and a red Digital Crown, which essentially confirmed that Series 3 models would have cellular connectivity. The image also lent credence to a lack of design changes.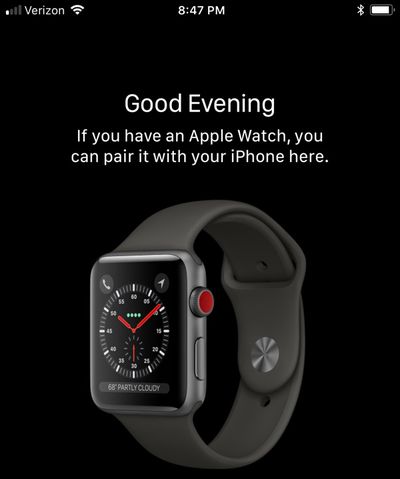 Beyond this year, we learned that future Apple Watch models could feature an EKG heart monitor, self-adjusting watch bands, and a wearable battery.

Apple TV 4K
Bloomberg revealed that Apple was working on a new Apple TV with support for 4K and HDR video playback in February 2017.



Apple TV rumors then quieted down until July, when MacRumors reader Tomas Jackson and some other customers realized that Apple had labeled select movies as 4K and HDR in their iTunes purchase history. 4K HDR movies in iTunes naturally foreshadowed an Apple TV with 4K HDR support.
Just a week later, developer Guilherme Rambo discovered a reference to a 4K HDR display mode with support for both the Dolby Vision and HDR10 color formats in an accidentally released HomePod firmware file.
Rambo also discovered a
few HDR references in a tvOS 11 beta
later in August. The assets were attributed to model number J105, which
Bloomberg
had identified as the new Apple TV's codename back in February. MacRumors also uncovered the J105 codename in the accidentally released HomePod firmware.
Apple's software mishaps were the gift that kept giving, as developer Steven Troughton-Smith dug through the leaked version of iOS 11 and discovered the new Apple TV would feature an A10X Fusion chip and 3GB of RAM.

HomePod
The initial report about Apple developing a Siri-based smart speaker was actually back in May 2016 by The Information.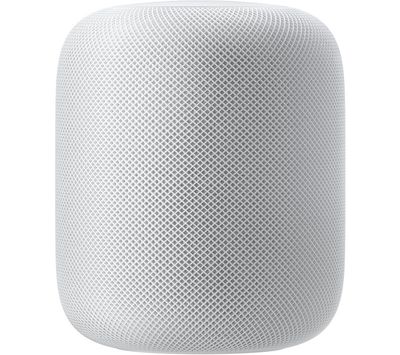 2017's first rumor came in April, when Australian leaker Sonny Dickson told MacRumors that Apple's speaker would resemble the shape of the latest Mac Pro and have a meshed design across much of its exterior. Dickson also said the speaker was codenamed B238 and would run a variant of iOS, both of which are true.
Dickson, KGI Securities analyst Ming-Chi Kuo, and Bloomberg all said there was a strong likelihood the speaker would debut at WWDC 2017 in June, and Apple introduced the HomePod at the event accordingly.
In July, developers Steven Troughton-Smith and Avery Magnotti dug through accidentally released HomePod firmware files and discovered the speaker runs a full iOS software stack, has accessibility features like VoiceOver, has 1GB of RAM, and has a visible LED waveform for Siri that measures in at 272x340 pixels.
In August, developer Guilherme Rambo shared a video that revealed the
setup process for the HomePod
using an iPhone. There's an option to choose a Siri voice followed by an authentication process, an option to share settings from other devices, and a menu to select the room where the speaker is located.
Apple has delayed the HomePod's launch until early 2018, so we might find out even more details about the speaker between now and then.

10.5-inch iPad Pro
The first word of a 10.5-inch iPad Pro was actually back in August 2016 and it came from KGI Securities analyst Ming-Chi Kuo.


In January 2017, Kuo reiterated that Apple would release an all-new 10.5-inch iPad Pro with a faster A10X Fusion chip in 2017 alongside an updated 12.9-inch iPad Pro and a low-cost 9.7-inch iPad.
Japanese website Mac Otakara, Taiwanese website DigiTimes, and analysts at investment bank Barclays generally agreed Apple would release a new iPad Pro in the 10-inch range at some point in 2017, but the reports were conflicting about details such as the exact display size and release date.
In February, IHS Markit revealed the 10.5-inch display would be surrounded by narrower bezels and have a resolution of 2,224×1,668 pixels.
While there were initially rumors about Apple unveiling the 10.5-inch iPad Pro at March or April events, the tablet was ultimately announced alongside a second-generation 12.9-inch iPad Pro at WWDC 2017 in June. Kuo expects more revolutionary changes to the iPad Pro in 2018, perhaps including an OLED display.

What's Next?
Heading into 2018, rumors will now shift towards the so-called iPhone X Plus, iPad Pro models with Face ID, HomePod, and more. Apple is also working on a modular Mac Pro with no specific release date. A busy year lays ahead, so keep it locked on MacRumors for the latest Apple news and rumors.