All Three 2017 iPhones Said to Feature True Tone Displays
Apple's widely expected trio of new iPhone models will all feature True Tone displays, according to investment bank Barclays.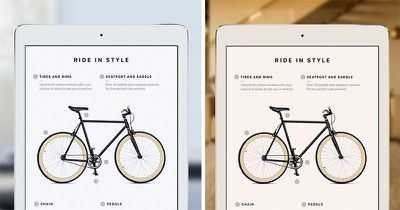 True Tone display technology is currently exclusive to the 9.7-inch iPad Pro
Barclays said the tentatively named iPhone 7s, iPhone 7s Plus, and iPhone 8 with an OLED display will each include a "full spectral sensing" ambient light sensor for the purpose of a "True Color" screen. The sensors are expected to be supplied by Austrian semiconductor manufacturer AMS.


An excerpt from the research note obtained by MacRumors:
For the expected iPhone 7S models, as well as the iPhone 8, we think ams's content increases due to the inclusion of its full spectral sensing ambient light sensor, as already seen in the iPad Pro for that device's True Color screen functionality. We estimate this to be a material step-up in content from the $0.60 range to $1.00.
Apple's only existing device with a True Tone display is the 9.7-inch iPad Pro, which uses advanced four-channel ambient light sensors to automatically adapt the color and intensity of the display to match the color temperature of the light in its surrounding environment, whether indoors or outdoors.
If you are standing in a dimly lit room with incandescent light bulbs, for example, the display would appear warmer and yellower. If you are standing outside on a cloudy day, meanwhile, the display would appear cooler and bluer.
In some ways, a True Tone display is similar to Night Shift, a newer feature on the iPhone and Mac that, when enabled, shifts the display to a warmer and yellower temperature. The feature is based on research that shows exposure to blue light during the evening hours can disrupt or delay a person's sleep.
The inclusion of a True Tone display is not a rumor we have heard previously for the 2017 iPhone lineup, expected to be announced in September, but it is certainly a plausible one. Most display rumors to date have focused on the high-end iPhone model switching to an edge-to-edge OLED display.
Last year, a few reports incorrectly said the iPhone 7 would feature a True Tone display, citing a prediction by KGI Securities analyst Ming-Chi Kuo.
The confusion may have stemmed from the fact that Kuo said the iPhone 7 would "copy the panel features of the 9.7-inch iPad Pro." However, Kuo never specifically mentioned True Tone, but rather the adoption of a wide color display based on the DCI-P3 color gamut, a prediction that turned out to be accurate.
Today's research note was compiled by Barclays analysts Andrew Gardiner, Hiral Patel, Joseph Wolf, Blayne Curtis, and Mark Moskowitz.
The second-generation 12.9-inch iPad Pro is also rumored to feature a True Tone display.