KGI: Apple to Launch 6.5-Inch 'iPhone X Plus' and Lower-Priced 6.1-Inch Full-Screen LCD Model Next Year
Apple will launch a trio of new iPhone models in 2018, including 5.8-inch and 6.5-inch models with OLED displays and a 6.1-inch model with an LCD display, according to respected KGI Securities analyst Ming-Chi Kuo.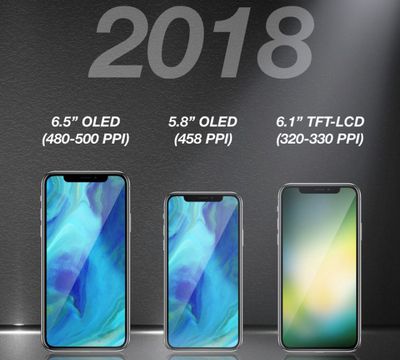 Photo: KGI Securities
Kuo believes all three models will be equipped with a full-screen notched design and TrueDepth camera system like the iPhone X.
Kuo expects the 5.8-inch model to have 458 pixels per inch, suggesting the second-generation iPhone X's display will likely continue to have a resolution of 1,125×2,436. He said the 6.5-inch model will have roughly 480 to 500 PPI, while the 6.1-inch model is estimated to have between 320 and 330 PPI.
In his latest research note, obtained by MacRumors, Kuo said the 6.1-inch model will have a lower-resolution LCD display and target the low-end and mid-range markets with an estimated $649 to $749 starting price in the United States.
Two new OLED models target high-end market; new TFT-LCD model aims at low-end & midrange markets: We believe the major hardware difference in the two new OLED models is size, in a bid to satisfy various needs of the high-end market. The new TFT-LCD model will differ significantly from the OLED models in hardware and design specs (for instance, the PPI will be lower). The primary selling points of the TFT-LCD model may be the innovative user experience of an integrated full-screen design and 3D sensing with a lower price tag (we expect it will likely be US$649-749).
His research note didn't outline any pricing estimates for the next 5.8-inch iPhone X, which currently starts at $999, or the all-new 6.5-inch model.
If accurate, next year's new iPhone lineup would consist of the second-gen iPhone X with the same size screen, a larger 6.5-inch version that we're tentatively calling the iPhone X Plus, and a mid-range 6.1-inch LCD model that adopts an iPhone X form factor and features but with a cheaper price point.
Kuo is upbeat on the shipments momentum of all three new iPhone models, and expects them to launch without any delays in 2018, given Apple's supply chain will be well experienced with iPhone X production by next year.
While he doesn't have an absolutely perfect track record, Kuo often relays accurate information from his sources within Apple's supply chain. Ahead of the iPhone X, he accurately detailed its 5.8-inch display, glass and stainless steel design, lack of Touch ID, 3D sensing, and several other features.
We've also already heard a few rumors about a 6.46-inch iPhone launching next year, so iPhone X Plus rumor season is well underway.