Rumor Says Apple Will Introduce New 5-Inch 'iPhone 7s' With Dual Vertical Cameras
Apple may introduce a new 5-inch iPhone model that sports a unique vertical dual-camera system that sits alongside the existing 4.7- and 5.5-inch models, according to Japanese blog Mac Okatara. The 5-inch model would act as the medium size in the 2017 lineup.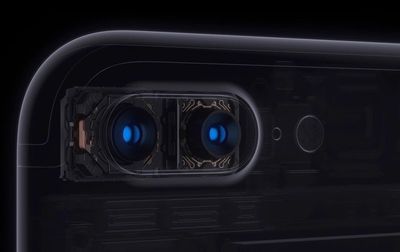 The report, which comes from a Taiwanese supplier, says that the new models, dubbed the iPhone 7s, would be an updated version of the iPhone 7. The new 5-inch model, however, would rearrange the iPhone 7 Plus' dual camera into a vertical alignment rather than a horizontal one.
Earlier this month, Mac Okatara reported that the iPhone 7s and 7s Plus would retain the aluminum design of the iPhone 7. However, the report said the new phones would come in an all-new red color. Multiple reports have stated that there will be three new iPhone models in 2017, including updated 4.7- and 5.5-inch models with LCD screens and a premium model with an OLED display and glass casing.
The new report corroborates an earlier Nikkei report that said a new 5-inch iPhone would arrive in 2017. However, Nikkei reports that the three iPhone models in 2017 will have new glass-backed designs. In November, KGI Securities analyst Ming-Chi Kuo said it's likely the 2017 iPhones will switch to new glass casings to support wireless charging.
While Mac Okatara was the first to report that Apple would replace the headphone jack in the iPhone 7 and debut a new gloss black color, its track record is not perfect. In November, it reported the iPhone 7 and 7 Plus would get a new "Jet White" color that has not yet materialized.