First Alleged iPhone 8 Part Leaks Surface
Our first glimpse at components that could be destined for the much-rumored 5.8-inch "iPhone 8" and its 4.7 and 5.5-inch companion devices surfaced this morning in a post on reddit. The images are said to be sourced from a case manufacturer who received them from a glass supplier in China.
The first photo depicts what is said to be the front and back panel of the iPhone 8, with the front panel featuring a super thin bezel around all sides along with a top bar that could perhaps house a front-facing camera, microphone, and speaker. There's been some question on how Apple will handle the front-facing camera and mockup devices and renderings haven't offered a clear picture.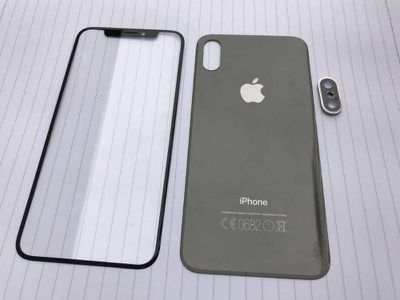 Some design renderings have shown a section at the top of the device similar to the front panel in this image, while others seem to feature a bar that extends fully across the top of the device.
The rear panel features a vertical dual-lens camera and a separate protruding lens component, with no rear Touch ID in sight, in line with rumors suggesting Apple has indeed figured out how to build Touch ID into the display of the device.
A second photo depicts the two alleged iPhone 8 components next to alleged components for the 4.7-inch iPhone 7s and the 5.5-inch iPhone 7s Plus, two devices that are rumored to be launching alongside the OLED iPhone 8. All three rear shells are said to be made from glass in order to support wireless charging, and that all three devices will get wireless charging is a rumor we've heard before from KGI Securities analyst Ming-Chi Kuo.


While these images are in line with many rumors that we're heard about Apple's upcoming devices, there's no way to verify their authenticity. They could very well be from a clone device or a dummy device created based on the iPhone 8 design leaks and rumors that have circulated.
Even if fake, these panels are based on supply chain information and rumors and do perhaps provide an idea of what actual iPhone 8 components might look like. Still, it's best to view these leaks with some skepticism until we begin to see more part leaks to corroborate the design.