Details on HomePod's Setup Process Surface in Newest iOS 11 Developer Beta [Updated]
Almost one month after the HomePod's firmware first began revealing tidbits about Apple's upcoming smart speaker, the iPhone 8, and even the Apple Watch Series 3, today iHelp BR has a few more pieces of information on the setup process for the HomePod. Interestingly, the site noted that the data doesn't come from HomePod firmware, but was discovered within the seventh iOS 11 beta, seeded to developers yesterday.
The new details suggest in broad strokes what users can expect when they first open their HomePod and sync it with an iPhone. Although HomePod lacks a W1 chip, the speaker will connect and pair with iOS devices in some capacity, and one new image discovered within the iOS 11 developer beta shows off a user interface similar to that of the AirPods pairing screen.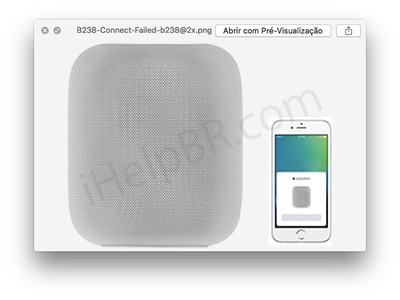 Image via iHelp BR
According to some images that we find in the internal files of the system, the pairing of the HomePod (codename B238) will be very similar to the AirPods wireless headphones. When you turn on the sound box for the first time, iOS will ask the user if they want to perform the setup with that iPhone, iPad, or iPod touch. It will not be possible to set up a HomePod for Mac or Apple TV - although it is very likely that the device will work normally with them later.
The next screen that appears on iOS references a HomePod setup process similar to the initial setup of an iPhone, iPad, or Apple Watch, with the major difference being that "Siri must be present in almost the entire process." At one point, a string of code suggests that Siri will read out a four digit code to the user, which is then entered on the paired iOS device as a form of authentication.
A similar string mentions that users will need to enter the last four digits of the HomePod's serial number, or the iOS device's serial number, although some of these processes might be tied to repeatedly failed setup attempts as a form of security.
Users will need to confirm their Apple ID in order to sync iCloud and Apple Music with HomePod, and in addition the new data said that Apple accounts without two-factor authentication or iCloud Keychain enabled will not be able to complete some steps in the pairing process. The iOS 11 code strings also mention that "you must be connected to a WPA/WPA2 Personal Wi-Fi network to set up your HomePod."
On HomePod, users will be able to choose the accent of Siri and the gender of the voice assistant, agree or disagree to send daily diagnostics to Apple, and agree to install updates manually or automatically through an iOS device. The code describes an ability for users to sync multiple HomePods in one house to save all of these settings across speakers, and even an "update all HomePods" and "install on all HomePods" feature to cut down the time of the update process for multi-HomePod households.
In other, more expected findings, the code strings mention that any songs, albums, and artists played through HomePod will be seen by a user's followers on Apple Music and influence the recommendations in "For You." Additionally, the HomePod's touch-sensitive display area on the top of the device will allow for various volume and playback controls, including VoiceOver-enabled controls like "touch to speak," "lift to activate," and "hold on volume controls to change quickly."
Previously, the HomePod firmware revealed a few UI sounds that users will likely hear during the pairing process, as well as some potential timer-related notifications. A recent comment by Inventec Appliances president David Ho -- supplier of the HomePod -- has suggested that the device will see a limited launch in December of around 500,000 units, before expanding in 2018 thanks to the addition of Foxconn to the speaker's supply chain.
Update: Developer Guilherme Rambo has shared a video on Twitter that displays the setup process for the HomePod using an iPhone. There's an option to choose a Siri voice followed by an authentication process, an option to share settings from other devices, and a menu to select the room where the HomePod is located.
This is how the HomePod setup will look like on an iPhone. pic.twitter.com/SARqsYslL6 — Guilherme Rambo (@_inside) August 22, 2017
Update 9/5: Rambo has discovered another tidbit about the HomePod's setup, which suggests that the speaker will be able to pair with an iPhone through audio sounds.