Rumors surrounding this year's iPhone 7 have focused on its removal of the 3.5mm headphone jack, and its 2017 successor has even been the center of a few reports, but this week Barclays analyst Mark Moskowitz has speculated Apple will skip its traditional "S" upgrade cycle next year altogether. Citing industry sources, Moskowitz says the Cupertino company won't debut a spec-bumped, internally upgraded "iPhone 7s" in 2017, but a completely overhauled "iPhone 8" with "major design changes" and new, next-generation features like wireless charging.
The "mega cycle" upgrade could increase iPhone sales by 10.3 percent, according to the analyst, adding that in addition to wireless charging the iPhone 8 could pack an OLED display, a completely altered form factor, and no home button. Previous reports have suggested Apple is working with suppliers to begin manufacturing OLED panels in 2017 for its iPhone lineup, as well as develop an in-house single-chip solution to integrate its touchscreen and display drivers, allowing for a Touch ID-enabled screen and negating the need for a separate home button.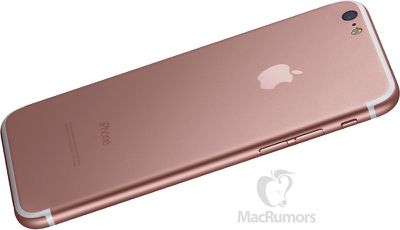 A mockup of the iPhone 7
Silver lining - there might be no "S" cycle in C2017. Our conversations with industry participants suggest Apple could skip the "S" cycle next year and instead jump to IP8. The jump could showcase major form factor changes, including OLED, no home button, and wireless charging. In our view, these potential changes could drive a mega cycle, underpinning our C2017 iPhone unit growth estimate of 10.3%, vs. 6.3% previously.
Moskowitz's speculation is in line with rumors that have appeared so far, suggesting the iPhone 7 won't have "any must-have form factor changes," and will include only a few internal tweaks and component upgrades paired with a flagship feature or two such as a dual-lens camera on some models. The company's historic cycle would traditionally see this year as a major iPhone upgrade following 2015's iPhone 6s and iPhone 6s Plus launch, but changes rumored so far have been modest.
As a result, the analyst believes Apple will sell 1.8 percent fewer iPhones this year than it did last year, given users' contentment with their current devices and the rumored modest updates in the iPhone 7. Other rumored updates to the iPhone 7 include redesigned antenna bands, the removal of the 3.5mm headphone jack, and possibly even a Smart Connector as seen on the iPad Pro.
The less-than-stellar sales for the 2016 iPhone could lead investors to fear for an iPhone market that is "nearing saturation," according to the analyst, but it would only set up 2017's uptick in sales for the redesigned iPhone 8. Some reports point to interesting new design overhauls for the 2017 iPhone as well -- including the switch from aluminum casing to glass -- but Moskowitz's previous predictions haven't been entirely reliable, so his forecasts for the iPhone 7 and iPhone 8 should be taken with a grain of salt.