Apple Rumored to Unveil 10.5-Inch iPad Pro at Early April Event
Apple is planning to unveil its rumored 10.5-inch iPad Pro at an event set to be held in early April to "mark the inauguration" of its Apple Park campus, reports Taiwanese site DigiTimes citing supply chain sources.
DigiTimes previously said the 10.5-inch iPad Pro would not be available until May or June, but now claims Apple has "moved ahead the production" of the rumored tablet.
Over the past few weeks, we've heard a lot of speculation about when Apple will debut the 10.5-inch iPad Pro and its sister tablet(s). Rumors originally suggested the company would hold an event in March, but that has been in question as it is nearly mid-month with no hint of an event.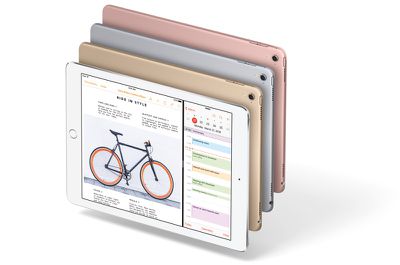 Earlier today, a reliable supply chain source told MacRumors that Apple would announce products later this month, likely between Monday, March 20 and Friday, March 24. There was also a rumor circulating suggesting Apple would hold an event on April 4, but that was incorrectly based on an erroneous interpretation of Personal Pickup dates for the 12.9-inch iPad Pro.
While we haven't yet nailed down a specific timeline for the unveiling of new iPads, the prospective launch window is narrowing and rumors suggest we're going to see them within the next month. Just today, new iPad models were spotted in device logs gathered by Fiksu, suggesting a release is indeed on the horizon. Fiksu, like our unnamed supply chain source and DigiTimes, believes a launch is imminent.
If an event takes place in April, it could potentially be held at Apple's new campus, Apple Park, but there's one snag in that plan. Apple is going to open the campus in April, but the company's press release said the auditorium where events will be held, now dubbed the Steve Jobs Theater, will open "later this year." The wording makes it unclear if the theater will be ready for Apple Park's grand opening, and thus ready for an event.
According to today's report from DigiTimes, Apple plans to target the education and business sectors with both the rumored 10.5-inch iPad and a refreshed 12.9-inch model, which the site says will be Apple's "mainstream products" for the mid-tier to high-end tablet market in 2017.
While DigiTimes believes the 10.5-inch iPad Pro will now see an April debut, the site says the production schedule for the 12.9-inch iPad Pro "still remains unclear" with volume production perhaps delayed until May or June.
Rumors suggest that the new 12.9-inch iPad will feature a modest refresh, but the 10.5-inch model is rumored to have a nearly bezel-free edge-to-edge display and a body that's actually the same size as the existing 9.7-inch iPad Pro. There have also been rumors suggesting Apple plans to release a lower-end 9.7-inch iPad Pro and a 7.9-inch model, but whether those rumors are true remains to be seen as the focus has mainly been on Apple's larger upcoming tablets.