Apple Working on EKG Heart Monitor for Future Apple Watch Models
Future Apple Watch models could include a sensor that allows for continuous electrocardiograph monitoring to better detect serious heart conditions, reports Bloomberg.
Apple is said to be testing a version of the Apple Watch that records the electrical activity of the heart using two fingers on either side of the device, a test that is known as an electrocardiogram or EKG/ECG. With an EKG, sensors detect electrical changes in the skin caused by the rhythm of your heart beat.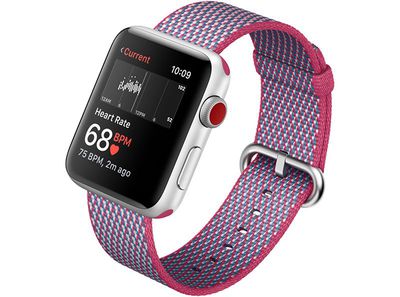 A version being tested requires users to squeeze the frame of the Apple Watch with two fingers from the hand that's not wearing the device, one of the people said. It then passes an imperceptible current across the person's chest to track electrical signals in the heart and detect any abnormalities like irregular heart rates.
EKGs today are most often done in medical offices and hospitals, but there are some continuous-wear EKG monitors on the market for those who need more frequent monitoring. With the ability to detect irregular heart beats and other oddities, the Apple Watch would be able to better predict and monitor serious heart conditions. Such functionality has the potential to allow people to catch and treat heart problems early.
Bloomberg says development is ongoing on the EKG functionality for the Apple Watch, and Apple could still decide to scrap it. With the first Apple Watch, Apple reportedly dropped several sensors because they weren't accurate enough.
Apple has taken a deep interest in heart health in recent months, and in November launched a ResearchKit-based Apple Heart Study app in partnership with Stanford University's School of Medicine. The aim of the study is to determine whether the existing heart rate monitoring functionality of the Apple Watch can accurately detect irregular heart rhythms.
It's not clear if adding EKG functionality to the Apple Watch would require Apple to get FDA approval. Apple CEO Tim Cook has said in the past that he doesn't want to get the FDA involved with the Apple Watch, but Apple is participating in a pilot program for faster approval of digital health tools.
Just this past November, the FDA approved the EKG Kardia Band from AliveCor, the first official medical-grade accessory designed for the Apple Watch.