5.8-Inch iPhone With OLED Display Rumored for Launch in 2017 or 2018
Apple is rumored to be further expanding the iPhone's screen size beyond the current 5.5-inch iPhone 6s Plus, moving to 5.8 inches in a future device that could launch "in 2018 or even earlier in 2017." The news comes from a pre-publication report by DigiTimes that has been obtained by The Motley Fool, and it states that the 5.8-inch iPhone will include an OLED display, in line with previous rumors of Apple adopting the technology around that time.
According to the report, Samsung is to be the main source for the OLED panels, with LG and Japan Display "joining in later." Recently, Samsung was reported to be on the verge of investing over $7 billion into supplying OLED displays for future iPhones, following rumors last year that 2018 would mark Apple's official shift from LCD to OLED displays in its popular smartphone line. More recent reports suggest that OLED timeline could be moved up to 2017.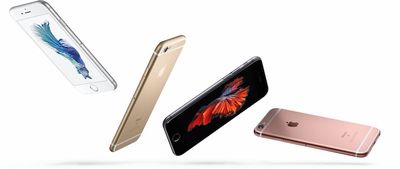 Based on DigiTimes' estimates, the production of OLED displays could see significant output within the first year, though still only a fraction of the over 200 million iPhones Apple sold over the past year.
Per the note, DIGITIMES' supply chain sources believe that 50 million of these AMOLED-equipped iPhones will make it out to customers in the first year of availability.
The company's upcoming March media event is rumored to showcase the launch of a new 4-inch "iPhone SE," but as of yet there have been few rumors suggesting the company has looked into expanding the already-large screen of the iPhone 6s Plus. With the rumored launch dates of 2017 or 2018, if it becomes a reality, the 5.8-inch OLED iPhone could arrive as either an "iPhone 7s" or more likely an "iPhone 8" generation.
Recent rumors surrounding this year's iPhone 7 and iPhone 7 Plus have indicated the device will adopt a thinner body, flush rear camera, and stereo speakers, while also doing away with the traditional 3.5-mm headphone jack. A dual-lens rear camera has also been rumored for at least some models of the larger iPhone 7 Plus, with one report claiming those models could be launched under a separate "iPhone Pro" name.