A recent report by Mac Otakara [Google Translate] has delved into a few of the specifications that could be coming to the inductive-style wireless charging feature of the iPhone 8, iPhone 7s, and iPhone 7s Plus. According to the site, citing a source well versed in the Wireless Power Consortium, Apple's devices will only support half of the power profile currently standard in Qi version 1.2, meaning the iPhone 8 will charge at a slower rate compared to other devices when using wireless charging.
Specifically, version 1.2 of the Qi standard allows for 15 watts of power transmitted from the wireless charging pad to the receiving device. According to the new report, the iPhone 8 will support half of that standard at a maximum of 7.5 watts of power (5 volts over 1.5 amps). While faster than Apple's current 5W USB power adapter, if the information turns out to be true then Apple's new line of iPhones would lack compatibility with more current Qi wireless charging accessories.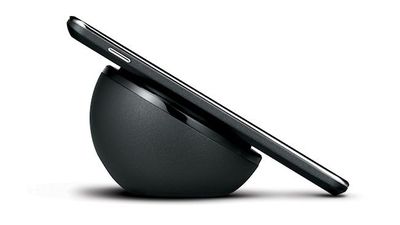 One example of a Qi wireless charging pad
Apple is also expected to require third-party manufacturers to acquire a "Made for iPhone" license before marketing their charging pads as iPhone-compatible accessories.
Also, like the Apple Watch, which is Qi standard but can only be charged with a MFi chip-equipped charger, there is a possibility that the wireless charging function of the iPhone 8 series is bound by the MFi license.
While all three iPhones launching in 2017 are expected to include wireless charging of some kind, the ability might not be available to iPhone 8, iPhone 7s, and iPhone 7s Plus owners at launch. Over the summer it was rumored that software problems related to wireless charging were causing a "panic" at Apple, so the feature might not debut until an iOS 11 update later in the year, potentially alongside the retail releases of these MFi charging pads and Apple's own first-party accessory.