Analyst Suggests Third-Generation Apple Watch Will Include Cellular Connectivity
Based on supply chain analysis following a trip to Asia, Susquehanna Financial Group analyst Christopher Rolland (via Barron's) believes Apple's third-generation Apple Watch may introduce cellular connectivity, a feature that's been long rumored for the device.
Specifically, Rolland suggests the 2017 Apple Watch will include a SIM card for LTE connectivity and that the next-generation device will be promoted alongside the AirPods.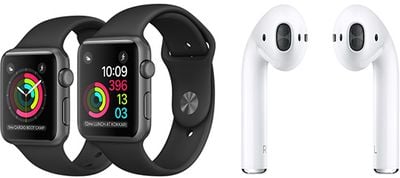 We understand a model of the next Apple watch will include a SIM card, and therefore is likely to support LTE. We understand some issues remain, including battery life and form factor size, but significant progress has been made. Apple may be employing VOIP and data across a CAT-M1 connection for superior battery life.

Apple will tout interoperability with the company's AirPods (now on back order till May) to make and receive phone calls (perhaps a small win for Maxim with amps in each ear bud). Positive QCOM, MXIM.
Apple has likely been working to add a cellular modem to the Apple Watch for several years, but has been unable to do so due to excessive battery drain. In early 2016, rumors suggested the second-generation Apple Watch would include cellular connectivity, but that didn't pan out.
Mid-2016 rumors indicated Apple was researching low-power cellular chips for future versions of the Apple Watch, but was unable to make it work for the second-generation device, so the technology could potentially be ready for inclusion in a 2017 Apple Watch.
The addition of standalone cellular connectivity would further untether the Apple Watch from the iPhone, a process that started with the introduction of GPS in the Apple Watch Series 2. With a cellular connection, Apple Watch owners would not need an iPhone nearby to do things like make phone calls and stream Apple Music content, but a separate data plan would likely be needed.
Other Apple Watch 3 rumors have pointed towards a modest update that focuses mainly on under-the-hood hardware improvements to boost performance and battery life, and while we haven't heard much information on a third-generation device, a refresh could come alongside the iPhone 8 in September.
Today's report from Rolland also touches on some previously mentioned 2017 rumors, suggesting all three rumored iPhone models will feature wireless charging capabilities and will be charged through pads manufactured by Pegatron and Foxconn. "There is some skepticism regarding charging efficiency," writes Rolland, "as it may take 3 hours to receive a full charge."
While long-range contactless wireless charging was originally rumored to be included in the 2017 iPhone, later information has centered on inductive charging methods, which would require a separate charging mat or other similar charging device.
The analyst also believes Apple will eliminate the Home button in the iPhone 8, but the Lightning port will stay. He suggests there has been "serious consideration" for removing the Lightning port in 2018, however.
Rolland does not have an established track record for predicting Apple's product plans, but the information he's shared today is not outlandish and echoes past rumors. Still, cellular connectivity for the Apple Watch has been rumored multiple times in the past, so it's worth viewing today's note with some skepticism until additional information is available.