Apple today uploaded two new
Apple Watch Series 2
ads to its
YouTube channel
in the United Kingdom, promoting the fitness capabilities of the device and recommending it as a Christmas gift.
Both ads come in at 15 seconds in length and are holiday themed. "Go Play," the first ad, features an Apple Watch Sport model being unboxed and then used during a night time game of football. The ad is accompanied by text that says "Apple Watch offers the perfect assist for a healthier life. This Christmas, give the Gift of Go."
The second ad, "Go Run," features a present containing a Nike+ Apple Watch model being opened up and then used for a run on crowded city streets. It's also recommended as a Christmas gift in the text below the video: "Apple Watch makes it easier to go the distance. This Christmas, give the Gift of Go."
These are UK-themed ads that will likely be shown on television in the United Kingdom. Apple may release similar ads for the United States, but has not yet done so.
Update:
Apple has now shared the same two videos on its U.S. YouTube channel, along with two additional videos: "Go Out" and "Go Dance," both of which are done in the same style and feature the Apple Watch.
AirPods
were originally slated to launch in October, but the wireless earphones were
later delayed
. Apple said it needed "a little more time" before they are ready for customers, and it has yet to provide an official update since.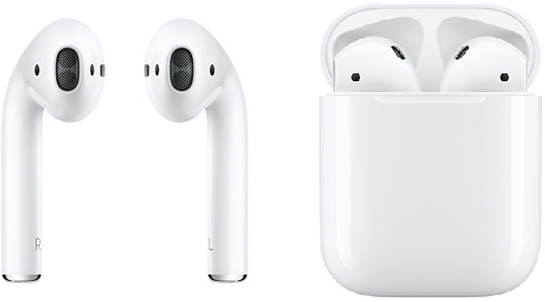 While the exact reason for the delay remains unclear, a person familiar with the development of AirPods told
The Wall Street Journal
that Apple's troubles appear to be related to its "efforts to chart a new path for wireless headphones," in addition to resolving what happens when users lose one of the earpieces or the battery dies.
A person familiar with the development of the AirPod said the trouble appears to stem from Apple's effort to chart a new path for wireless headphones. In most other wireless headphones, only one earpiece receives a signal from the phone via wireless Bluetooth technology; it then transmits the signal to the other earpiece.

Apple has said AirPod earpieces each receive independent signals from an iPhone, Mac or other Apple device. But Apple must ensure that both earpieces receive audio at the same time to avoid distortion, the person familiar with their development said. That person said Apple also must resolve what happens when a user loses one of the earpieces or the battery dies.
Last month, Barclays analysts said AirPods should
enter production in December
. Their research note said quantities would be limited to between 10 and 15 million AirPods to start. Meanwhile, an alleged email response from Apple CEO
Tim Cook
said AirPods should begin shipping over the "
next few weeks
."
With just two weeks remaining in the holiday shopping season, some believe Apple should now wait until the new year to launch AirPods, in line with an early rumor about a
January 2017 launch
. The wireless earphones remain listed as both "
coming soon
" and "
currently unavailable
" on different sections of Apple's website.
Update:
Apple blogger John Gruber says he's heard that
manufacturing issues
have delayed the AirPods, rather than a technical problem.
It makes more sense to me that Apple has run into a manufacturing problem, not that they discovered a design defect after they were announced.

"More difficult to manufacture at scale than expected" is also what I've heard through the grapevine, from a little birdie who knows someone on the AirPods engineering team. Things like what happens when you lose one or the battery dies -- Apple solved those problems during development.
A court in Denmark today
ruled
Apple must replace a Danish man's iPhone with a new model rather than a refurbished model in accordance with local law.

(Image: The Sydney Morning Herald)
A trio of judges found Apple was not entitled to replace David Lysgaard's iPhone 4 with a refurbished model since it may contain recycled parts, which could result in a lower resale value and went against his "legitimate expectation" of receiving a brand new iPhone equivalent to his original purchase.
By providing Lysgaard with a refurbished iPhone, rather than an equivalent new model, the court found Apple to have violated the Danish Sale of Goods Act. The judges upheld an earlier decision reached by Denmark's Consumer Complaints Board, which also said the replacement should be a new, not refurbished, model.
Apple disagreed with the Consumer Complaints Board's decision in 2014 and sued Lysgaard, arguing that refurbished iPhones are produced and tested in the same way as new iPhones. Apple also said refurbished iPhones undergo rigorous tests and strict quality control. Apple can now appeal the judgment with a higher court.
Earlier this year, a Dutch court
similarly ordered
Apple to replace a woman's iPhone 6 Plus with a new model, not a refurbished one.

The United States Federal Trade Commission today
announced
that it is giving more than $88 million in refunds to 2.7 million AT&T customers who had unauthorized third-party charges added to their service bills, something better known as "mobile cramming."
The refunds come from a $105 million settlement AT&T
paid the FTC
back in October of 2014, after the carrier was accused of allowing third-party companies to bill customers for things like ringtone subscriptions without their consent. Money was also collected from Tatto and Acquinity, two companies involved in the cramming scheme.
Nearly 2.5 million AT&T customers can expect to receive a credit on their bill within the next 75 days, and over 300,000 former customers will be given refund checks. The FTC says the average refund amount customers will receive is $31, and checks are going out starting today.
"AT&T received a high volume of complaints related to mobile cramming prior to the FTC and other federal and state agencies stepping in on consumers' behalf," said FTC Chairwoman Edith Ramirez. "I am pleased that consumers are now being refunded their money and that AT&T has changed its mobile billing practices."
According to the FTC, the AT&T refunds being provided to customers represent the most money that's ever been returned to consumers in a mobile cramming case.
Up until late 2014, AT&T and several third-party companies were charging customers up to $9.99 per month for subscriptions that provided sham services like ringtones, horoscopes, love tips, and more, with AT&T keeping 35 percent of the money that was taken from its subscribers.
Other mobile carriers, such as T-Mobile, had similar cramming practices. Back in December of 2014, T-Mobile agreed to
pay out
$90 million in fines.
Recently, AT&T also agreed to pay out an
additional $7.75 million
for a separate issue that allowed scammers to charge AT&T customers $9 per month for a fake directory service.
Apple today seeded the sixth beta of an upcoming macOS Sierra 10.12.2 update to developers and public beta testers, a few days after releasing the
fifth 10.12.2 beta
and over a month after the
public release of macOS 10.12.1
.
macOS Sierra 10.12.2 beta 6 is available for download through the Apple Developer Center or through the software update mechanism in the
Mac App Store
.

macOS Sierra 10.12.2 includes new emoji, introducing Unicode 9 characters like clown face, selfie, face palm, fox face, owl, shark, butterfly, avocado, bacon, and more, plus many profession emoji are available in both male and female genders.
Apple has also updated the artwork on many existing emoji characters, adding detail to make them look less cartoonish and more realistic. New wallpapers are also included in macOS Sierra 10.12.2, introducing the color explosion options that were previously used in iPhone marketing materials.
There are few other outward-facing changes aside from the addition of new emoji and wallpapers, but the 10.12.2 update also includes some important bug fixes. A serious graphics issue that has been affecting some new
MacBook Pro
owners
has been solved
, and a
Time Machine crashing issue
, also impacting the new MacBook Pro, has been fixed.
Available since September, macOS Sierra is the latest Mac operating system. It includes
Siri
support,
Apple Pay
for the web, Universal Clipboard, Apple Watch auto unlocking, improved
iCloud
Drive integration, Picture-in-Picture multitasking, and dozens of smaller features that can be
found in our macOS Sierra roundup
.

Apple CEO
Tim Cook
will deliver the 2017 Commencement address at the Massachusetts Institute of Technology, the university
announced today
.
"Mr. Cook's brilliance as a business leader, his genuineness as a human being, and his passion for issues that matter to our community make his voice one that I know will resonate deeply with our graduates," MIT President L. Rafael Reif says. "I am delighted that he will join us for Commencement and eagerly await his charge to the Class of 2017."
In a statement, Cook said he was looking forward to speaking to MIT's graduating class in 2017. The Commencement will take place on Friday, June 9.
"Apple stands at the intersection of liberal arts and technology, and we're proud to have many outstanding MIT graduates on our team," Cook says. "We believe deeply that technology can be a powerful force for good, and I'm looking forward to speaking to the Class of 2017 as they look ahead to making their own mark on the world."
Cook has previously given Commencement speeches at
George Washington University
and
Auburn University
, his alma mater.
Apple shared some updated photos and information on its spaceship-shaped second campus with employees, which French site
MacGeneration
managed to get a hold of. The photos give a detailed view of the exterior building, and give us one of our first glimpses at its interior.
Apple Campus 2
has been in development for more than two years, and is nearing its completion date. We've seen a
series of monthly drone videos
cataloguing progress at the site, and as of December, much of the main ring-shaped building is finished, with Apple now working on landscaping.

Just recently, Apple installed the glass panels for the atrium of the main building, which will be used as a cafeteria for employees. Along with the cafeteria, there will be vast outdoor eating spaces covered with greenery native to California.

The floor-to-ceiling doors of the atrium are each made from 10 glass pieces and are similar to the giant glass doors that were introduced in Apple's San Francisco Apple Store. The doors open an entire side of the building to let in light and air for an outdoor feel.
To install the doors, Apple has used cranes outfitted with suction cups to hold the glass in place while it's secured into the building.

The ceiling of the ring-shaped building is equipped with a series of skylights that will let in natural light, while cutouts in marble walls will house speakers in some areas. Close attention has been paid to the smallest of details, and Apple says in just one access tunnel, it's taken 60 workers five months to lay small tiles on the curved walls. Ledges extending out over windows block light, as do built-in window shades.

Outside, full-sized trees and other plants are being installed. Ahead of being added to the campus, many of the trees were grown at a local nursery. Apple has said more than 3,000 species of trees will be on the campus, including many fruit trees.

Apple plans to finish construction on the campus in the first quarter of 2017, though landscaping work will extend into the second quarter of the year. Apple CEO
Tim Cook
has said employees will begin working at the campus in early 2017.
European Commission members
met on Wednesday
to discuss draft rules intended to eliminate roaming charges in the European Union as of June 15, 2017.

(Image: TapSmart)
The Commission said it is determined to put an end to roaming charges commonly billed by carriers when a customer calls, sends messages, or uses data on their mobile device while abroad in the European Union, outside of their primary country of residence, subject to proportionate checks for abusive usage.
European regulators have proposed a "
Roam like at Home
" solution that would allow travelers to call, text, and browse the web on their mobile devices when abroad in the European Union for no extra charge than the price they pay at home. It is not intended to be used for permanent roaming.
"Roam like at Home" is aimed at people who travel in the European Union for work or leisure. "They spend more time at home than they do abroad, and they make most of their calls, texts and use data in their home country," the Commission explained.
Example: with his €70 per month contract, Tim living in Netherlands gets unlimited calls, texts and data for his smartphone. When he travels abroad on holidays, he will have unlimited calls and text. For data, he will get twice the equivalent of €70 worth of data at the wholesale roaming data price cap, i.e. 0.85 cent/MB according to the Commission wholesale proposal, meaning more than 16 GB in this case. While roaming, he will get twice the volume he has paid for.
The latest draft further clarifies consumer rights, such as ensuring that customers abusing a carrier's roaming policy are not subject to over-intrusive background checks and establishing a minimum alert period of 14 days before roaming charges can be imposed on customers who exceed fair usage.
The revised rules also introduce safeguards to ensure carriers remain competitive. Customers can be asked to prove they live or have "stable links" to a specific country before "Roam like at Home" is included in their contract, while those roaming excessively can be sent a warning message and/or small roaming charge.
If, over a 4-month period, billing data suggests that a consumer has been more abroad than at home, but also consumed more data while travelling in the European Union, the operator can send a warning message. This message will warn the consumers that they have two weeks to inform their operator about their travel situation, or to change their travel or use patterns. Only a very small roaming charge […] can then be applied.
The proposed surcharges for customers who exceed fair usage are €0.04/minute per call, €0.01 per SMS, and €0.0085 per MB of data usage.
The draft legislation has now been sent to representatives for each European Union member state, who will meet on December 12 to vote on the text. Afterwards, the European Commission will be able to adopt the rules.
EU member states include Austria, Belgium, Bulgaria, Croatia, Cyprus, Czech Republic, Denmark, Estonia, Finland, France, Germany, Greece, Hungary, Ireland, Italy, Latvia, Lithuania, Luxembourg, Malta, the Netherlands, Poland, Portugal, Romania, Slovakia, Slovenia, Spain, Sweden, and the United Kingdom.
In September, the Commission said the European government
agreed to its proposal
to end roaming charges in Europe. This week, the Commission said it will be steadfast to ensure an agreement is reached as soon as possible.
Samsung as
rumored last month
has
announced
the Galaxy S7 edge will be available in a new "Black Pearl" color in select markets starting tomorrow. The glossy finish, exclusive to 128GB versions of the smartphone, will inevitably draw comparisons to the Jet Black
iPhone 7
and iPhone 7 Plus.

Samsung already offered the Galaxy S7 edge and
ill-fated Galaxy Note7
in a somewhat glossy Black Onyx finish, so we will have to wait for actual photos of the new Black Pearl color to see the difference between the two colorways. Samsung said the all-black finish "radiates quality and luxury."
Black Pearl was designed to be modern and striking. The sleek black finish blankets the entire device – edges and all – and adds depth to its glass design. The result is a stylish all-black aesthetic that captures the essence of the color in its purest form.
The new color arrives nearly two months after Samsung
permanently discontinued the Galaxy Note7
following battery-related safety risks.
Samsung following in the footsteps of iPhone colors is not unprecedented. Earlier this year, it released the Galaxy S7 in Pink Gold after Apple launched the
iPhone 6s
in Rose Gold last year. However, in Samsung's defense, it has offered some variation of a pink smartphone in select markets since at least 2012.
The new color follows reports Samsung's next-generation Galaxy S8 will
not include a headphone jack
, following in the footsteps of the
Moto Z
in June and iPhone 7 in September. The Galaxy S8 is also said to have a
bezel-free display and virtual home button
, two features rumored for Apple's next iPhones.
Samsung will beat Apple to the punch in next year's smartphone wars by including features in its Galaxy S8 handset that have long been rumored for the 2017 "
iPhone 8
", such as a bezel-free wraparound OLED screen with a virtual home button embedded in the display.
Bloomberg
on Thursday referred in its favored manner to "people with direct knowledge of the matter" who said that Samsung is targeting a March release for the redesigned S8, but that launch could be delayed by about a month as the company adopts tougher testing procedures in the wake of the Note 7 debacle. Apple's smartphone launch cycle usually runs on a yearly September release.

Samsung is understandably wary of the dangers of rushing its smartphone development after quality control reportedly suffered in the company's race to release the feature-rich, but ultimately fire-prone, Note 7.
"Since the phones have a record of burning up, it needs time for these phones to be verified as safe. How safe the phones turn out to be is more important than any hardware innovation," said Greg Roh, an analyst at HMC Investment Securities Co. "It will take about a month or two for people to actually start opening their pockets," he said.
The bezel-less devices will come in sizes similar to Samsung's 5.1-inch and 5.5-inch S7 Edge models. Samsung is also said to be introducing a "significantly differentiated" voice-activated personal AI assistant in the handsets that will be able to send text messages, make phone calls and manage calendar schedules. The AI technology will come courtesy of Viv Labs, which was founded by the developers of Apple's
Siri
and
acquired by Samsung in October
. Samsung is considering scrapping dual-cameras on the S8 due to high manufacturing costs,
Bloomberg
sources said. According to a separate report, the models will also
drop the headphone jack
.
Chinese phone maker Xiaomi made a splash back in October by debuting an almost bezel-less display with the
Mi Mix "concept phone"
, boasting a screen that covers 91 percent of the front of the handset. While Xiaomi's limited-availability phone was more a proof of concept than a device ready for the mass market, both Samsung and Apple will be relying on the mainstream appeal of similarly standout features to boost unit sales in a stagnant market short on innovation.
In the near term, Samsung is desperate to bounce back from the impact of this year's Note 7 recall and
discontinuation
, which could end up costing the company more than $6 billion. The Korean-based firm reported a 17 percent drop in net income in the three months ending September, and has advised investors to expect a multibillion dollar slump in earnings in the December and March quarters as
its market share struggles to recover
.
As well as a
bezel-free OLED display
and virtual home button, Apple is said to be readying an
all-glass casing and wireless charging
for its 10th anniversary iPhone, with the possibility of a
new 5-inch premium model and two lower tier aluminum models
also in the offing.
The Bluetooth Special Interest Group today announced that the Bluetooth 5 standard has
been officially adopted
, which means manufacturers are now able to build it into their devices.
The
next-generation Bluetooth standard
offers longer range, faster speed, a larger broadcast message capacity, and better interoperability with other wireless technologies.

Compared to existing Bluetooth 4.2 protocol, Bluetooth 5 offers four times the range, two times the speed, and eight times the broadcast message capacity, bringing whole home coverage and more reliable connections between connected devices.
"This means whole-home and building coverage, as well as new use cases for outdoor, industrial, and commercial applications will be a reality. With the launch of Bluetooth 5, we continue to evolve to meet the needs of IoT developers and consumers while staying true to what Bluetooth is at its core: the global wireless standard for simple, secure, connectivity."
With the debut of Bluetooth 5, SIG's Bluetooth naming convention will drop all references to version and point number going forward, simplifying marketing.
Devices that adopt Bluetooth 5 will be available within two to six months, meaning the next-generation products Apple plans to debut in 2017, including the
iPhone 8
, may offer Bluetooth 5 support.
Apple in the latest
macOS Sierra
beta appears to have fixed a
common issue
where transferring files to an external hard drive or SSD connected to a Thunderbolt 3 port caused the new
MacBook Pro
to crash for some users.

MacRumors
forum member Dave Miles claims he
received an email
response from Apple's software engineering chief Craig Federighi, who apologized for the inconvenience and confirmed the issue has been fixed in the
fifth macOS 10.12.2 beta
seeded to developers and public testers on Monday.
While we have not been able to verify the authenticity of the email beyond a reasonable doubt, the issue does appear to be fixed regardless.
At least a half-dozen users claim the fifth beta of macOS 10.12.2 addresses the crashing issues, which most often
affected users backing up
their new MacBook Pro to an external drive with Time Machine using a wired connection. Some users also reported crashing issues when transferring files between two external drives.
MacRumors
forum member TreadEverSoLightly succinctly described the dilemma that a number of other users faced:
I'm already on my 2nd MacBook Pro. Picked up last Wednesday and swapped it for another model 2 days later after experiencing crashing while my laptop backs up via Time Machine to an external HD. Computer freezes up during data transfer and refuses to acknowledge my inputs. Then crashes and restarts itself.
It is unclear what the underlying problem was, with some users speculating it could have been related to USB driver, firmware, or software issues. Others believe large file transfers contributed to the problem. Ultimately, what matters the most is the issue now appears to be resolved.
MacRumors
forum member saba01 is one of several users who delivered the good news today following weeks of complaints:
I had the same issue. My MacBook Pro crashed when transferring large files (over 4TB). I installed macOS 10.12.2 and the problem is solved! Yesterday I did a 40TB backup with no problems at all!
macOS Sierra 10.2.2 will likely be publicly released as a free software update later this month following completion of beta testing.