WWDC 2016: iOS 10, macOS Sierra, and More
Spotify and Apple are embroiled in a major dispute, which Spotify is today taking to the court of public opinion. Spotify submitted a new version of its app to the
App Store
, following a decision to eliminate the option to purchase a subscription through Apple, and Apple has rejected the update.
In response, Spotify wrote a letter to Apple's legal team on June 26, portions of which have been shared by
Recode
. Spotify's letter, which it shared yesterday with Congressional staff in Washington, D.C., accuses Apple of causing "grave harm" to Spotify by rejecting the app update.

The details on the rejection are somewhat murky, but Spotify claims Apple denied the app update and demanded Spotify use Apple's billing system if it "wants to use the app to acquire new customers and sell subscriptions." Spotify was using its iOS app to highlight a promotion offering new Spotify customers three months of service for $0.99, something Apple didn't like.
Apple reportedly forced Spotify to stop advertising the promotion in the iOS app or face the removal of the app from the App Store. Spotify stopped the advertisements, but also decided to stop offering App Store subscription options, a move that's led to the current disagreement between the two companies.
"This latest episode raises serious concerns under both US and EU competition law," Gutierrez wrote. "It continues a troubling pattern of behavior by Apple to exclude and diminish the competitiveness of Spotify on iOS and as a rival to Apple Music, particularly when seen against the backdrop of Apple's previous anticompetitive conduct aimed at Spotify...we cannot stand by as Apple uses the App Store approval process as a weapon to harm competitors."
At issue is the 30 percent cut that Apple takes from App Store subscriptions, which has caused Spotify to charge $12.99 for subscriptions purchased through the App Store, a $3 premium over subscriptions purchased on the web and $3 more than the price of Apple Music. Apple
does not force apps
to use its billing system, but it also does not allow apps to offer other purchase options. As stated in the
App Store guidelines
:
Apps may not include buttons, external links, or other calls to action that direct customers to purchasing mechanisms other than IAP. [...]

Auto-renewing subscriptions should only be offered using in-app purchase and may only be used for periodicals (e.g. newspapers, magazines), business apps (e.g. enterprise, productivity, professional creative, cloud storage), media apps (e.g. video, audio, voice, photo sharing), and other approved services (e.g. dating, dieting, weather).
Apple in the past had a battle with Amazon and other book sellers over its App Store rules, which resulted in Amazon, Barnes and Noble, and Kobo
removing an in-app book store
purchase options from their apps. Apple has never relented on the issue, even years later.
Apple
recently announced plans
to tweak its subscription policies to take a smaller 15 percent cut from subscribers who stay subscribed to a service for more than one year, but
Spotify says
those changes don't "get to the core of the problem."
Though Apple has rejected Spotify's update, options to purchase Spotify subscriptions in the Spotify app for iOS devices have been gone since the end of May, removed via a backend update. At the current time, it is not possible to purchase a subscription through the Spotify app, and the Spotify app is not able to direct customers to purchase a subscription on the web.
Today marks the one year anniversary of
Apple Music
, which launched in 110 countries on June 30, 2015. The streaming music service was initially limited to the Mac and iOS devices, and it has since expanded to
Apple TV
and Android.
Apple's streaming music service, an evolution of the Beats Music service it acquired in 2014, has steadily gained listeners over the past twelve months, reaching over
15 million paying subscribers
as of WWDC 2016 earlier this month.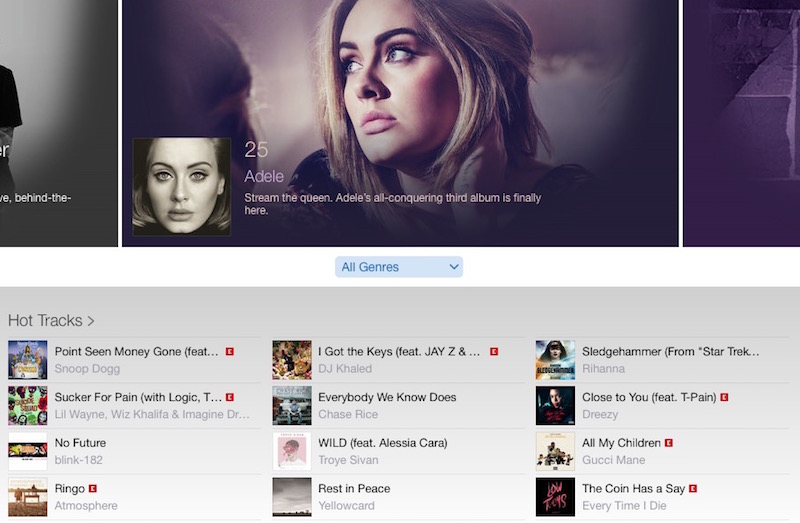 Spotify still remains the world's most popular streaming music service, with roughly twice as many paying subscribers as Apple Music, but the Swedish rival has been available in Europe for nearly eight years and in the U.S. since 2011.
Assuming that Apple Music maintains its current pace of growth, it is reasonable to assume that it will eventually eclipse Spotify as the top streaming service worldwide, with Apple Music benefiting greatly from its prominent placement within a default app on iOS and a lengthy three-month free trial to get users hooked on the service.
Apple Music has received its share of criticism since launch, partly due to somewhat confusing layouts that can make it difficult to find content and easily manage downloaded or owned content versus streamed content. Apple's "Connect" social feature intended to allow artists to share content with fans also failed to take hold, with many quickly drawing comparisons to the ill-fated
"Ping" social network
that debuted as part of iTunes in 2010 but was officially canceled just two years later.
With
iOS 10
, Apple is undertaking a reinvention of the Apple Music experience on its mobile platform, completely revamping the app with new organization and a new design. The new design in particular has been controversial, with bold fonts standing in stark contrast to most of the rest of the operating system. But the new layout makes for a much more logical organization of content and features, with downloaded music receiving its own section and Connect receiving much less prominent placement.
Subscribe to the MacRumors YouTube channel for more videos.
Apple is also pushing forward its relationships with artists for Apple Music, working hard to secure exclusive content as it seeks to
follow the model of "MTV in its Eighties and Nineties heyday"
in becoming the go-to place for artists and content.
Apple Music is clearly still in its early days, with Apple still evolving its integration of the Beats Music team and their streaming service into iTunes and the stock Apple user experience across all platforms. But with strong subscriber growth and industry trends pointing toward a continued shift toward streaming services, it's clear this is where Apple's content future lies, whether it be the current music service or
future video services
.
Massachusetts senator Elizabeth Warren today gave a speech where she accused Amazon, Apple, and Google of attempting to "snuff out competition" by locking out smaller companies, reports
Recode
.
"Google, Apple and Amazon have created disruptive technologies that changed the world, and ... they deserve to be highly profitable and successful," Warren said. "But the opportunity to compete must remain open for new entrants and smaller competitors that want their chance to change the world again."
In regard to Apple specifically, Warren said the company has made it difficult for its rivals to offer competitive streaming services able to compete with
Apple Music
, presumably through the cut that it takes from streaming services like Spotify when people sign up through the iOS app.

To account for Apple's cut, Spotify charges $12.99 to customers who purchase a subscription through an Apple device, which is $3 higher than the $9.99 price tag of Apple Music.
While Apple declined to comment on Warren's statements, Spotify's head of communications and public policy Jonathan Prince took the opportunity to lambaste Apple in a statement given to
Recode
.
"Apple has long used its control of iOS to squash competition in music, driving up the prices of its competitors, inappropriately forbidding us from telling our customers about lower prices, and giving itself unfair advantages across its platform through everything from the lock screen to Siri. You know there's something wrong when Apple makes more off a Spotify subscription than it does off an Apple Music subscription and doesn't share any of that with the music industry. They want to have their cake and eat everyone else's too."
Spotify has long been unhappy with Apple's pricing policy. In the past, Spotify fought against Apple's cut by sending emails to its customers who had signed up for a $12.99 per month subscription on an iPhone or iPad, encouraging them to cancel their subscriptions and re-subscribe via the web.
Recently, Spotify criticized
some upcoming App Store changes
like a new revenue split for subscriptions and ads in search results, saying Apple's efforts don't "get to the core of the problem" and criticizing Apple's insistence on "inserting itself between developers and their customers."
Note: Due to the political nature of the discussion regarding this topic, the discussion thread is located in our
Politics, Religion, Social Issues
forum. All forum members and site visitors are welcome to read and follow the thread, but posting is limited to forum members with at least 100 posts.
Apple today seeded the fourth beta of an upcoming
iOS 9.3.3
update to developers and public beta testers for testing purposes, one week after seeding the
third beta of iOS 9.3.3
and more than a month after the
release of iOS 9.3.2
, a minor bug fix update. iOS 9.3.3 has
been in testing
since May 23.
Today's iOS 9.3.3 beta update can be downloaded from the Apple Developer Center (developer only) or over-the-air with the proper configuration profile installed.

As another minor 9.x.x update, iOS 9.3.3 features under-the-hood bug fixes and performance improvements to address issues unearthed since the release of iOS 9.3.2. No outward-facing changes or obvious bug fixes were discovered in the first three betas of iOS 9.3.3.
iOS 9.3.3 beta 4 follows the developer launch
of iOS 10
, a new version of iOS that will be released to the public this fall. iOS 10 includes features like a redesigned Lock screen experience, a revamped Messages app with its own
App Store
, a
Siri
SDK for developers, a new Home app for controlling HomeKit devices, a redesigned
Apple Music
app, and more.

Apple supplier Cirrus Logic has announced a new
MFi Headset Development Kit
, a reference platform that is designed to help "Made for iPhone/iPad/iPod" accessory makers quickly develop Lightning-based headphones.
The development kit, available through Apple's
MFi Program
, includes a form factor reference design and other resources to help MFi licensees create Lightning-based headphones. A reference iOS app is also available.
The MFi Headset Development Kit demonstrates the advantages of Lightning-connected headsets over conventional analog headsets. For example, digital connectivity with an integrated, high-performance DAC and headphone driver delivers high-fidelity audio to the headphone speakers. In addition, Lightning-connected headphones can interact with an iOS app to create a more custom audio experience, such as personalized EQ settings.
Multiple credible sources have confirmed that Apple plans to remove the 3.5mm headphone plug on the
iPhone 7
series in favor of an all-in-one Lightning connector for audio output, charging, and connectivity, but only a handful of Lightning-equipped headphones are available today.

Apple introduced
new MFi Program specifications
in June 2014 that allow third-party manufacturers to create headphones that connect to iOS devices via a Lightning cable, but the rollout has been slow. Philips has unveiled Lightning-equipped
Fidelio M2L
and
Fidelio NC1L
headphones, pictured above, over the past two years.
Apple
may
also release
Lightning-equipped EarPods
, but a more recent conflicting rumor said the iPhone 7 will
ship with standard 3.5mm EarPods
and a 3.5mm-to-Lightning adapter. Apple is also believed to be exploring
Bragi Dash
-like
wireless headphones
(
AirPods
?), but it may hold off on adopting the technology until 2017 or later.
Those interested in learning more about Lightning-equipped headphones can watch our video:
Lightning Headphones: Are They Better or Just an Inconvenience?
We also shared a video showing what an
aftermarket 3.5mm-to-Lightning adapter
looks like as they begin to
reach the market
.
Over the past few weeks, some Apple Watch wearers have
noticed
that a growing portion of
Apple's band inventory
has been marked as "sold out," with many styles, sizes, and colors, now included in that group.
While Apple has made it clear that its first foray into fashion accessories will follow a "seasonal" cycle, with certain styles leaving its store forever once sold out, the array of bands unavailable on the store paints an erratic picture of shortages from all three of the Apple Watch's
seasonal collections
: Spring 2015, Fall 2015, and Spring 2016.

Tracked in the U.S. on both
Apple.com
and the
Apple Store
iOS app [
Direct Link
], the Classic Buckle currently has the most significant stock shortage of any of the Apple Watch bands, totaling 13 out-of-stock color options in both the 38 mm and 42 mm sizes. The smaller 38 mm wrist size option is the most affected, with only one band -- Saddle Brown -- available to purchase. Behind Classic Buckle, the Sport Band has 12 out-of-stock options on Apple's store, the Modern Buckle has four, and the Leather Loop has three, with varying sizes affecting availability for the latter two bands.
➜ Click here to read rest of article...
Samsung Display will remain the global leader among AMOLED display suppliers over the next few years, with shipments estimated to increase to 560 million units by 2019, according to Taiwan-based
DigiTimes Research
.

Samsung Electronics, which produces the company's lineup of Android-based Galaxy smartphones, is expected to remain Samsung Display's largest customer over the next few years, with its in-house AMOLED panel demand projected to grow from 239 million units in 2016 to 290 million units in 2019.
Apple is rumored to release its
first OLED-based iPhone in 2017
, moving away from traditional LCD technology it has used since 2007 for at least one iPhone model. The report estimates that Samsung Display
will supply Apple
with 40 million AMOLED panels in 2017, 80 million units in 2018, and 120 million units in 2019.
LG Display
,
AU Optronics
,
Japan Display
, and
Foxconn-owned Sharp
may also share production of OLED panels for future iPhones.
Earlier this year, DisplayMate found that Samsung's Galaxy S7 makes a
compelling case for Apple to switch to OLED
display technology. Possible benefits include increased brightness, improved color accuracy, improved screen visibility in bright environments, and more efficient power consumption.
A number of China-based smartphone vendors, including Vivo, Oppo, GiONEE, Huawei, and Lenovo, have also adopted or decided to adopt AMOLED panels in the future, with Samsung Display's combined shipments to them projected to increase from 99 million units in 2016 to 150 million units in 2019.
Ahead of the Fourth of July holiday in the United States, ride hailing app Uber today
announced
a suite of safety improvements for its driver app, aimed at "predicting, preventing and reducing the number of crashes on the road." The update comes in partnership with Mothers Against Drunk Driving and the Governor's Highway Safety Association, and focuses on parsing out more information to the company's drivers to ensure the safety of its customers.
As part of the update, Uber will send out daily reports to drivers with detailed statistics showing their driving patterns, as well as comparisons to other drivers in the city, "with suggestions on how to provide a smoother, safer ride." According to a more detailed report in the company's
engineering blog
, multiple readings taken from GPS and accelerometer data in the smartphone will fuel these statistics, and also provide a new "speed display" in the driver app to alert them of potentially passing the speed limit.

Other basic features include reminders to take a break and safety messages to inform drivers about regulations from Uber, like mounting their smartphone to the dashboard instead of holding it in their hands while driving. The safety-focused update will begin as a rollout in 11 United States cities (the company left which cities unspecified) in the next couple of weeks, with more planned to be added after that.
In addition to the new features of its driver-focused
Partner App
, in today's blog post the company remarked on the overall positive impact that Uber has had on drunk driving accidents, specifically focusing on the city of Atlanta. Using a chart made available by the Atlanta Police Department, which shows every DUI made in the city from 2010-2016, a noticeable down tick in drunk driving arrests can be seen: dropping from 2,243 to 1,535, or a 32 percent decline, in that time period.

Uber used the dataset to correlate that dive in DUI arrests to the implementation of the ride hailing service in Atlanta in 2012, along with a surge in use a few years later in 2015. As the company itself points out, however, "many factors" could be affecting drunk driving trends in Atlanta, so it's difficult to directly attribute the two statistics to one another.
Still, the company mentioned that "it's heartening to see that these incidents are declining over time." It also cited its own survey data, released today, wherein 90 percent of riders said Uber helped generally reduce drinking and driving, and 80 percent said it helped personally on the same issue. No specific ranking was given, but according to Uber the same survey revealed that the app is "riders' top choice for trips" when inebriated, coming on top of public transportation, taxis, and other ride hailing apps.
Previous Coverage:
Uber Update Spotlights 'Upfront Fares' While Burying Surge Pricing Notifications
Apple has consistently been securing exclusive content, like Drake's latest album "
Views
", Taylor Swift's "
The 1989 World Tour
" concert film and music videos from The Weeknd and Eminem. In a
new feature
from
Rolling Stone
, Larry Jackson,
Apple Music
's head of original content, said the goal of securing that exclusive content is to put the service "at the intersection of all things relevant in pop culture."

Jackson says that the model is "MTV in its Eighties and Nineties heyday. You always felt that Michael Jackson or Britney Spears lived there. How do you emotionally conjure up that feeling for people?"
Apple's deals with artists not only include exclusive streaming windows for singles and albums, but funding for music videos. For instance, Drake's "Hotline Bling" music video was funded by Apple, as were two videos for The Weeknd's "Cant Feel My Face" (one of which was not released).
The goal is to help artists feel like they can do interesting things with Apple. Monte Lipman, head of Republic Records, home of Ariana Grande and The Weekend, tells
Rolling Stone
that the Cupertino company has been prepared to do things other companies haven't. "Lately they've been very clever in coming to us with what we consider groundbreaking opportunities," he said.
Many of these opportunities include contributions from Apple executives.
Tim Cook
"weighed in" on the production of M.I.A.'s "Borders" music video while Swift says Jackson helped her brainstorm, make plans for and edit her concert film. That collaboration led to the
Apple Music commercial
where Swift raps along with Drake and Future's "Jumpman." The commercial helped increase "Jumpman" sales 43 percent, according to
Rolling Stone
.
However, Apple's strategy hasn't always worked out. Jackson says the company was in talks to host Kanye West's "The Life of Pablo." West eventually pulled out of talks to put his album on rival service Tidal, which he co-owns with Jay-Z. He chose Tidal over Apple Music because he "wanted to work with his friend," according to Jackson. While Kanye West initially said the album would
"never" appear
on Apple Music, the album did eventually
come to the service
.
Ultimately, Jackson told the magazine that the philosophy at Apple Music is "to go and get it done" when it comes to securing original content The service also has deals with Keith Richards, Selena Gomez and the Black Eyed Peas. Most recently, Apple gained the rights to
exclusively launch
Dreezy's debut album "No Hard Feelings." The service will also soon start hosting original video content like Dr. Dre's
"Vital Signs" TV show
 and a
six-episode documentary series
co-produced with Vice.
Apple may be planning to introduce a Force Touch home button on the
iPhone 7
, according to analysts at Cowen and Company (via
Business Insider
). Citing supply chain "field checks," Cowen and Company predicts the iPhone 7 will do away with a physical home button, instead adopting a home button that sits flush with the phone.
Apple's Force Touch technology will reportedly be built into the home button to provide haptic feedback when pressed, much like the Force Touch trackpad on Apple's most recent MacBooks. With haptic feedback, iPhone users would still feel the sensation of pressing on the home button even without a button to actually depress.

Cowen and Company has a mixed track record, but it's worth noting that we've heard two other rumors about a redesigned home button on the iPhone 7. In April,
DigiTimes
said Apple was
testing a touch-sensitive home button
that fits flush with the phone, and
a highly sketchy image
of what was said to be an iPhone 7 with a touch-sensitive home button surfaced in mid-June.
Given the unreliability of each of the home button rumors, the information should be viewed with some skepticism until confirmed by a more reliable source, but when viewed alongside rumors of improved waterproofing and the removal of the headphone jack, a flush home button is not a rumor that seems entirely out of the question.
For several months, we've heard mixed rumors about the possibility of better water resistance in the iPhone 7, but it appears to be shaping up to be a potential feature. Last week,
The Wall Street Journal
, often a reliable source, lent credence to the rumor by suggesting the
elimination of the headphone jack
in the iPhone 7 will improve its water resistance.
At the same time,
The Wall Street Journal
has said the iPhone 7 will feature only "subtle changes," a sentiment echoed by KGI Securities analyst
Ming-Chi Kuo
, who said the iPhone 7
will be a modest update
without "many attractive selling points." A revamped home button seems like more than a minor change, so we'll need to wait for additional information to resolve some of the conflicting information we're hearing about Apple's next-generation iPhones.
If the physical home button is replaced with a Force Touch home button in the iPhone 7, it will bring Apple one step closer to eliminating the home button all together, something that is
rumored for the iPhone 8
, coming in 2017. Apple is said to be planning on introducing an edge-to-edge display with built-in
Touch ID
functionality and no home button.
In
iOS 10
, there's a new Face Gallery in the Watch app, which is designed to let users customize their
Apple Watch
faces in watchOS 3 right from their iPhones. Tweaking an Apple Watch face from an awkward angle on a wrist and on a tiny screen can be a hassle, making the Face Gallery a welcome addition to the Watch app.
Face Gallery is accessible through the Watch app in iOS 10, available via a new "Face Gallery" tab, which replaces "Explore" and "Featured" tabs that have been combined into a new "
App Store
" tab.
Subscribe to the MacRumors YouTube channel for more videos.
"My Watch," the section the Watch app opens to, has been updated with a direct view of all the faces you've added to your Apple Watch, allowing for quick tweaks to complications, colors, and other options. Creating entirely new watch faces on the iPhone is done through Face Gallery, which displays all of the available watch faces in one easy-to-see scrollable grid.
Selecting a watch face opens up full customization options for choosing the look of the face, its color scheme, and the complications you'd like to use with the face. Faces created on the iPhone are then synced over to the Apple Watch by tapping "Add", and then you can swap between them with left and right swipes through the revamped watchOS 3 interface.
Face Gallery will be available in the fall when iOS 10 and watchOS 3 are released to the public.
For details on new
Apple TV
features coming in iOS 10, make sure to
check out our iOS 10 roundup
. Don't miss out on our previous videos, which have covered watchOS 3, tvOS 10, and macOS Sierra:
-
WWDC 2016 Overview in Seven Minutes
-
iOS 10's Overhauled Lockscreen
-
The New iOS 10 Photos App
-
The New iOS 10 Messages App
-
macOS Sierra -
Siri
-
iOS 10 Hidden Features
-
watchOS 3 Overview
-
iOS 10's Redesigned Apple Music Experience
-
3D Touch in iOS 10
-
The New Home App for Controlling HomeKit Devices
-
Everything New in tvOS 10
-
Apple's Upcoming Apple TV Remote App
We've also got roundups for all of the upcoming operating systems, including
watchOS 3
,
macOS Sierra
, and
tvOS 10
.
Apple last week sent out a memo to employees, inviting those in wheelchairs to help the company test an upcoming
watchOS 3
feature that adds a dedicated wheelchair mode to the
Apple Watch
.
With the wheelchair setting, Activity options can be customized for wheelchair users. Wheelchair pushes contribute to all-day calorie goals, there are wheelchair-specific workouts, and the "time to stand" reminders are replaced with "time to roll" reminders.
During the Worldwide Developers Conference keynote, Apple said wheelchair tracking had been in development for months through a partnership with the Lakeshore Foundation and the Challenged Athletes Foundation, which saw 300 people in wheelchairs participating in more than 3,000 hours of activity research, and the beta testing period will give Apple more time to refine and perfect the feature.

In its memo to employees, Apple said it is committed to improving the Apple Watch experience for users in wheelchairs, which is why retail employees in wheelchairs are being invited to test watchOS 3. While retail employees have been invited to test iOS and macOS betas in the past, watchOS 3 betas are restricted to developers and internal corporate testers because downgrading from a watchOS beta is not possible without a proprietary adapter.
It is not clear if employees testing the feature are receiving the same watchOS 3 beta updates as developers, but it seems likely. With the retail beta test and developer testing, Apple is hoping to collect more data on movement and better optimize the new wheelchair exercises available in the workout app.
Apple offers some of the
best accessibility features
available in smartphones, smart watches, and other devices, and along with wheelchair activity tracking, the company's
latest operating system updates
bring a range of accessibility improvements to iOS, macOS, tvOS, and watchOS.