Ted Lasso Season Three Now Available on Apple TV+
The third season of popular comedy series "Ted Lasso" is now available to watch on Apple TV+ for those who are subscribed to Apple's streaming service. Season three could be the final season of the show, which tells the story of an American football coach who moves to the UK to oversee the AFC Richmond football club.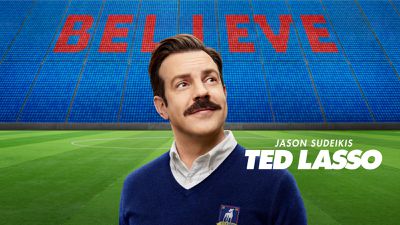 "Ted Lasso" is one of Apple's most popular shows, and the first two seasons have been widely praised. Actor Jason Sudeikis, who plays Ted Lasso, has won a Golden Globe for his performance, while the show itself won an Emmy for Outstanding Comedy Series.
In the third season, Ted Lasso and AFC Richmond will face off against West Ham United, where former AFC Richmond assistant coach Nate Shelley has defected. AFC Richmond must prove that it won't come in dead last in the Premier League, contrary to media speculation.
Apple is heavily promoting the third season of "Ted Lasso," partnering with Nike for a whole range of AFC Richmond jerseys, hoodies, t-shirts, and sweatshirts. There's also a promotional "Biscuits with the Boss" Ted Lasso ice cream flavor available from Jeni's, which features shortbread cookie pieces in a sweet cream base. The official Ted Lasso store also sells everything from hats and shirts to phone cases, dartboards, and socks. There's even a Ted Lasso Monopoly game available for preorder.
The first episode of season three is available starting today, with the second episode set to come out on March 22. Apple will be releasing one episode per week, and the season features 12 total episodes.
Sudeikis in early March told media news site Deadline that season three marks the "end of the story" of Ted Lasso, but there is potential for a spinoff. Apple has not confirmed that the show is ending after the third season.