Samsung in 2019 and 2020 unveiled two foldable smartphones, the the Galaxy Fold and the Galaxy Flip Z, both of which feature a foldable design that converts from one shape to another.
The Galaxy Fold transitions from a 4.6-inch smartphone into a 7.3-inch tablet, while the Galaxy Z Flip is a 6.7-inch smartphone that folds in half to be more portable. Other companies like Motorola and Huawei have also released foldable smartphones. The technology is nascent and still riddled with issues, but foldable smartphones are a trend right now, and a trend that Apple might one day adopt.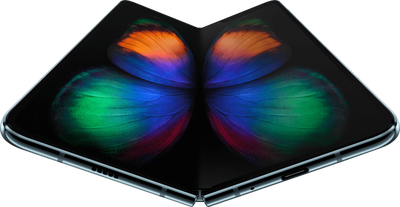 Samsung's Galaxy Fold



Foldable iPhone Rumors
Hints of a foldable iPhone kicked off in 2016 when rumors suggested LG display would be mass producing foldable displays for smartphones in 2018 and supplying them to companies like Apple and Google.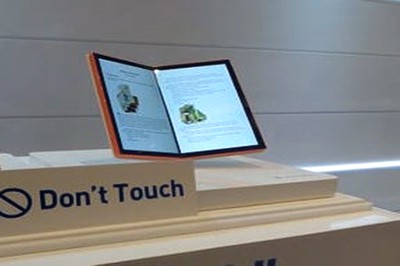 Foldable display concept from LG


A 2017 rumor kept the folding ‌iPhone‌ concept alive, indicating Apple was partnering up with LG to develop an ‌iPhone‌ with a foldable display. LG has a number of foldable display prototypes that use flexible OLED panels, including one that folds over like a book and a second that rolls up like a newspaper.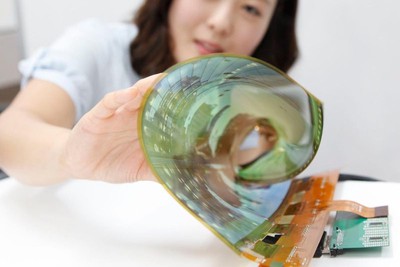 Another foldable display concept from LG


More recently, Samsung has offered to supply foldable displays to Apple for use in future iPhones, and Apple supplier Corning is working on a foldable glass solution. Corning is a current Apple supplier, and foldable glass from Corning sounds promising for a future ‌iPhone‌.
Samsung is rumored to be providing foldable display samples to Apple for a future foldable ‌iPhone‌ as of September 2020. Samsung is reportedly providing Apple with samples for one year, suggesting that Apple is ramping up work on a foldable ‌iPhone‌.
Leaker Jon Prosser claims that Apple is working on a foldable iPhone prototype that features two separate display panels that are connected by a hinge rather than a single display design like the Samsung Galaxy Fold.

A mockup of an foldable ‌iPhone‌ with a dual display design
The device is said to feature round, stainless steel edges like the iPhone 11, and while there's no notch, Apple has added a "tiny forehead" that houses Face ID. Though the prototype is two separate panels, the displays together look "fairly continuous and seamless." Apple is likely testing multiple prototype designs and it's not clear if this prototype (or any prototype) will make it to an eventual release.
Apple in November 2020 allegedly started sending foldable iPhones to Foxconn for testing purposes, according to sources from the Chinese supply chain. The testing involves evaluating the use of OLED or micro-LED as well as the use of bearings (the foldable component). Foxconn will be stress testing the device with more than 100,000 opening and fold actions.
Foldable iPhone Patents
Apple patents all kinds of things that never become finished products so patents aren't necessarily a reliable way to predict what's in development, but Apple has a few foldable ‌iPhone‌ patents.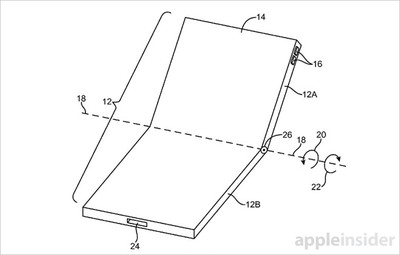 Apple's first foldable iPhone patent surfaced in 2016, describing a smartphone that folds in half horizontally using a flexible OLED display and a hinged metal support structure. Both halves of the display remain accessible when the phone is shut, and there are also drawings depicting devices with multiple folds.



A 2019 patent application describes foldable smartphone with a built-in heating element or display heating feature to cut down on failures at the fold in cold temperatures, a problem that has the potential to impact foldable smartphones.

Apple in February 2020 was granted a patent for a foldable device with a hinge mechanism that utilizes movable flaps to help prevent the display from being creased or damaged when folded.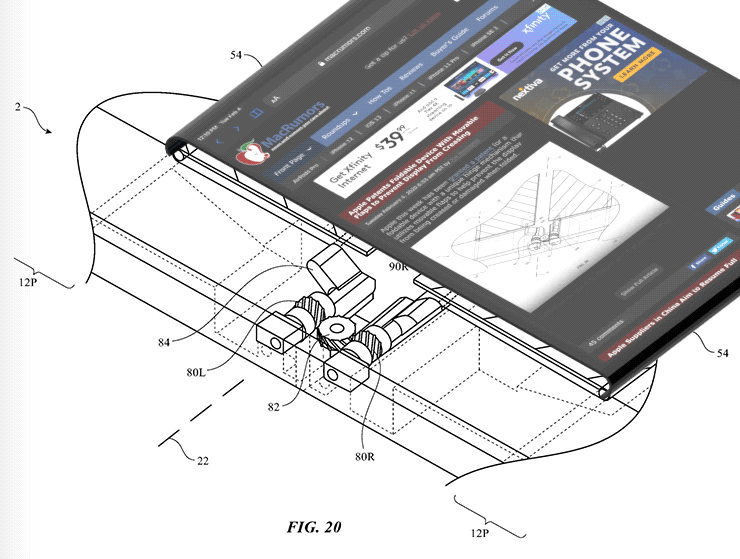 The hinge mechanism is designed to ensure adequate separation between the first and second parts of the display. When the device is unfolded, movable flaps extend to cover the gap, and then retract when the device is folded.
An Apple patent granted in March describes a unique alternative to a foldable ‌iPhone‌, explaining a system that would allow two or more devices to act as one when brought close to each other through the use of proximity sensors.

The patent envisions two separate devices that automatically detect one another when placed together with a shared display. The wording of the patent seems to suggest that Apple could create a single bendable device comprised of two displays in seamless communication with each other.
A 2020 patent filing suggests Apple is exploring a protective layer for a foldable ‌iPhone‌ that would resist cracking. The ‌iPhone‌ would feature a hardcoat layer that would fill pre-existing micro-cracks to make it harder for a larger crack to appear.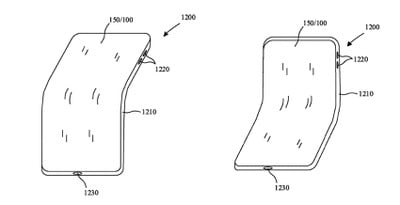 The extra layer would be placed directly on top of the display and would resist punctures and scratches.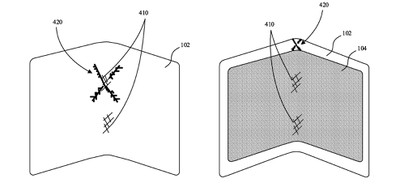 When Will Apple Launch a Foldable iPhone?
There's no concrete evidence at this time that a foldable ‌iPhone‌ is in the works for a near future launch. A note from a Bank of America Merrill Lynch analyst in 2018 suggested a foldable ‌iPhone‌ would come in 2020, but that did not happen.
A November 2020 rumor from the Chinese supply chain suggested Apple is aiming for a 2022 release date for a foldable ‌iPhone‌.
What Will Apple's Foldable iPhone Look Like?
With no concrete rumors about a foldable ‌iPhone‌ in the works, there's no word on what form a foldable device might take.
As reference examples, we've seen foldable smartphones that fold vertically both inwards and outwards from Samsung and Huawei. Apple's patents have featured a device that folds horizontally and is not quite as wide as smartphones from Huawei and Samsung's versions, but Apple's patents are conceptual.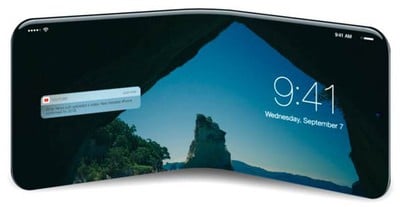 Foldable ‌iPhone‌ concept


We don't know what Apple's foldable smartphone might look like until it's further along in development, but there is allegedly prototype being worked on that features towo displays connected by a hinge.
What's the Competition?
As mentioned above, Samsung has come out with the Galaxy Fold, a $1,980 smartphone that folds in half inwards thanks to a hidden hinge in the middle.

Samsung's Galaxy Fold


Early reviews for Samsung's device haven't been great, so it remains to be seen if the foldable smartphone trend will catch on. Samsung has other folding smartphones in the works, though, so it sounds like the South Korean company isn't ready to abandon a trend that it kicked off.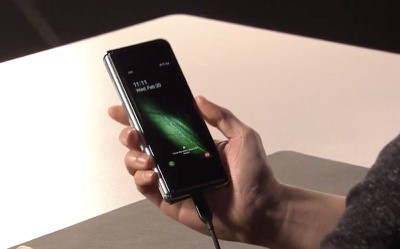 Samsung's Galaxy Fold


Samsung unveiled a second-generation foldable smartphone, the Galaxy Z Flip, in February 2020. The Galaxy Z Flip is a 6.7-inch smartphone that folds in half to make it more compact and pocketable. It differs from the Galaxy Fold because it starts out smartphone sized and isn't operable while folded, while the Galaxy Fold is a convertible device that's meant to serve as both a smartphone when folded and a tablet when unfolded.

Samsung's Galaxy Z Flip


Huawei in February 2019 out with a folding smartphone, the Mate X, which is priced at $2,600. Unlike the Galaxy Fold, the Mate X folds outwards instead of inwards, which gives it a display on both sides when closed. The Mate X measures in at 6.6 inches in smartphone mode and 8 inches when expanded.

Huawai's Mate X


Motorola also has a foldable smartphone, the RAZR, that's similar to the Galaxy Z Flip. It's designed to look like the traditional Motorola RAZR flip phone, but with a screen that folds in half to provide a full-screen experience.

The Motorola RAZR



Foldable Smartphone Issues
Ahead of the launch of Samsung's first foldable smartphone, the Galaxy Fold, Samsung was forced to delay
When launching the Galaxy Fold, Samsung was forced to delay the debut after reviewers provided with one of the new devices uncovered major durability issues, with screens breaking after just a few days of use.


Samsung addressed the problems with some design tweaks, making the Galaxy Fold more durable and better able to withstand repeated folding.
Similar problems have been uncovered with the Galaxy Z Flip, and there have been complaints about the display quality (the Galaxy Z Flip uses bendable glass) and at least one user has seen issues with the display cracking in cold temperatures.

A broken Galaxy Z Flip, image via

Twitter
Motorola's RAZR has also not fared well, and one reviewer saw the device's display break down the middle after just a week of usage with no known trigger causing the failure.

A broken Motorola RAZR, image via

Ray Wong


Given the high price points of foldable iPhones, their delicate nature, and their penchant for failing, Apple may be planning to wait until the technology is more mature before deciding to launch its own foldable ‌iPhone‌.
Guide Feedback
Have questions or feedback on our foldable ‌iPhone‌ guide? Send us an email here.