WWDC 2017
June 5–9, 2017 in San Jose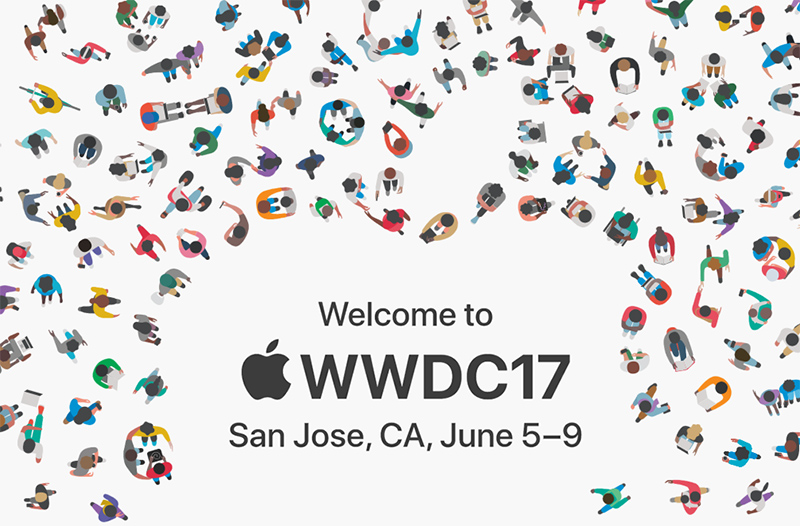 At a Glance
WWDC is Apple's annual Worldwide Developers Conference where developers can attend sessions and meet with over 1,000 Apple engineers. The event included a first-day keynote where Apple introduced upcoming software and new hardware. The 2017 conference was held June 5–9 in San Jose, California. Tickets were priced at $1,599 and were distributed through a lottery system.
What Was Announced
iOS 11
macOS High Sierra
New versions of watchOS and tvOS
10.5-inch iPad Pro
HomePod
New iMacs, MacBook Pros, and MacBooks
What Apple Announced at WWDC 2017
The 2017 Worldwide Developers Conference keynote was Apple's biggest event in years, with the company introducing both new software platforms and a range of new hardware products. iOS 11, macOS High Sierra, and watchOS 4 were introduced, along with new iPad Pro models, new MacBooks, new MacBook Pro models, and new iMacs.
iOS 11
iOS 11 introduces some system-wide design changes, with Apple focusing on bolder fonts, borderless buttons, new animations, and other small visual tweaks. Some interface elements were totally overhauled, including the Control Center, which now takes up a single page, has an entirely new look, and offers new customization options.
The Lock Screen and the Notification Center have been merged together and are now one entity, so pulling down to access Notification Center also now brings up the Lock Screen.
There's a new App Store that separates games and apps into their own sections, plus it offers up a dynamic "Today" view that surfaces new apps and content each day.
File management has been improved through a new Files app that mimics the Finder on macOS, and there's a drag and drop feature for dragging images, links, files, and more within and between apps. On the iPhone, drag and drop can be used within apps, while on the iPad, it can be used across the entire operating system.
Speaking of the iPad, there are several features just for Apple's large-screened tablet devices. The iPad has a new persistent Dock, accessible by swiping up from the bottom of the display, which can be used anywhere, and there's a new App Switcher that makes it easier to multitask. Maps, Siri, Photos, Notes, and more have all seen feature improvements, as outlined in our iOS 11 roundup.
macOS High Sierra
macOS High Sierra (aka macOS 10.13) is designed to build on features introduced in macOS Sierra and it largely focuses on introducing significant under-the-hood updates.
It adopts the Apple File System (APFS), a new modern file system that's optimized for solid state storage with native encryption, crash protection, and other features, and it uses the HEVC (H.265) compression standard that enables higher-quality video streaming and smaller file sizes.
Metal 2, the next-generation version of Metal, is built into High Sierra, adding support for speech recognition, natural language processing, and computer vision. Metal 2 and Thunderbolt 3 will also allow Apple's top-of-the-line Macs to support VR and external graphics cards.
Safari will block autoplay video and keep advertisers from tracking Mac users, Mail will put relevant emails at the top of the inbox, and Siri on Mac features a more natural voice and new music knowledge.
watchOS 4
watchOS 4 introduces three new watch faces, Kaleidoscope, Toy Story (Disney), and Siri, a watch face that uses Siri to offer up dynamic suggestions that change based on user preference and time of day. New complications include Now Playing and Apple News.
There's an improved Workout app that supports High Intensity Interval Training workouts and auto-sets when swimming. It also features a new GymKit function that allows the watch to interface with and share information with gym equipment over Bluetooth.
Multiple workout types can be combined in a single workout, and the Activity app is being updated with monthly challenges and intelligent coaching to inspire Apple Watch users to close their Activity Rings more often.
The Music app on the Apple Watch has a new design that syncs with the New Music Mix and Favorites Mix, and with the new iOS 11 person-to-person Apple Pay payments feature, the Apple Watch can be used to send money to friends.
New iMacs, MacBooks, and MacBook Pro Models
Apple introduced refreshed iMacs, MacBooks, and MacBook Pro models at its Worldwide Developers Conference, adding faster Kaby Lake processors, faster SSD options, a Fusion Drive standard in the iMac, more maximum RAM in the iMac, and improved GPUs.
Apple also added a new, faster Broadwell processor in the entry-level low-cost MacBook Air model, and gave us a sneak peek at the upcoming iMac Pro.
The iMac Pro is a pro-level machine that features Xeon processors with up to 18 cores, Radeon Pro Vega GPUs, and support for up to 4TB storage and 128GB ECC RAM. It has four Thunderbolt 3 ports that can drive two 5K displays and two high-performance RAID arrays at once. Apple plans to release the iMac Pro, starting at $4999, in December of 2017.
iPads
New 12.9 and 10.5-inch iPad Pro models made an appearance at WWDC. The 10.5-inch iPad Pro is a new size that replaces the previous 9.7-inch model, adopting smaller bezels to allow for a larger display.
The new models feature ProMotion display technology, which offers refresh rates of up to 120Hz for fluid scrolling, better responsiveness, smoother motion, and lower 20ms Apple Pencil latency for a more natural drawing experience. ProMotion is also able to automatically adjust the display's refresh rate to match the movement device's content, which preserves battery life.
Also included is brighter 600-nit display for better performance in outdoor lighting conditions with True Tone and wide color gamut support for auto white balance and more vivid, true to life colors.
Inside, the new iPad Pro models are equipped with an upgraded A10X Fusion chip with a 6-core CPU and a 12-core GPU for 30 percent faster CPU performance and 40 percent faster GPU performance compared to the A9X chip in previous-generation iPad Pro models.
Apple has also brought the iPhone 7's camera system to the iPad with the latest iPad Pro models, introducing a 12-megapixel rear camera with optical image stabilization. The front-facing FaceTime HD camera is 7 megapixels.
HomePod
HomePod is Apple's upcoming speaker device, set to be released in December. Priced at $349, HomePod is Apple's answer to the Amazon Echo and the Google Home, but the speaker focuses heavily on superior sound quality as a differentiating factor.
Measuring in at 7 inches tall, the HomePod looks similar to a small Mac Pro. It is available in black or white and is covered with a mesh design.
There are seven beam-forming tweeters (each with amplifier) built into HomePod, which offer pure, distortion-free high frequency acoustics with directional control. For deep, clean bass, the speaker includes an Apple-designed upward-facing woofer, and it's equipped with an A8 chip, which powers everything from Siri to a new automatic room-sensing technology.
Accessories
There were also a few accessories introduced, like new watch bands, a new Wireless Magic Keyboard with Numeric Keyboard, and new iPad cases.
Worldwide Developers Conference
Every year, Apple holds an annual Worldwide Developers Conference, giving thousands of developers from around the world a chance to meet up with Apple engineers and sit in on valuable workshops and software sessions. The event has typically taken place at the Moscone West Convention Center in San Francisco, but the 2017 edition will be held Monday, June 5 through Friday, June 9 at the McEnery Convention Center in San Jose, California. It will be the first time since 2002 that Apple has held WWDC in San Jose.

McEnery Convention Center in San Jose (Image via San Jose Convention & Visitors Bureau)
Apple will begin the conference with a keynote on the first day, which is set to start at 10:00 a.m. Pacific Time on June 5. Press invites for the event have already been sent out. The keynote event is used to make major announcements and set the stage for the remainder of the week with a look at upcoming products and services and a first glimpse at new operating systems.
Apple plans to live stream its keynote event on its website, on the Apple TV. MacRumors will also provide live coverage both on MacRumors.com and through the MacRumorsLive Twitter account. For the rest of the week, Apple will stream developer sessions and talks through the newly updated WWDC app for those who are unable to attend.
In 2017, Apple is expected to unveil the latest versions of iOS and macOS, and we may also see new versions of watchOS and tvOS, the operating systems that run on the Apple Watch and the Apple TV. News on additional products that might make an appearance will likely be shared as we get closer to the conference date. Most of Apple's Mac lineup remains due for an update and some products could potentially see refreshes at the event.

Apple announced the official dates for the 2017 on February 16, several months earlier than usual. The early announcement was likely planned to give potential attendees and others making plans in association with the conference additional time to consider their arrangements given the change in location.
Tickets
For many years, WWDC tickets were available to any registered developer willing to purchase them, but as Apple's popularity has grown and the size of the conference has remained relatively the same due to space and staffing constraints, tickets have been much harder to come by.
WWDC sold out for the first time in 2008, and by 2013 tickets for the event were selling out in just two minutes. Starting in 2014, Apple moved to a lottery system, and the company has continued to use that system since that time.
In 2017, WWDC tickets are priced at $1,599 and Apple began taking ticket applications on Monday, March 27. Ticket entries were accepted until March 31 at 10:00 a.m. Pacific Time, after which Apple held the ticket lottery. Developers who won a ticket have been notified and have had their credit cards charged.
Apple is also providing WWDC Scholarships to students and STEM members, and began accepting applications on March 27, at 10:00 a.m. Pacific Time. This year, applicants were asked to create a visually interactive scene in Swift Playgrounds that can be experienced in three minutes. Apple judged applications based on technical accomplishment, creativity of ideas, and the content of written responses. Applications were accepted through Sunday, April 2 at 5:00 p.m. Pacific Time, and winners have now been notified.
As has been the case in previous years, developers between the ages of 13 and 17 must have their tickets purchased by a parent or guardian who is also an eligible member. All tickets sold are limited to the applicant and cannot be sold, resold, or transferred.
Expected Software Announcements
iOS 11
Apple is rumored to be working on a social networking app that's similar to Facebook, Snapchat, and Instagram, focusing on giving users a way to share video. The app will let users record video, make edits, add doodles, and send it to friends.
Apple's goal is to make capturing video simple and easy with one-handed video controls and a streamlined editing process.
We don't know exactly when Apple will unveil its social networking app, but if development continues, it could be introduced as part of iOS 11.
There are also rumors suggesting Apple has some iPad-specific updates in the works, and with so little focus on the iPad in iOS 10, iOS 11 could include these rumored additions. Specifically, Apple is said to be working on expanded Apple Pencil support for the iPad Pro, which would be combined with hardware improvements to introduce features like smoother on-screen zooming, panning, and scrolling.
Additional detail about iOS 11 will likely come out in the months ahead of the Worldwide Developers Conference.
macOS 10.13
2017 will bring the second iteration of the macOS operating system, which was updated from the traditional "OS X" nomenclature in 2016. We don't yet know what to expect from macOS 10.13, but it will undoubtedly feature another name that reflects the California landscape.
tvOS 11 and watchOS 4
Alongside iOS 11 and macOS 10.13, we will also likely see new versions of tvOS and watchOS. We have no hints on what to expect from the updates as of yet, but both operating systems will likely continue to receive features that heavily integrate with iOS.
Rumored Hardware Announcements
Siri Smart Speaker
A recent rumor has suggested Apple's work on an Echo-like smart speaker with Siri and AirPlay could potentially debut in 2017, perhaps as early as June, meaning an announcement would come at WWDC.
The device has been described as "fat" like a Google Home with a concave top that has built in controls, and it could include some form of Beats technology. It will run a variant of iOS. Previous rumors have suggested such a device would serve as a home hub for controlling smart appliances.
For more details on the Siri Speaker, make sure to check out our dedicated Siri Speaker roundup.
iPad Pro
According to KGI Securities analyst Ming-Chi Kuo, there is a greater than 70 percent chance that Apple will introduce the long-rumored 10.5-inch iPad Pro at the Worldwide Developers Conference.
The 10.5-inch iPad Pro is rumored to have a body that's similar in size to the current 9.7-inch iPad Pro, but with smaller bezels nearly edge-to-edge bezels resulting in a 10.5-inch display.
A new iPad Pro could also feature upgraded processors, improved cameras, and improved hardware and software features, perhaps included a second-generation Apple Pencil.
For more information on the upcoming iPad Pro, make sure to check out our iPad Pro roundup.
Mac Updates
Rumors suggest Apple plans to debut both new MacBook and MacBook Pro models at WWDC, introducing upgraded processors and possibly other minor internal updates. No major design changes are expected.
There's also a possibility Apple could refresh the MacBook Air, introducing new processors. It's not yet clear if Apple has decided to update the machine, however.
Past WWDCs
WWDC 2016
At WWDC 2016, Apple made the following announcements:

- Apple Announces iOS 10 With Overhauled Messages App, Rich Notifications, and More
- Apple Unveils macOS 'Sierra' With New Continuity Features, Window Tabs, Apple Watch Login, Siri, and More
- Apple Announces watchOS 3 With Dock, Control Center, New Watch Faces and Apps, and More
- Apple Debuts New tvOS Features Including 'Single Sign-On', Enhanced Siri and More
WWDC 2015
At WWDC 2015, Apple unveiled the following services and software:

- Apple Announces iOS 9 With Proactive Siri, Maps Transit, iPad Multitasking and More
- Apple Announces OS X El Capitan With Split View, Contextual Spotlight, Updated Apps and More, Launches in Fall
- Apple Announces watchOS 2 With Native Apps, Third-Party Complications, and More
- Apple Announces 'Apple Music' With 'Beats 1' Live Radio Station, Launches June 30 for $9.99/Month
WWDC 2014
At WWDC 2014, Apple unveiled the following services and software:

- Apple Announces OS X Yosemite with Improved Cross-Device Connectivity and New User Interface
- Apple Announces iOS 8 with Interactive Notifications, QuickType, More
- Apple Announces 'iCloud Drive' and 'Mail Drop' Features for OS X Yosemite
- Apple Updates iMessage with Improved Group Messaging and Video and Audio Messages
- 'QuickType' Keyboard for iOS 8 Offers Context-Aware Predictive Typing Suggestions
- iOS 8 to Include Support for System Wide Third-Party Keyboards
- Apple to Enhance App Store with 'Explore' Tab, App Bundles, Beta Testing, and More
- Apple to Discontinue Support for iPhone 4 in iOS 8
- Apple Announces Significant SDK Improvements with New 'Swift' Programming Language, CloudKit and More
WWDC 2013
At 2013's WWDC, Apple unveiled iOS 7, OS X Mavericks, iWork for iCloud, the Mac Pro, and new MacBook Airs.
WWDC 2012
2012's event saw the introduction of the MacBook Pro with Retina Display, iOS 6 and its standalone Maps app, OS X Mountain Lion, MacBook Pro and MacBook Air updates, and a redesigned AirPort Express.