macOS 10.13
The next version of the macOS operating system, coming this fall.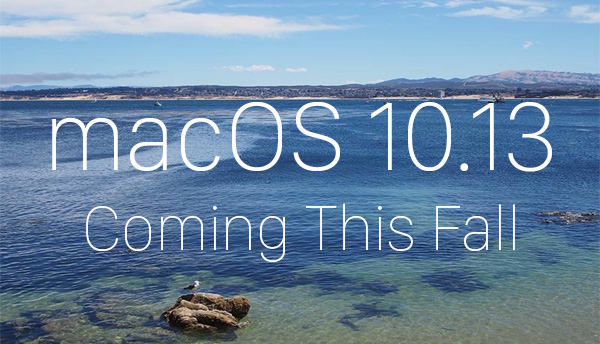 At a Glance
The next update to Apple's operating system for Macs, expected to be released this fall. A preview of the software will be available in June at Apple's Worldwide Developers Conference.
What We Know
June preview at WWDC
Fall 2017 release date
What We Expect
The next major update to Apple's macOS operating system, macOS 10.13, is expected to be previewed this June at Apple's Worldwide Developers Conference.
We don't know much about macOS 10.13, but it could introduce some design changes, as we've seen few design updates over the years, and it may also build on the features introduced in macOS Sierra, including Siri, Apple Pay, cross-device integrations, and more.
There have been no rumors about macOS 10.13 at this point in time, but we have seen proof of the operating system's existence in a CatalogURL that's part of the App Store.
Potential Name
In 2016, Apple did away with its traditional "OS X" naming system in favor of "macOS," a name that better fits in with iOS, tvOS, and watchOS. macOS will continue to be used in 2017, and it will likely have a second name representing a California landmark.
Since OS X 10.9 Mavericks was introduced in 2013, Apple has named operating system updates after various locations in California, including Mavericks, Yosemite, El Capitan, and Sierra.
We don't know what the next version of macOS Sierra will be called, but in 2014, Apple trademarked a long list of landmark names that could be used for future OS X updates. Names range from popular beaches to well-known cities to notable mountains and deserts. Apple even included a few names highlighting iconic California animals, including Condor, Grizzly, and Redtail.
Here's the full list of known trademarked names that have yet to be used: Redwood, Mammoth, California, Big Sur, Pacific, Diablo, Miramar, Rincon, Redtail, Condor, Grizzly, Farallon, Tiburon, Monterey, Skyline, Shasta, Mojave, Sequoia, Ventura, and Sonoma.
Apple may be choosing names from the list randomly, but with a water name and three-land based names having been used in 2013, 2014, 2015, and 2016, we may potentially be due for another water-based name. If that's the case, ocean oriented names like Pacific, Monterey, Farallon, or Rincon could be in the running, but it is not clear if Apple is following any kind of specific naming scheme.
A rumor suggests Apple isn't going to use a mountain or park name, and will use a name that starts with an "M." One name that fits is Monterey, a beach town in California.
Testing
The number of visits we see to MacRumors running pre-release software often gives us an idea of how development is progressing on upcoming updates, as Apple employees testing the software occasionally visit our site. The below chart shows the increase in visits we've been seeing from machines running 10.13 over the last few months.

Visits we're receiving from Macs running macOS 10.13 have been picking up steadily since the beginning of the year as Apple's engineers work on the operating system update ahead of its unveiling.
Release Date
We expect to see a preview of macOS 10.13 in at Apple's Worldwide Developers Conference, set to take place on June 5 to June 9 in San Jose, California. The event will take place at the McEnery Convention Center in the city, a deviation from past conferences that have been held at the Moscone Center in San Francisco, California.
macOS 10.13 will likely be introduced at a keynote event set to take place on June 5, and afterwards, we expect it to be provided to developers for testing purposes.
A public release will likely come in the fall, and we can also expect a public beta test at some point during the summer.

March2017